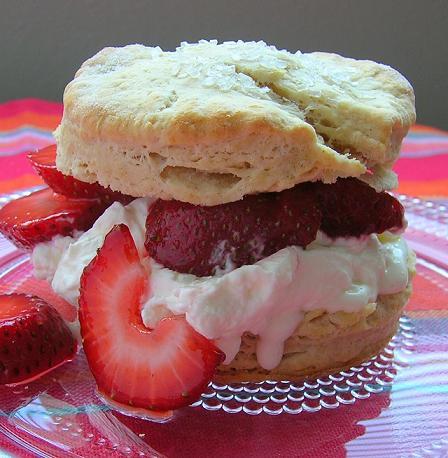 Well it was a good hockey weekend all around. Both the Sabres and my hockey team won. The Sabres advance on to the Easter Conference Finals to face their nemesis the Ottawa Senators. I have two days not to stress and then it all starts up again. As for my own team we won the tournament…I have a little medal and a whole lot of aches, pains and bruises to show for it. I comforted my pain with some pain killers and strawberry shortcake…a winning combination 🙂
When I was little, my poor mom would always try to get the family to eat strawberry shortcake her way…with biscuits. But we would have nothing of it. We wanted those little round sponge cakes that they always sold by the strawberries themselves. So she would serve both kinds. It was not until we went visiting relatives that I had my first biscuit shortcake. It was at my aunt's house. When I heard she was making shortcake I was very excited…and then she put the biscuit out. Ugh. It was in front of me now so I had no choice but to eat it…or so I was told that by both my mother and my aunt. And so I did. And you know what? It was WAY better than the yellow spongy thing that I ate growing up. Now I don't like it any other way….my dad, much to my mother's dismay, still likes the yello sponge.
The only real variation was the addition of some cinnamon and the use of mascarpone cheese instead just plain whipped cream. I think mascarpone just adds so much too it. I love the creamy goodness that kind of coats the top of your mouth for a little bit. I, of course made this because strawberries are amazing right now. I don't know if they are where you live but they certainly are here! If they are not in season where you are…you are missing out!
GO SABRES!!!!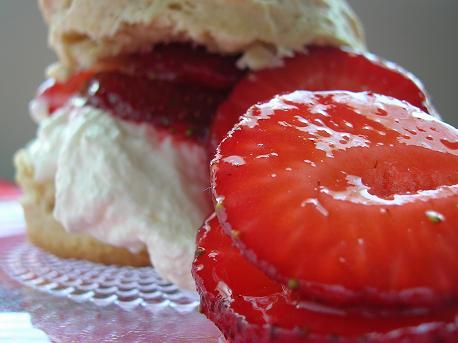 Strawberry Shortcake using Cinnamon Scented Biscuits and Mascarpone Cheese
3 ½ cups all-purpose flour
1 tsp salt
1 TBSP baking powder
½ tsp baking soda
1 TBSP cinnamon
3 TBSP sugar
1 cup buttermilk
½ cup butter
2 tsp vanilla
1 large egg
coarse sugar for topping
Preheat oven to 425F.
Whisk together the dry ingredients and cut in the cold butter. Whisk the vanilla and egg with the buttermilk, then all at once add the dry ingredients and stir until the liquid is absorbed. Turn th dough out onto a lightly floured surface and knead 4 or5 times, just until it golds together. Pat the dough out until it's about ½ to ¾inches thick and cut it in to circles. Use a sharp biscuit cutter for the highest rising biscuits. place the biscuit onto an ungreased baking sheet, brush the tops with milk for a shiny surface, sprinkle with sugar if desires and bake for 10-12 minutes, until the tops are golden brown. Remove from the oven and cool for 15 minutes.
Filling:
2 quarts hulled strawberries
½ cup sugar
2 tsp fresh lemon juice
1 cup whipped cream
½ cup mascarpone cheese
Mash 2 cups of the strawberries. Slice the remaining strawberries and mix all of the berries with sugar and lemon juice. Let rest one hour. Whip the cream and mascarpone cheese together at high speed…it will look like very thick whipped cream. Split the biscuits in half, spoon strawberries and whipped cream mixture on the bottom half. Put biscuit top on and add more berries and cream if desired.
Source: Adapted from The Baker's Companion Magazine Summer 2007 edition