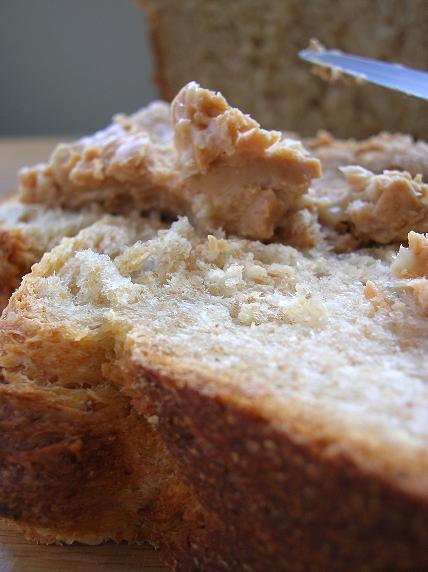 Hockey is trying to kill me two ways. First off the Sabres are trying to kill me by giving me a heart attack. They allowed the Rangers to tie up the series 2-2(bastards) and tonight they waited until 7 seconds left in the game to score to force it to overtime…and then winning in overtime. So not good for my heart.
The other way hockey is killing me is my own fault. I am in a tournament this weekend. There is nothing like a hockey tournament to remind me how fat, lazy and old I am. Ugh. Why do I willingly pay to play a whole  bunch of games over just a couple of game? A glutten for punishment no doubt. At least we have won our first two games.
I showed you that wonderful cider walnut bread that I love so much but I also needed to find a bread that my husband would eat too. He is a Wonder bread man…yuck. So I had to find a bread that was more white flour than wheat flour as to trick him into eating better bread. The trick worked however 🙂 He gladly ate this bread and never even asked if it was "that healthy bread crap you eat." This too comes from the Macrina Cookbook(again, you should get this if you love to bake).
If you look at the picture you might be wondering what kind of peanut butter is that? Good question. It's Raspberry White Chocolate Peanut Butter. Strange I know. A few months back ago I got a request from a Internet place called the Nibble.com. They wanted to use a picture of mine. In exchange they would send some goodies my way. Sure why not I thought. Goodies is certainly what I got. I really loved the pomegranate hard candy I got. The hot chocolate was yummy too. I got a bunch of chocolate from different places and I got P.B. Loco peanut butter. It is quite yummy spread on some hot toasted bread. I swear they just sent me all that good stuff so I would get hooked on it and have to buy it 🙂 ! They have several flavors I want to try: Cinnamon and Raisin, European Cafe Mocha and CoCo Banana. I of course will only get to try them if the Sabres don't kill me or if I don't kill myself with hockey over load…wish me luck!!!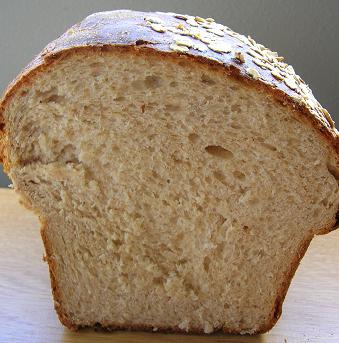 Oatmeal Buttermilk Bread
1 ½ cups rolled oats
1 cup boiling water
¼ cup water
2 tsp dried yeast
1 ½ cups buttermilk
½ cup canola oil
½ cup brown sugar
1 cup whole wheat flour
3 ½ cups all-purpose flour
2 tsp salt
1 spray bottle of water
Set aside ¼ cup rolled oats. Place the remaining oats into a medium bowl. Cover with boiling water. Mix with spoon to moisten all oats. Let bowl sit, uncovered, for 10 minutes, stirring frequently.
Place ¼ cup of warm water in the bowl of your stand mixer and sprinkle yeast on top. Mix with a whisk to dissolve yeast. Let rest for 5 minutes. Add soaked oats, buttermilk, canola oil, brown sugar, both flours, and salt. Using the hook attachment, mix on low speed for 1 or 2 minutes to combine ingredients. Increase speed to medium and mix for about 10 minutes. Dough will be wet at first, but will eventually from a ball. Ball will have a satiny finish and will bounce back quickly when poked with finger.
Place dough in an oiled, medium bowl and over with plastic wrap. Proof in a warm room, 70-75F, for about an hour. Dough will almost double in size.
Pull dough from bowl onto a floured surface and flatten it with your hands, releasing excess air bubbles. Form dough into a 12 x 6-inch rectangle and position it so that a long side is facing you. Fold the 2 short ends onto the top so they meet in the middle. Starting with the closest end, roll dough away from you into a log. Let loaf rest on its seam for a few minutes.
Transfer dough to an oiled 9 x 5 x 4-inch loaf pan, seam side down. Using your hands, push down on the dough to make sure it extends to all corners of the pan. Cover with plastic wrap and let proof in a warm room for 35-45 minutes. Loaf will rise to slightly above the top of the pan.
While loaf is proofing, preheat oven to 385F.
Remove plastic wrap and mist top of loaf with spray bottle of water. Sprinkle with remaining oats. Place pan on center rack of oven an bake for approximately 1 hour. Top and sides of finished loaf will be deep golden brown. Let cool in the pan on a wire rack for at least 30 minutes, then run a sharp knife around the sides of the loaf to release from the pan. Invert to remove loaf.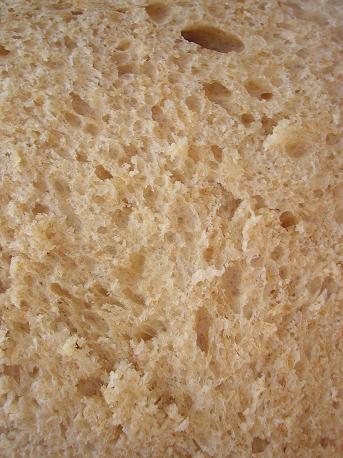 Source: Adapted from Macrina Bakery and Cafe Cookbook by Leslie Mackie with Andrew Cleary, 2003