May. It used to be one of my favorite months. That was when I was a teacher. For May is the last month of school in Arizona. No matter how much you loved your teaching job, every teacher by this time was more than ready for the Summer to start. So now that I don't teach school anymore, May simply means Summer is coming…and well if you are new to my blog and didn't read last Summer you don't know…I hate Summer. I am a Fall/Winter gal through and through. I don't crave the warmth, the bugs, the crowds of people mass exiting on the highway each Friday and most importantly the food(I am allergic to a lot of Summer produce). As I flipped the calender page over I let out a sad little sigh, knowing that I will have to wait around until September for my beloved Fall to come. I rarely bake bread in the Summer. Though our Summer in the Pacific North West are very mild compared to Arizona, we don't have air conditioning(most residential places don't) and so it can become quite unpleasant.
So during my time of stress(it is getting much better…one of our big bumps got smoothed out!) and still decent weather I decided I better get some yeast bread in while I can. This recipe comes from a local bakery that I have written about before. If you love to bake, you should really own this cookbook.  I came across this bread and thought it sounded great. I am one of those people who feels their bread should have something to it(Sourdough aside). If I am buying bread it is usually Ezekiel bread with 7 grains…stuff you really have to chew…you know you are chewing bread and not a ball of gummy dough(exception is Thanksgiving turkey sandwich must be on white). This bread brought true happiness to my mouth and sadness to my heart. I realized that now that I am in love with this bread, Summer was coming and I would not be getting to bake it 🙁 . It has become my standard sandwich bread around here(well for me…picky hubby wont eat it). So be careful if you bake this bread…you might become additcted and then not be able to bake it because it is too hot in your home.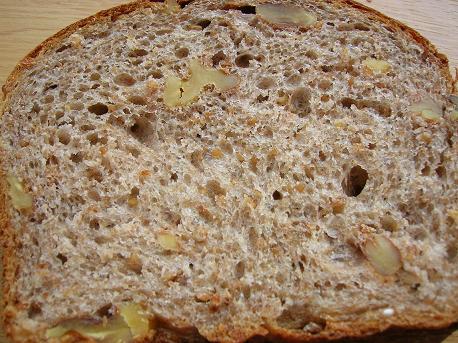 Cracked Wheat Walnut Cider Loaf
Makes 1(9 x 5-inch) loaf
¾ cup cracked wheat
1 cup boiling water
1 ½ cups walnuts chopped, toasted
1 ¼ cups apple cider
1 ½ tsp dried yeast
2 TBSP honey
1 cup plus 1 TBSP coarse whole-wheat flour
2 ¼ cups all-purpose flour
2 tsp salt
½ cup canola oil
Place cracked wheat in a small bowl and cover with boiling water. Stir with a spoon and let sit for 10 minutes to let liquid get absorbed.
Place apple cider in a medium saucepan and warm over low heat, just until it is warm to the touch. Pour warm cider into the bowl of a stand mixer. Add yeast and honey and mix with a whisk until yeast has dissolved. Let mixture stand for 5 minutes. Add plumped cracked wheat, 1 cup whole wheat flour, all purpose flour, salt and canola oil. Using the hook attachment, mix on low speed for 1 minutes to combine ingredients. Switch to a medium speed and mix for 10 minutes. Dough will form a loose ball at the base of the hook. Add walnuts and mix for 2 minutes.
Transfer dough to an oiled, medium bowl and cover with plastic wrap. Let proof in a warm room, 70-75F, for 2 hours. Dough will almost double in size.
Pull dough from the bowl onto a flour surface and punch it down with your hands to release the air bubbles. Form dough into a 12 x 6 inch rectangle and position it so that a long side is facing you. Fold the 2 short ends onto the top so they meet in the middle. Starting with the closest end, roll dough away from you into a tight log.
Place loaf in an oiled 9 x 5 x 4-inch loaf pan and cover with plastic wrap. Let proof at room temperature for 1 hour. Loaf will rise to slightly above the top of pan.
While loaf is proofing, preheat oven to 385F.
Remove plastic and dust top of loaf with remaining TBSP of whole wheat flour. Place pan in center rack of oven and bake for approximately 50 minutes. Finished loaf will be medium brown on top. Let cool in the pan on a wire rack for at least 30 minutes, then run a sharp knife around the sides of the loaf to release it from the pan. Invert pan to remove loaf.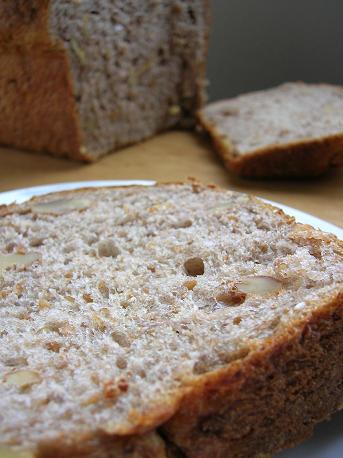 Source: Adapted from Macrina Bakery and Cafe Cookbook by Leslie Mackie with Andrew Cleary, 2003