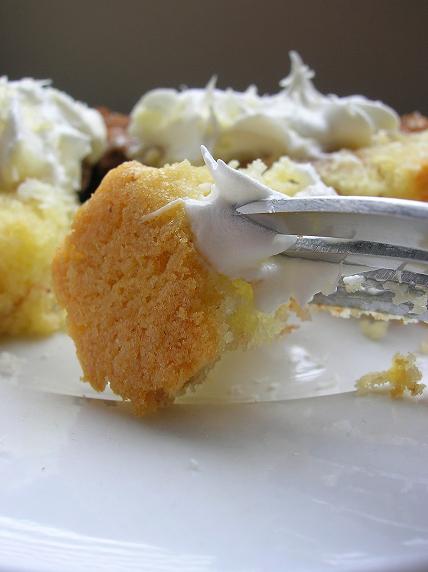 "You have to have the bad days in order to be able to recognize the good ones."
That is one of my dad's favorite phrases…and boy, let's just say I will really be able to recognize a good one when it comes around. Life has thrown a few little thumbtacks and bumps my way and so I am a little scatter brained lately. And with that I have been extremely bad about getting back to people who emailed me or who asked me a question on my blog. Sorry, I am a little self absorbed right now and might be for a little bit longer.
When I am out of sorts, baking always calms me…and I have done a lot of baking lately. After the evil crepe debacle I wanted something that if I was blindfolded would turn out well…I of course turned to Dorie Greenspan. Poor Dorie has been a little neglected lately in the food blogging world. There was a time(right after the release of her beloved Baking: From My Home to Yours) that food bloggers everywhere were singing her praises. It's not that she is not loved, I just had to move on for a little while, as my other cookbooks were starting to get jealous…and well a jealous cookbook is not a pretty sight. The cool thing is that Dorie now has her own blog too. I'm sure it has been up for awhile and I have been in a fog but it's nice to know it is there.
I chose a simple cake that I changed just a little. It was suppose to be a marble cake but I was really just going for a two toned cake…I got lazy about the swirling. There were a couple side suggestions and I took half of one by adding white chocolate to one half of the batter. The other half I chose to add Bailey's Irish Cream to the chocolate portion…yum. I've been kind of on a Bailey's kick in a way. I made a mocha milkshake and put some Bailey's and Kahlua in it…and the Sabres won(if you know my superstitions you know where this is going)…so I will be drinking them until the playoff run is over. Oh my, what a thing to have to drink every other day.
Just like all of Dorie's other cakes I have tried, this was nice and moist and just needed a little Bailey's scented whipped cream and it was good to go.
I'm hoping that my life curve ball will be straightening out soon and I can return back to my less scatter brained self…until then, again I apologize if I seem like I am blowing you off.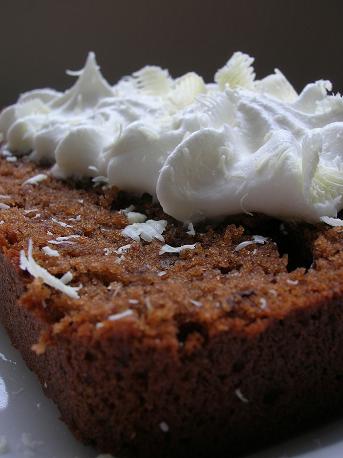 White Chocolate Irish Cream Marbled Loaf Cake
2 cups plus 2 TBSP all purpose flour
1 ¼ tsp baking powder
½ tsp salt
1 ½ sticks unsalted butter
1 cup sugar
4 large eggs
½ tsp vanilla extract
½ cup whole milk
4 oz white chocolate, melted and cooled
3 TBSP Bailey's Irish Cream
3 TBSP cocoa powder
Preheat oven to 325F.
Whisk together flour, baking powder and salt.
Working with a standing mixer, preferably fitted with a paddle attachment, or with a hand mixer in a large bowl, beat the butter on medium speed until smooth, about 3 minutes. Add the sugar and beat for another 2-3 minutes. Add the eggs one at a time, beating well after each addition. Don't be concerned if the batter curdles and stays curdled-it will be fine. Beat in vanilla. Reduce the mixer speed to low and alternatively add the flour mixture in 3 additional and the milk in 2(being and end with the dry ingredients), mixing only until each addition is incorporated.
Divide the batter in half. Stir 4 ounces of melted white chocolate into the batter and mix until well incorporated. Take the other half of the batter and add 3 TBSP of Bailey's and 3TBSP of cocoa powder. Place the chocolate portion into the pan(8 ½-x-4 ½-x-2 ½ inch loaf pan greased and floured) first, followed by the white chocolate batter. At this point you could marble the cake…I was lazy and did not.
Bake cake for 1 hour and 20-30 minutes(mine took 1 hour 20 minutes), or until a thin knife inserted deep into the center comes out clean. If the cake looks as if it is getting too brown during it's bake, cover it loosely with a foil tent. Transfer the cake to a cooling rack and let it rest for about 15 minutes before unmolding, then cool the cake to room temperature right side up on the rack.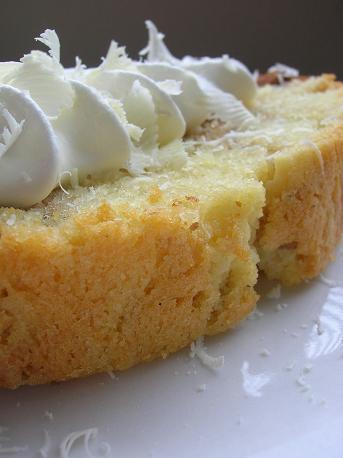 Source: Adapted from Baking: From My Home to Yours by Dorie Greenspan, houghton mifflin 2006