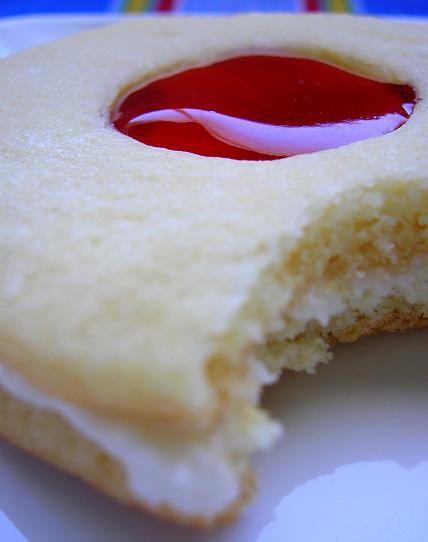 HOLY COW and then some! Who knew you were all out there…obviously not me. Thanks to all the lurkers who stepped up and posted. I must admit that a small sense of panic filled me. My delusion of 35 readers is now gone and I felt a little pressure to bake. I feel bad that they are just cookies but I didn't want to mess up the kitchen that much after I had turbo cleaned it(though my mom still did clean some of it when she got here…sigh).
I love, love, love the flavor of key lime. I mean, love(I might have mentioned that). Now if you don't have access to key limes other limes will do but I will step up and be honest and say it is not the same. Key limes are much more tart and for such a little fruit it has quite a bit of flavor. Not readily available all that much, but lucky for me they bottle it…and my local high end store carries it. It's called Nellie and Joe's Famous Key Lime juice and if you don't have a store around you that carries it, like most things in life, it can be found on Amazon.com. These cookies combine a lot of things I enjoy: key lime, sugar cookies, butter cream and jam. I would have really liked to have key limes so that I could have used the zest in the sugar cookie, but alas that was not going to happen. You can make your butter cream as tart as you would like, I like mine so tart that my cheeks start to pucker and I make a face that hopefully will never be photographed! The raspberry jam is good but not necessary…it was really only added for color because the bland slightly pale green was just not working for me. Be warned, you will be seeing more key lime in the near future…I'm sure in cheesecake form and maybe in another.
The parental unit has officially arrived and my mom was quite amazed at all the "computer food people" who were reading my site…especially the ones who said where they were from. For those of you celebrating the Easter holiday, I wish you a happy one…for everyone else I say have a happy Sunday.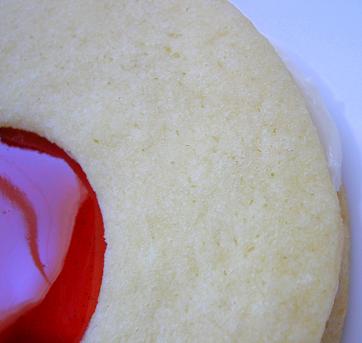 Key Lime Sandwich Coolers
¾ cup powdered sugar
¾ cup granulated sugar
1 cup butter, room temperature
1 egg
1 tsp key lime zest(or if you like me and had none 2 TBSP key lime juice)
2 ½ cups flour
1 tsp baking soda
1 tsp cream of tarter
Mix sugars, butter, egg and zest until creamy.
Mix in flour, baking soda and cream of tarter.
Cover and refrigerate for 2 hours.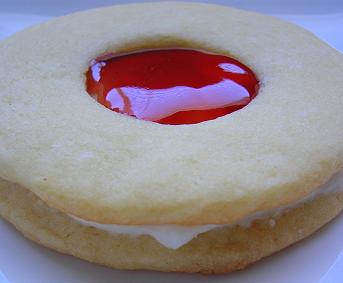 Preheat oven to 375F.
Remove from fridge and divide in half.
Roll each half to ¼ inch thick on lightly floured surface. Using a round cookie cutter, cut out as many circles as you can. Taking a smaller round cookie cutter, cut a hole in the middle of HALF the batch of cookies. Leave the other half whole.
Bake for approximately 7-8 minutes, until light brown around the edges.
Place on baking rack to cool.
Frosting
½ cup butter, room temperature
3 cups powdered sugar
as much key lime juice as you want
Cream butter and sugar together. Get frosting to consistency you want. If it is not thick enough add more sugar. Add key lime juice 1 TBSP at a time and blend. Taste after each incorporation to see if you have reached desired tartness.
Take the whole cookie and frost the entire top. Then place the cookie with the hole in the middle on top of that. If desired you can heat up some seedless raspberry jam and place in the middle.