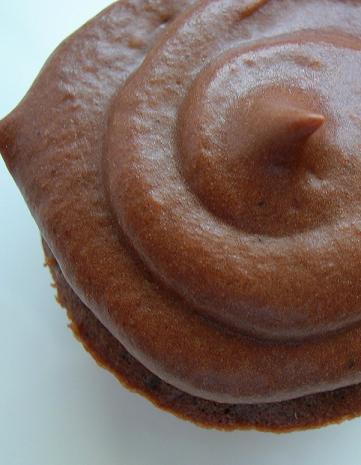 Book Club was last night.
Two things we always like to have is wine and chocolate so I thought I would supply the chocolate.
Mini cupcakes are always the best because they transport easy and they can be consumed in one bite.
The cupcake part is not really that special but the frosting is what gives it a little more of a decadent kick.
This month's book club was different in the fact that most of us read the book.
That could be because we chose to go old school and flashback to our days of middle school.
If you are a man you didn't read this book.
But if you are a woman you most likely did….we read "Are You There God? It's Me Margret" by Judy Blume.
For those who have read it, you can only imagine how weird our discussion was last night. 🙂
In other news, I thought I was getting a new camera.
Someone I know recently purchased a new camera and was looking the sell her old one.
I was all ready to buy it when I discovered that the lens I need to take my signature up close photos runs around $900.
That is more than what the camera body and the 50mm lens combined were going to cost me.
Sigh. So it looks like I am with the cheapo camera for awhile.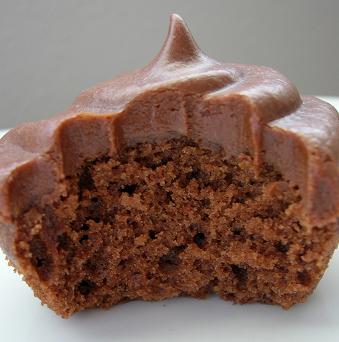 Chocolate Cupcakes
1/2 cup boiling water
1/4 cup butter
1 cup granulated sugar
1/4 cup unsweetened cocoa powder
1 1/2 cups all-purpose flour
1/2 teaspoon salt
1/2 teaspoon baking powder
1/2 teaspoon soda
1 egg, beaten
1/2 cup sour cream
1/2 teaspoon vanilla extract
In a mixing bowl, combine boiling water, butter, sugar, and cocoa. Beat until sugar is dissolved. Add sifted dry ingredients alternately with the beaten egg, sour cream, and vanilla. Fill greased and lightly floured cupcake cups about half full.
Bake at 350° for 25 minutes. Makes about 12 to 18 medium cupcakes or about 9 to 10 large cupcakes. If you are making  mini cupcakes then they only need to be in the oven for 12-14 minutes.
Chocolate Ganache Frosting
5 ounces bittersweet chocolate
3 ounces unsweetened chocolate
3/4 cup whipping cream
1/4 cup butter , room temperature
2 cups powdered sugar
1/4 teaspoon salt
1/4 cup whole milk
1 teaspoon vanilla
1. Chop chocolates and transfer into a heat proof bowl.
2. Heat cream until bubbles form around the edge of the pan, pour cream over the chocolate.
3. Let sit for 1 minute then stir until combined.
4. Add butter to the chocolate (make sure its soft and at room temp) and stir until combined.
5. Whisk together sugar, salt, milk, and vanilla in another bowl until combined.
6. Pour the sugar mixture onto the chocolate mixture, then stir until combined and smooth.
7. Let sit at room temperature until thickened.
8. Beat with an electric mixer until fluffy.