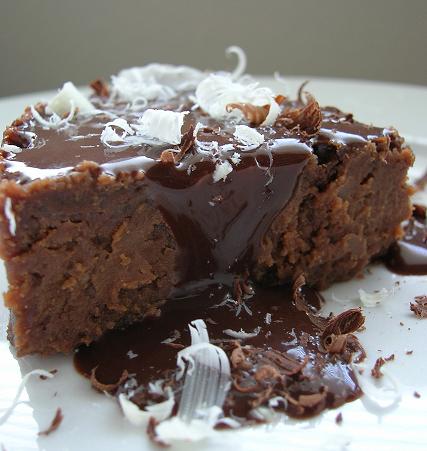 After our little group of bakers took on Battle Croissant it was decided that perhaps for our next group project we should chose something a little more on the less challenging side…you know, like a peanut butter and jelly sandwich 🙂 . We all made suggestions. My suggestion was for a chocolate flour less cake. I have made many a flour less cake and I know that they are simple to make. Plus it is February, the month of chocolate! Well my idea was chosen and we picked Chocolate Intensity by Tish Boyle. This was actually very different from any flour less cake I had made before. The ones I had made use beaten egg whites to add volume, this did not. So as a result the cake is far more dense than the chocolate flour less cakes that I am used to. This was almost fudge-like, in a good way(as if that could ever be a bad way). They only disappointing thing was for my husband, who was very excited when this baby came out of the oven(remember not much baking has been happening on my end). But the minute he bit into it he was sad…it has a fairly strong coffee flavor(fine by me) and he is not a fan of the caffeine wonder(and we live in Seattle). It was so rich in fact that I chose to not put the glaze over the whole cake but just the individual slice. And as usual I made mini cakes, because the smaller they are, the more of them  you can eat!
To see what others were up to head on over to Brilynn, Quellia, Ivonne, Mary, Lis, Tanna, Helen, Veronica or Hester to see what they did with theirs.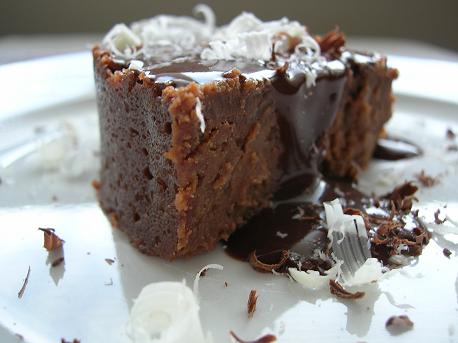 Chocolate Intensity
from Tish Boyle's The Cake Book
makes one 9-inch cake or two mini 4 inch cakes
8 ounces bittersweet chocolate (preferably 62% cocoa), finely chopped
12 ounces (3 sticks) unsalted butter, cut into pieces
1 cup granulated sugar
1/2 cup brewed coffee
6 large eggs
1 tsp vanilla extract
1/8 tsp salt
Preheat oven to 350F. Butter the bottom and sides of a 9-inch round cake pan. Line the bottom with a parchment round and butter the parchment. (If you're using a pan with a removable bottom like a springform, make sure to wrap the pan with 2 or 3 layers of foil.)
Place chopped chocolate in a large bowl.
In a saucepan over medium-high heat, stir butter, sugar and coffee until the butter is melted and mixture is boiling. Pour the hot mixture over your chopped chocolate. Let stand for 1 minute then gently stir until chocolate is melted and the mixture is smooth.
In a medium bowl, whisk the eggs vigorously until blended. Whisk in the vanilla and salt. Slowly add about 3/4 cup hot chocolate mixture to the eggs, whisking constantly. (Tempering the eggs with a little bit of the hot chocolate mixture will prevent "scrambled eggs" when combining the two mixtures.) Add the egg mixture to the hot chocolate mixture and whisk to combine well.
Strain the batter through a sieve (to catch any cooked egg bits) and then pour batter into prepared pan. Set cake pan in a large roasting pan and fill the pan with enough hot water to come halfway up the sides of the cake pan. Bake for 35-45 minutes, until the center is shiny and set but still a bit jiggly. Transfer cake pan to a cooling rack and cool for 20 minutes.
Run a thin knife around the edge of the pan to loosen the cake. Place a cardboard round on top of the pan and invert the cake onto it. Remove pan and carefully remove the parchment paper. Refrigerate the cake for at least 2 hours before glazing with chocolate glaze.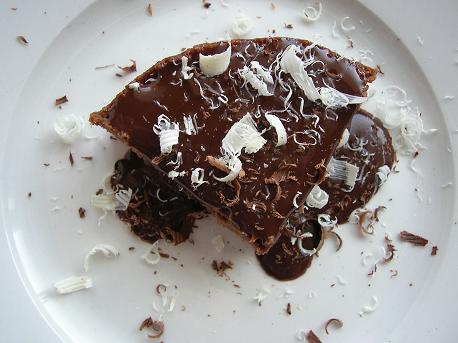 Chocolate Glaze
6 ounces bittersweet chocolate, finely chopped
2/3 cup heavy whipping cream
1 tsp vanilla extract
Place chopped chocolate in a medium bowl.
In a small saucepan, bring the cream to a boil. Remove pan from heat and add the chopped chocolate. Let stand for 1 minute then gently stir until chocolate is melted and the glaze is smooth. Gently stir in the vanilla. Transfer glaze to a small bowl and cover the surface of the glaze with plastic wrap and let cool for 5 minutes at room temperature before using.
To glaze the cake:
Place the chilled cake, still on the cake round, on a wire rack set over a baking sheet. Slowly pour the hot glaze onto the center of the cake. Smooth the glaze over the top and sides, letting the excess drip onto the baking sheet.
Scrape the extra glaze from the baking sheet and put it in a small ziploc bag. Seal the bag and cut a tiny hole in one of the bottom corners. Gently squeeze the bag over the top of the cake to drizzle the glaze in a decorative pattern. Refrigerate the cake at least one hour before serving.
Special thanks to Mary for getting her post up early so super lazy me could just copy and paste the recipe. 😛