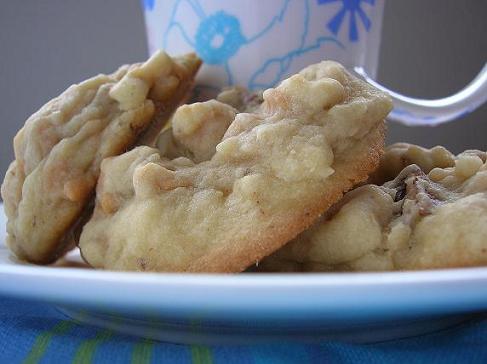 So don't expect grand things from me in the next weeks to come, I'm sticking to the easy stuff for now. Last night I had to score keep hockey(have to pay those medical bills :|). Anyway, to encourage the refs to not call too many penalties(since I would have to hop up and open the penalty box door each time they do), I baked cookies. Peanut butter chips must of been on sale at Christmas, because I seem to have a never ending supply of them some how. So I chose to do something with those. I didn't want to make them with chocolate(so that the dog could have a few…bad I know). Finding a recipe without chocolate was a little tricky and so I just decided to make my own….a pecan and peanut butter chip cookie. My hubby, myself, the refs and the dog all really enjoyed them. And in case you were wondering, my bribe did help :).
Pecan Peanut Butter Chip Cookies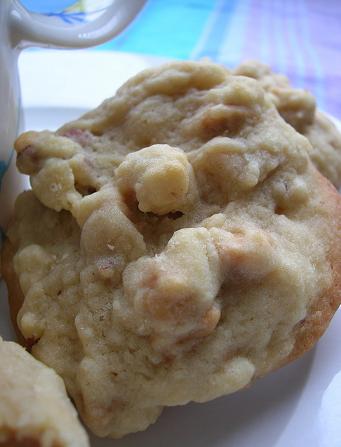 1 cup unsalted butter
1 cup powder sugar
1/2 cup brown sugar
2 eggs
1 tsp baking soda
1/2 tsp salt
1 cup cake flour
1 3/4 cup all-purpose flour
1 12 ounce bag peanut butter chips
1/2 cup chopped pecans
1. Preheat the oven temperature to 375°F.
2. While the oven is heating, combine the flour, baking soda and salt in a small bowl. In a large mixing bowl, cream the butter and sugar together for 3 minutes. Add one egg at a time and mix thoroughly. Make sure to scrape down the bowl between each egg.
3. Take your small bowl of dry ingredients and gradually mix it into the large mixing bowl. Fold in the peanut butter chips and nuts into the batter and mix.
4. Using a small ice cream scoop(or spoon) drop the dough onto your greased baking sheet.
5. Bake for 9 to 11 minutes or until the cookies are golden brown. I do 9 minutes.
6. Allow to cool.