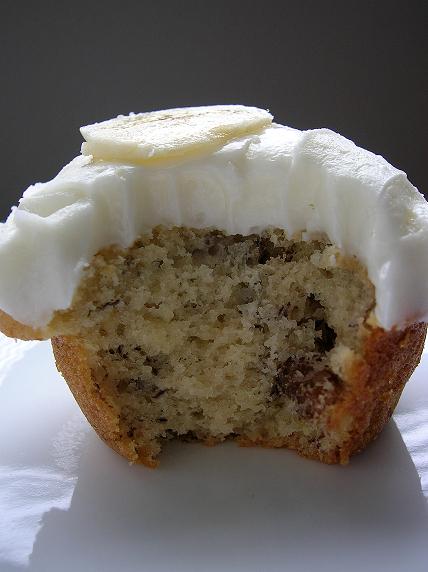 So, I am the first to admit that I am a lazy person. So when I hurt my foot I thought it would be no problem to sit around and be a sloth. Turns out, I'm a fairly active sloth. I am definitely going stir crazy…which is bad because I am doing things on my foot I am not allowed to do. I broke down and baked. But I did do most of the mixing while sitting down and so I wasn't really on my foot that much. I chose to make these because my husband was in charge of grocery shopping, which he did a good job at(he normally does not grocery shop). I put bananas on the list but unfortunately I forgot to say how many. So I got a lot of bananas. And as you know, they go bad quickly and you must do something with them. The original recipe called for a caramel espresso frosting, which I would have liked to try but hubby likes cream cheese frosting so I went with that since homemade anything has not been coming out of my kitchen.
I found these to have a nice, but not overpowering banana flavor and they were incredibly moist. I want to make it again but this time with a caramel rum mousse, which is what we had for our wedding cake.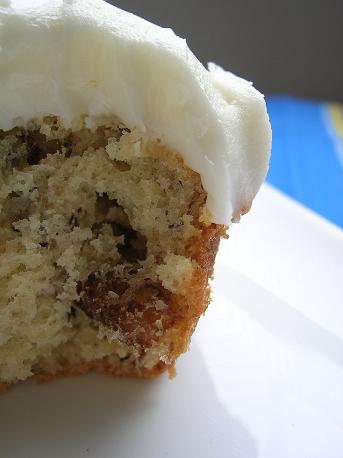 Banana Cake
2 ½ cups cake flour
1 ½ tsp baking soda
¼ tsp salt
2 tsp ground cinnamon
1 ½ cups well mashed very ripe bananas(about 3 large)
½ cup sour cream
11 TBSP unsalted butter, softened
6 TBSP canola oil
1 cup granulated sugar
½ cup packed brown sugar
3 large eggs
1 ½ tsp vanilla extract
1 cup chopped walnuts
1.Position rack in the center of the oven and preheat the oven to 350F. Grease cupcake pans and dust with flour.
2.Sift together the cake flour, baking soda, salt and cinnamon into a medium bowl. Whisk to combine and set aside.
3.In a small bowl, combine the bananas and the sour cream; set aside.
4.In the bowl of an electric mixer, using the paddle attachment, beat the butter at medium-high speed until creamy, about 30 seconds. Add the oil and both sugars and beat at high speed until creamy and light, about 3 minutes. At medium speed, add the eggs one at a time, beating well after each addition and scraping down the sides of the bowl as necessary. Beat in the vanilla extract. At low speed, add the flour mixture in three additions, alternating it with the banana mixture in two additions and mixing just until blended.
5.Remove the bowl from the mixer stand and stir in the walnuts by hand. Scrape the batter into the muffin pans(I used and ice cream scoop).
6.Bake for 20 minutes or until a toothpick inserted in the center comes out clean.
7.Let cool and frost with your choice of frosting…I went with cream cheese frosting.
Source: Adapted from The Cake Book by Tish Boyle, 2006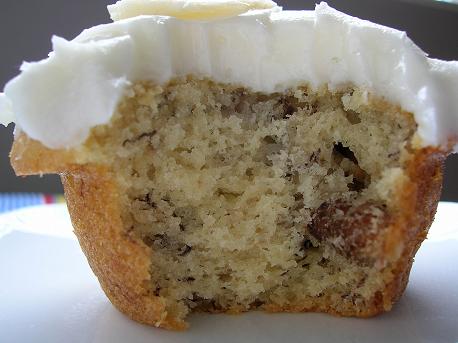 Cream Cheese Frosting
1/4 cup butter
1 package (8 ounces) cream cheese, room temperature
1 pound confectioners' sugar, sifted
2 teaspoons vanilla extract
PREPARATION:
Directions for cream cheese frosting
Combine all ingredients in large mixing bowl; beat well until smooth. Makes enough cream cheese frosting for a 2-layer cake.