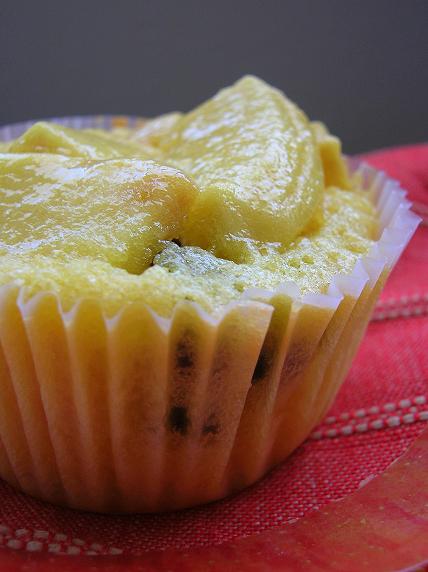 Paris Sweets is a great cookbook but I must admit that I would love it more if it had pictures. Before I made these I was not quite sure what they would look like. The book describes them as muffin like, and though they are baked in muffin pans, I didn't really find them muffin like. These are chalked full of apples with the batter barely keeping them together, almost like a crab cake. And if you don't add the rum soaked raisins they have almost no flavor(I made 3 without the raisins). They are definitely moist and when I make them again I think I will make them with a rum sauce.
 Soft Apple Cakes/ Fondants aux Pommes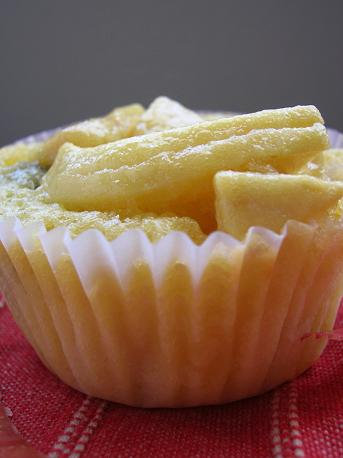 1/2 cup raisins
2 TBSP dark rum
juice of 1/2 lemon
3-4 large apples, I used Fuji, peeled and cored
3/4 cup all-purpose flour
1/2 tsp baking powder
pinch of salt
3 large eggs, room temperature
1/2 cup sugar
1 1/2 tsp vanilla extract
4 TBSP unsalted butter, melted
1. Soak the raisins in hot water for about 4 minutes, until they are puffed. Drain, drop them into a small saucepan, and, stirring constantly, warm them over low heat until they are very hot. Remove the pan from heat, pour the rum over the raisins, and, standing back, ignite the rum with a match. Swirl the pan until the flame goes out.
2. Position the racks to divide the oven into thirds and preheat the oven to 325F. Line muffin molds with cupcake liners.
3. Put the lemon juice in a large bowl. Cut each apple in half from top to bottom, cut each half into 1/4-inch slices, and then cut the slices crosswise in half. Toss the slices in bowl with the lemon juice.
4. Whisk together the flour, baking powder and salt.
5. Put the eggs and sugar in a mixer fitted with the whisk attachment and beat on medium-high speed until the eggs are pale and voluminous, about 4 minutes. Beat in the vanilla. Switch to a large rubber spatula and stir a couple of spoonfuls of the batter into the melted butter. Working gently, fold the flour into the remaining batter, followed by the melted butter, apples and raisins.
6. Spoon the batter into the lined muffin tins, filling each mold just about to the top, and slip the tins into the oven. Bake for 25-28 minutes, rotating the tins top to bottom and front to back halfway through the baking; the cakes are done when a knife inserted in the center comes out clean. Transfer the tins to a rack and wait for 5 minutes before gently lifting the cakes, in thier papers, from them. Allow the cakes to cool to tepid or room temperature before serving.
Source: Adapted by Paris Sweets by Dorie Greenspan 2002