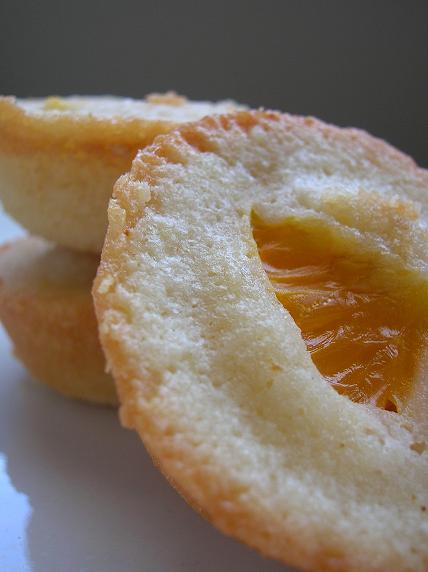 Sadly, I have only been to France once, and it wasn't Paris and I was dating a strict vegan who didn't drink. Sigh. No wine and no cheese and he didn't eat "white" bread or sweets. Really, what is the point of going to France if you aren't going to eat the food and drink the wine? The Tour de France is the answer.  I must be longing to go since I have only been dragging out my French based cookbooks or being attracted to the French recipes in the non-French cookbooks. First with the madeleines and now with financiers. I had always known them as newlywed cakes and so when I was reading the recipe for them in Just A Bite, and Gand talked about them being a newlywed dessert, I took that as a sign to make them. I love how moist and spongy the cakes are with that wonderful addition of brown butter and almond meal. Traditionally, I would make these with berries but since they are not in season, they are a tad pricey. So I went with satsumas and pears.
I have a feeling that January is going to be French month…I may just make my new year's resolution to gain 16 pounds quicker than I planned 😛
 Brown-Butter Financiers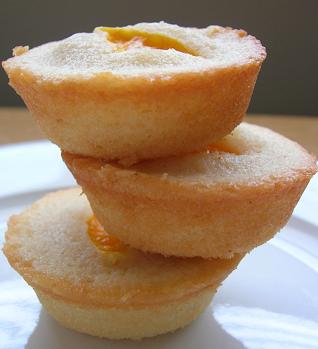 9 TBSP unsalted butter, at room temperature
1/2 cup almond flour or ground almonds
1 cup powdered sugar
1/4 cup plus 2 TBSP all-purpose flour
1/2 cup egg whites
1 tsp applesauce
fruit of your choice
Make the brown butter: Melt the butter in a saucepan over medium heat. The butter will seperate into melted golden fat and white, grainy milk solids. Keep cooking until the milk solids turn golden brown and the mixture smells like toasted nuts, making beurre noisette. Let the butter cool slightly, then strain it through a fine strainer to remove the toasted milk solids.
Sift the dry ingredients together and transfer to a mixer fitted with a whip attachment. Add the egg whites, applesauce, and strained beurre noisette and mix.
Heat the oven to 375F. Cut your fruit so that it is about the size of a nickel.
Pipe or spoon the batter into the prepared pans(mini muffin pans), filling them three-quarters full. Place a piece of fruit in the center of each cake. Bake for 10-12 minutes, or until golden and browned around the edges.
Let cakes cool in the pans, then gently lift them out.
Source: Adapted by 2001 Just a Bite by Gale Gand