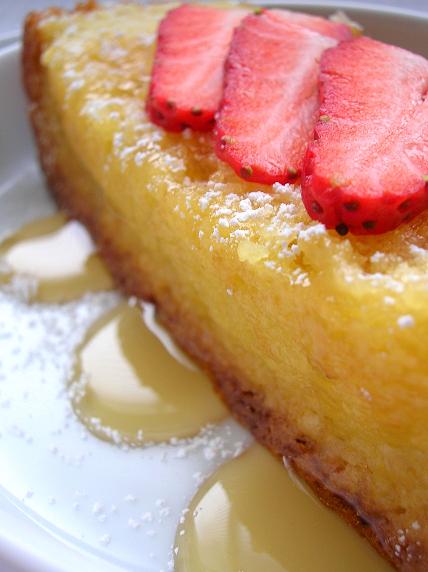 If I had kept this cake around, I surely would have met my gain 16 pounds goal this week. As it stands, I still ate half of the loaf…in a day. Sigh. French Yogurt Cake is one of my favorites. It is so moist and dense and with just a hint of lemon running through it. I could say it is healthy because there is yogurt in it…but then I would be lying 😛 Since the flavors are so simple I like to keep the topping simple: a sprinkle or two of powdered sugar, honey and a few slices of strawberries. It really doesn't get better than that.
French Yogurt Cake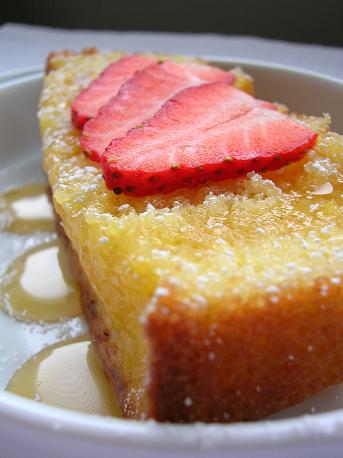 1 cup all-purpose flour
1/2 cup ground almonds
2 tsp baking powder
pinch of salt
1 cups sugar
grated zest of 1 lemon
1/2 cup plain yogurt
3 large eggs
1/4 tsp vanilla extract
1/2 cup flavorless oil
Center a rack in the oven and preheat the oven to 350F. Generously butter an 8 1/2 x 4 1/2 inch loaf pan and place the pan on a baking sheet.
Whisk together the flour, ground almonds, baking powder and salt.
Put together the sugar and zest in a medium bowl and, with your fingertips, rub the zest into the sugar until the sugar is moist and aromatic. Add the yogurt, eggs and vanilla and whisk vigorously until the mixture is very well blended. Still whisking, add the dry ingredients, then switch to a large rubber spatula and fold in the oil. You'll have a thick, smooth batter with a slight sheen. Scrape the batter into the pan and smooth the top.
Bake for 50-55 minutes, or until the cake begins to come away from the sides of the pan;it should be golden brown and a thin knife inserted into the center will come out clean. Transfer the pan to a rack and cool for 5 minutes, then run a blunt knife between the cake and the sides of the pan. Unmold, and cool to room temperature right side up on the rack.
Source: Adapted from Baking: From My Home To Yours by Dorie Greenspan 2006