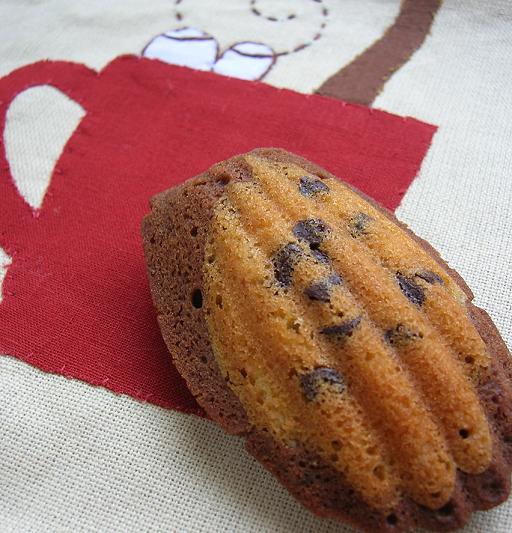 So the New Year is here and if you are over here looking for low-fat, healthy baking, you are going to want to move along to someone else's site. I will be bringing the same butter and sugar-ladened baked goods that I did all last year. In fact, my New Year's resolution is to gain 16 pounds…in hopes of once again not being able to keep my resolution 🙂 
This year for Christmas I got a great deal of baking/cooking related items…including 10 cookbooks(be jealous). One of those items I got was a new madeleine mold. Mine met an unfortunate death in our move to the Pacific Northwest and just never got replaced. So to break in the molds I decided to make some madeleines my hubby would eat, chocolate, chocolate chip. I simply took the batter and divided it. I put cocoa powder in with one half and chocolate chips in the other. I squeezed a dab of chocolate chip and then covered that with the chocolate.
They came out beautifully, and met all the specifications that the cookbook said it had to have…the elusive back bump as well as the ability to float in hot chocolate or coffee.
So pour yourself a cup of coffee or cocoa and help yourself…maybe it will cure your hangover from last night.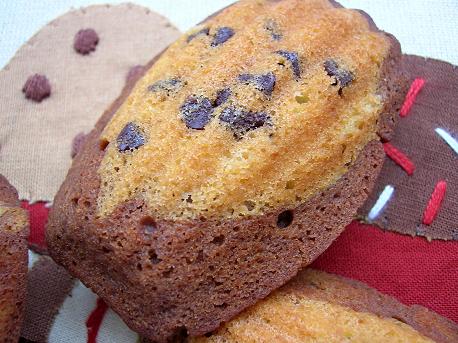 Base:
3 cups plus 2 TBSP all-purpose flour
2 1/2 tsp baking powder
8 extra-large eggs
2 tsp vanilla extract
14 ounces unsalted butter, melted and kept warm
2 3/4 cups powdered sugar
1/4 cup firmly packed light brown sugar
3 TBSP honey
For Chocolate Madeleines
1/4 cup melted unsalted butter
1/4 cup unsweetened cocoa powder
For Chocolate Chip Madeleines
1/2 cup mini chocolate chips
1. Preheat the oven to 375F. If using nonstick madeleine pans, spray them with vegetable oil spray. If you pans are not nonstick, simply brush each well with melted butter, allow to set, then dust with all-purpose flour, tapping out the excess.
2. In a medium bowl, whisk together the flour and baking powder. In another medium bowl, whisk together the eggs and vanilla extract. In the bowl of an electric mixer fitted with the whisk attachment, beat the warm butter(14 ounces) with the powdered sugar on low speed until smooth and free of lumps. Add the brown sugar and honey and mix until smooth, scraping down the sides and bottom of the bowl as needed. Add half of the flour mixture to the butter-sugar mixture. Mix on low speed until smooth. With the mixer still on low speed, gradually add all of the egg mixture, scraping down the sides and bottom of the bowl as needed. Once the mixture is well combined, stop the mixer and add the remianing flour mixture. Mix on low speed just until all the flour is incorporated. Set aside 2 cups of your finished batter. In a small bowl, whisk together 1/4 cup sifted, unsweetened cocoa powder and 1/4 cup warm, melted butter. Add the resperved batter and whisk until combined. To the rest of the plain batter add 1/2 cup mini chocolate chips. At this point, the batter may be used immediately, but it is best if refridgerated for at least 4 hours(and up to 2 days) in an airtight container before baking.
3. If there is time, bring batter to room temperature before using. Fill each mold three-quarters full using either a pastry baf or a small scoop. I used 1/2 of the way with chocolate chip covered with 1/4 of the chocolate batter.
4. Bake in the center of the oven for 22-26 minutes, or until golden brown. Immediately unmold by inverting the pans, tapping them if needed against a work surface. Transfer the madeleines to a wire rack to cool complelely(don't let them cool in the pan or they may stick).
Source: Adapted by The American Boulangerie by Pascal Rigo 2003