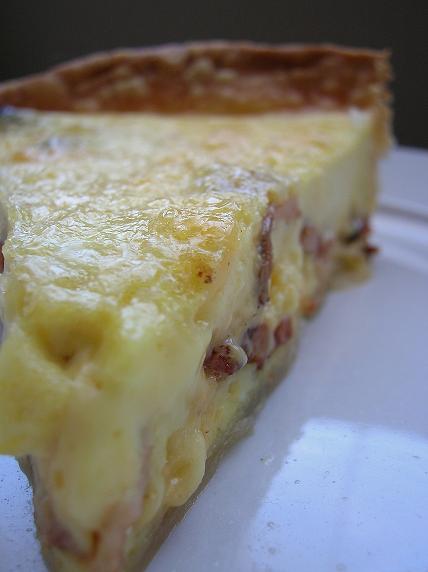 You throw enough bacon and cheese in anything and you can get a man to eat it. And what is more important is that quiche taste good, too good. Why oh why, must everything I love to eat be bad for you. Cream, check. Eggs, check. Bacon, check. Cheese, check. Cholesterol pills, check. I've never actually had a flavor combination of quiche that I didn't like, but my favorite is always some version of quiche Lorraine. This quiche falls into that category.
Quiche is so versatile. It can be an appetizer, your breakfast/brunch, or even your main meal with a nice salad. There aren't that many foods that can say that. And it can be made ahead of time to boot.  The only problem I find with quiche is that it never quite feels me up and I end up eating more and my four hundred calorie piece ends up being a thousand….sigh. I highlight quiche this week because I think it makes an excellent Christmas morning breakfast. You could make it ahead of time and have one less stressful thing to do. Plus, it is soooo simple to make.
I didn't include a pie crust dough because the one I tried from allrecipes.com was horrible…there was nothing flaky about it. Luckily the quiche still was wonderful.
Hope all your holiday who-ha is in full swing and you are enjoying this time of year.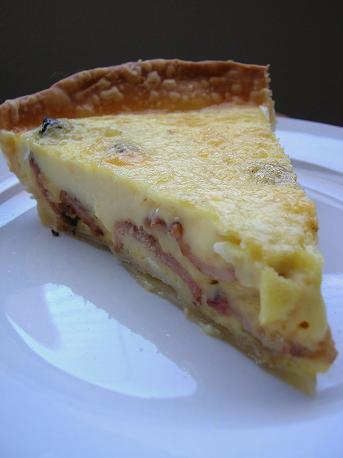 Pie crust for one 9-inch pie(use a recipe of your own or buy store bought)
6 ounces thick cut bacon, cut into narrow strips (or "lardons")
3 large eggs
2 large egg yolks
1 1/2 cups cream
1/4 teaspoon salt
Pinch freshly grated nutmeg
1/2 cup grated cheddar cheese
1/2 cup grated manchego cheese
 
 Preheat the oven to 375 degrees F.
 
Line the pie crust with parchment paper and fill with pie weights or dried beans. Bake until the crust is set, 12 to 14 minutes. Remove the paper and weights and bake until golden brown, 8 to 10 minutes. Remove from the oven and cool on a wire rack. Leave the oven on.
 
In a medium skillet, cook the bacon until crisp and the fat is rendered, about 5 minutes. Remove with a slotted spoon and drain on paper towels. Discard the fat or reserve for another use.
 
Arrange the bacon evenly over the bottom of the baked crust.
 
In a large bowl, beat the eggs, yolks, and cream. Add the remaining ingredients and whisk to combine. Pour into the prepared crust and bake until the custard is golden, puffed, and set yet still slightly wiggly in the center, 30 to 35 minutes.