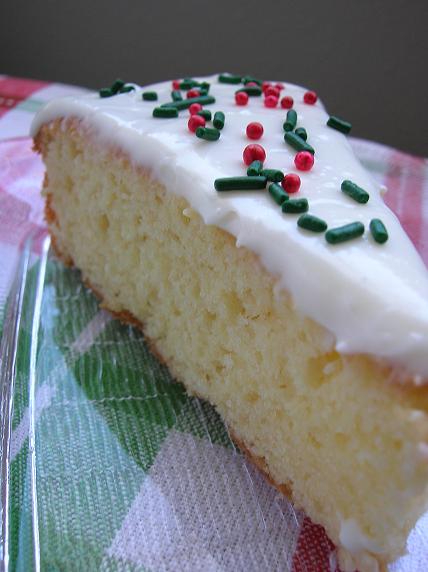 Well as luck would have it, I forgot that before the big wind storm I had made(and photographed) a lovely eggnog cake. An experiment really that turned out nicely. I like hot milk cake and so I thought, why not replace the milk in the cake with eggnog…a risk I know, but all turned out lovely. What it produced was a very spongy yet dense cake that could easily be eaten on it's own, but I love frosting too much so that was out of the question. I personally am not an eggnog person…especially if it is made the proper way with the floating meringue. It just bothers me and I feel like I should be throwing the eggnog into a pie shell and making a custard pie out of it, instead of drinking it. But I do like the flavor of eggnog in certian things(lattes aside…coffee and eggnog don't mix well with me). I originally wanted to make cupcakes I saw a long while back on the Cupcake Blog but it seems a little too egg noggy for me. I did however steal her idea of having a bourbon cream cheese frosting.
 Hot Eggnog Cake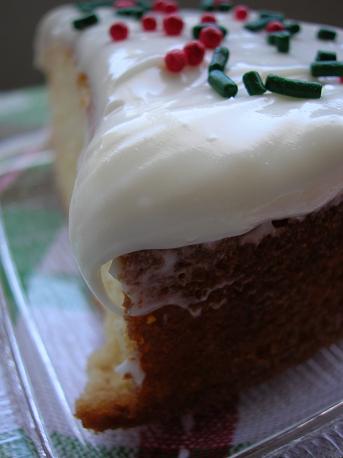 Hot Egg Nog Cake
3 large eggs
1 1/2 cups sugar
1 tsp vanilla extract
3/4 cup egg nog
1 TBSP butter
1 1/2 cups unbleached all-purpose flour
1 1/2 tsp baking powder
1/2 tsp salt
Preheat oven to 325F.
In a large bowl, beat together the eggs and sugar until very thick; the batter should fall from the beaters in a thick ribbon. Beat in the vanilla.
While you're beating the eggs and sugar, heat the egg nog and butter in a small saucepan to just simmering. Add the hot egg nog to the egg mixture in a slow, steady stream as you continue beating.
In a seperate bowl, whisk together the flour, baking powder, and salt. Fold the dry ingredients into the wet ingredients, stirring utnil they're just combined.
Pour the batter into a lighty greased 9 inch cake round. Bake for 50 minutes, or until the cake is a deep golden brown and starting to pull away from the sides of the pan. Remove the cake from the oven and cool it in the pan for 10-15 minutes. Run a knife around the sides of the pan.
Bourbon Cream Cheese Frosting
2 tablespoons bourbon
1-1/2 packages cream cheese, room temp
1/4cup butter, room temp
4-5 cups confectioner¢â¬â"¢s sugar(will depend on how thick you like your frosting)
In the bowl of an electric mixer, beat cream cheese and butter until soft.
Add the confectioner¢â¬â"¢s sugar and beat to combine.
Add the 2 TBSP of bourbon and beat to combine.
Source: Inspired by Hot Milk Cake in the King Arthur's Flour Baker's Companion All Purpose Baking Cookibook