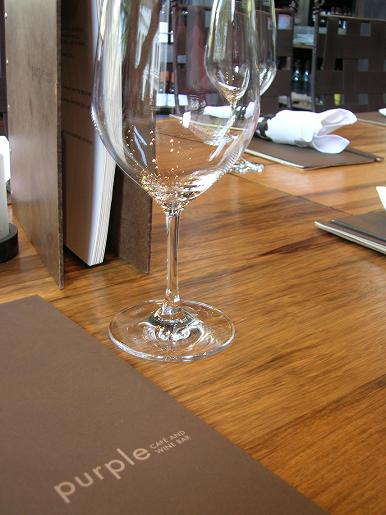 I am no stranger to the Purple Cafe and Wine bar, I can recite to you most of the menu…and it's a big menu. However, we always go to the one in Kirkland and Woodenville. So when one opened up in Seattle I thought nothing of it, until I saw they had a tasting menu. I am such a sucker for tasting menus….I love to get to sample lots of different types of food. So I had to go and check it out. Luckily my Newleywed Girlie Group that I hang out with had organized a get together there. It was my first venture out since being sick so unfortunately I did not get to have any wine, since wine and codeine don't mix well. But if you go to Purple you must have the wine, I especailly love their wine flights where they offer 4 samplings of wine…that all in all only equal about 1 1/2 glasses of wine. It is a great way to discover new wines though. Since no wine, I had to solely concentrate on food. I could have ordered almost everything on that menu but I had to realize that though small, at some point I would get full. I started with 3 items and worked my way up from there. I started with an Artichoke Parmesan spread that me and my friend A decided to split. I was happily surprised that it had way more artichoke flavor than cheese, it had a great, fresh taste…I wont share it next time:)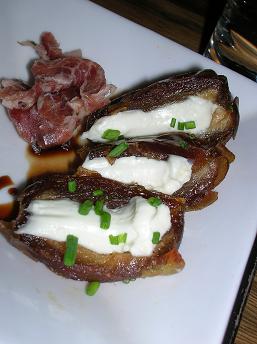 One of my absolute favorites was the Stuffed Dates, Blue Cheese, Coppa, Pine Nuts(pictured above). The sweetness of the date with the tang of the blue cheese was really nice and I was crying for a glass of wine at this point but no 🙁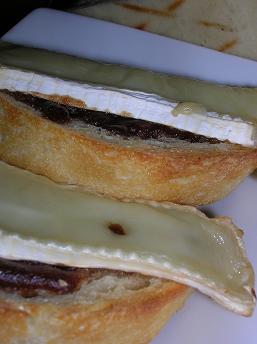 I tried all three of the open faced grilled cheeses, I am a sucker for grilled cheese. The Mahon and Quince grilled cheese was my favorite but really all three were wonderful. My friend A really loved the Drunken Goat and Olive Fig Tapanade Grilled Cheese and we both enjoyed the Cambert and Apple Butter Grilled Cheese(pictured above).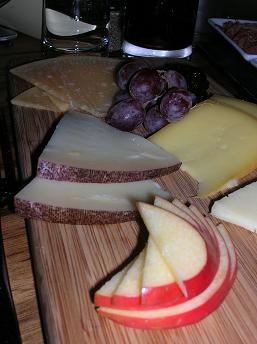 Along with the wine flights, Purple also offers cheese flights. My friend B ordered  the If Willy Wonka had a Cheese Factory cheese flight and A and I got to sample since her eyes were bigger than her tummy. The flight comes with Balarina-goats whole milk-Netherlands( a gouda with a good punch…my favorite), Saint Paulin-cows milk-France(which I would love them to make a grilled cheese with), Asiago Pressato-cows milk-Italy(the only one I didn't get to sample) and Drunken Goat-goats milk-Spain(which came on my grilled cheese with the olive fig tapanade).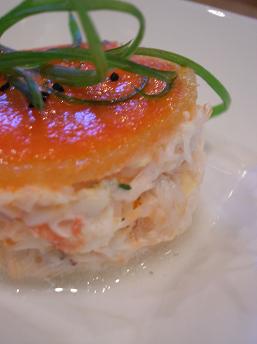 Receiving the most mixed reviews of the night was this Dungeness Crab, Green Apple, Piquillo Pepper. It seemed to be either loved or hated and not much in between. I only had a bite and I would say that it wasn't bad but did nothing for me and when I go back I would not order it. We also had a wonderful soup, Kabocha Squash and Caramelized Pear Soup. I loved it but A thought it to be a tad too sweet and she was happy it was only shot glass size.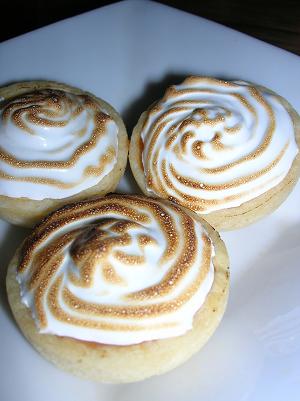 Last of course was dessert. I ordered the Key Lime Meringue Tarts(above). I could have eaten about 20 of these babies. Ideally, I really should have ordered more but since I had no wine in me I was quite aware of what a pig I was making of myself and decided to pass. I did however break down and ordered the Brown Butter Cake with Quince and Red Wine Compote(below) which I also enjoyed and would order again.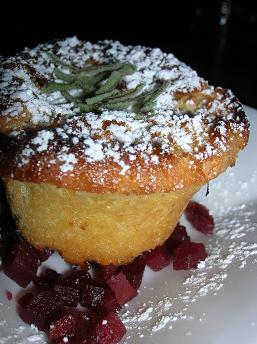 One last note about our Purple experience, our waiter. He was fantastic and for the life of me I can not remember his name. He was friendly, funny and did a great job of keeping 9 ladies happy, which is hard for a guy to do 🙂 So if you are in the downtown area and in the mood for some wine and good noshing then head on over to Purple for a wonderful dining experience.
Purple Cafe and Wine Bar
1225 4th Ave.
Seattle, WA 98101
206-829-2280
F 206-829-2295