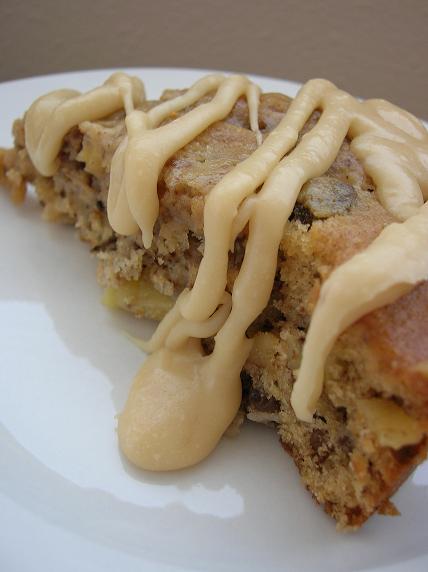 …my food blog is running my life. Here I am sicker than sick laying in bed and I'll I can obsess about is that I am not going to meet my goal of 3 new things a week on my blog. If you are old like me you might remember the "Time to Make the Dough Nuts" commerical that Dunkin Dounuts had many years back. That is what I felt like. Getting out of bed with my head in the clouds trying to read the recipe "Must Make Something For Blog." A little harder than I thought since I have not been grocery shopping in a few. I had apples though and I have not done much apples except for my caramel apple cake. I ran across a recipe on Canadian Living for apple and almond bars. I didn't have a 9 X 13 inch pan since I had made brownies for my hubby and the pan was still occupied with those, so I had to make them in a 9 inch round. There was nothing bar like about these…they are definitely more cake than bar…..but tasty none the less. It also calls for almonds, since it is called apple and almond bars, but I chose to use walnuts(the rebel that I am). Since being sick my diet has gone down the drain. I happily ate my subject today.
Apple and Almond Bars(but mine were walnut)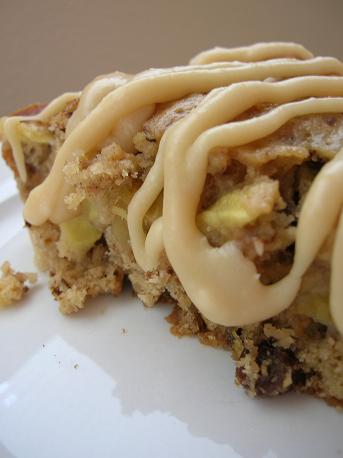 2/3 cup  Raisins  
2/3 cup  Water 
1/3 cup  Butter 
1 cup  Firmly packed dark brown sugar 
1 tsp  Vanilla 
1 Egg 
1-1/2 cups  All-purpose flour 
1/2 tsp Each baking powder and soda 
1/2 tsp  Cinnamon 
1/4 tsp  Nutmeg 
1/4 tsp  Salt 
1-1/4 cups  Peeled, cored finely chopped apples 
1/2 cup  Chopped unblanched almonds 
 
BROWN SUGAR ICING:
 
1/4 cup  Firmly packed dark brown sugar 
3 tbsp  Butter 
2 tbsp  Milk 
1/2 tsp  Vanilla 
1-1/2 cups  Icing sugar 
 
 
Preparation
 
 
Grease a 13- x 9-inch  cake pan and dust with flour.
BARS: In small saucepan, combine raisins and water and bring to boil, uncovered. Remove from heat and, stirring periodically, let cool while preparing batter.
Cream butter with brown sugar until well blended; beat in vanilla and egg.
Sift together flour, baking powder, soda, spices and salt. Mix into creamed batter alternately with raisins and water, making 3 additions of dry and 2 of liquid. Stir in apples and nuts (batter will be thick). Spread evenly into pan.
Bake in 350°F  oven for 25 minutes or until firm to touch.
BROWN SUGAR ICING: In small heavy saucepan, bring brown sugar, butter and milk to boil; remove from heat and beat in vanilla and icing sugar, adding about 1/2 cup at a time. Let cool slightly and spread over cooled cake.
Alternatively, sieve 1/4 cup  icing sugar over cake.
Store in airtight container.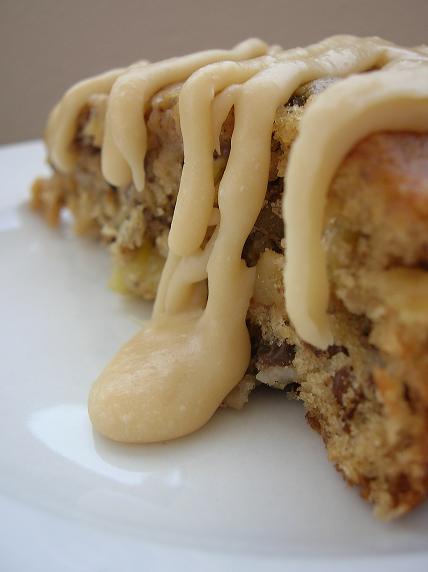 Source: Canadian Living.com
I can go back to bed now, knowing that I met my posting quota for the week 🙂