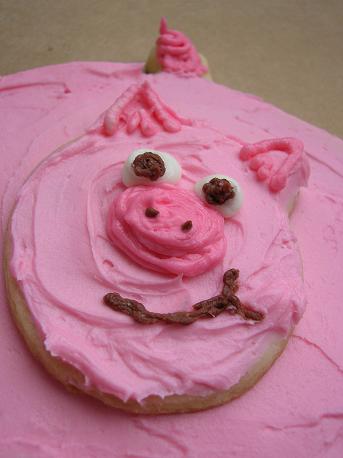 Every time I went to pipe, I coughed and frosting went everywhere. End result, very sloppy cookies. Part of it too is the frosting I use. Royal icing is great for decorating cookies. Unfortunately, I don't like how it tastes. It's like wedding cake….fondant is pretty but butter cream is yummy. I'll take yummy over pretty any day. This is a great tasting cookie. These ones tend to stay a little soft so they are sometimes hard to decorate due to breakage.
This is a short post since I am pretty wiped out and WAY under the weather. But here is cookie # 3 for my cookie exchange. Sadly, the cookies were really made to cheer my dog up after her surgery….she is obsessed with sugar cookies, but they work great for Christmas cookies too. 🙂
Sugar Cookie Dough 
1 1/4 cups unsalted butter, room temperature
1 1/4 cups sugar
1 egg
1 tsp pure vanilla extract
1/2 tsp cream of tarter
3 cups flour
pinch of salt
Preheat the oven to 350F. Grease a sheet pan well and set aside.
Place the butter and sugar in the bowl of a mixer and beat on high-speed, scraping down the sides of the bowl often, until light and fluffy, about 3 minutes. With the mixer on low speed, add the egg and vanilla extract, and mix well. Add the cream of tarter, flour, and salt, and mix on low speed until all of the ingredients are incorporated. Increase the speed to medium and mix until the dough is smooth.
Remove the dough from the mixer and form into a ball. If it is too soft to handle, cover it with plastic wrap and refrigerate untl it firms up a bit. On a well-floured board, roll the dough out to a thickness of about 1/4 inch. Cut into shapes with cookie cutters of your choice. Bake until golden brown, 10-12 minutes, depending on the size of the cookie cutter. Let the cookies cool for about 5 minutes on the pan, then transfer to a rack or paper towels and let cool completely. Frost and decorate the cookie after they have cooled.
Source: Adapted from Caprial's Desserts by Caprial Pence and Melissa Carey 2001