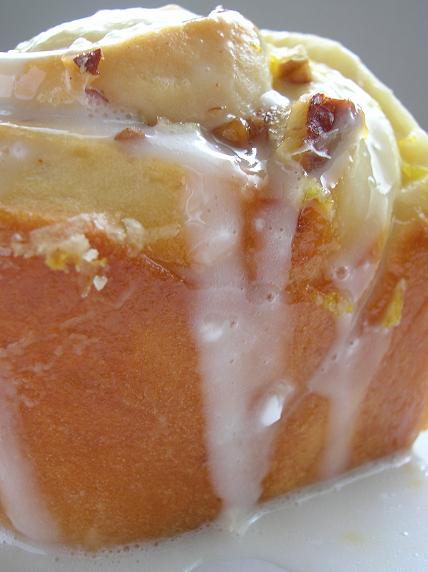 It almost always seemed to happen when I was at school. I would be sitting there learning about who knows what and out of the corner of my eye, there through the window, little tiny flakes of snow would start to fall. Most of the smart teachers knew it was just best to take us outside for a bit because we were pretty much distracted from that point on. I too was distracted but for an entirely different reason. The first snow meant that my mom was at home feverishly baking….and baking with yeast! That was exciting to me because it was the only time of the year that she did. I knew she was making dough nuts, raisin bread, fried won-tons sprinkled with powdered sugar(I know they have no yeast) and most importantly, she was making orange rolls. Oh how I loved them so. It was the only time of the year we got them so it was a big deal to me. The bus ride home on the first day of snow was torture. I often found myself screaming in my head "get off the bus, get off the bus" to all the kids who took too long to gather up their stuff and get off the bus. Finally my stop. I would fly off the bus and start what would seem like the never-going-to-get there walk/run home. I would arrive home with flushed cheeks, out of breath with pieces of matted hair stuck to the side of my face….and there they would be. My mom would already have it out for me next to a nice glass of milk and a warm cup of cocoa. My gooey, sweet, orange-y goodness. Sadly, when I was 12 we moved to a place where snow does not exist and orange rolls were no more.
So when Ivonne and Orchidea decided to host a Dishes of Comfort(from your childhood) event, I knew that orange rolls were what I wanted to make. I called my mom and told her that I needed the recipe for the orange rolls that she used to make on the first snow day. She got rather quiet. "For your blog?" she asked. "Yes". She went on to crush me by telling me that though the raisin bread and dough nuts were made from scratch, the orange rolls were made using refridgerator rolls from the store. Well crap. There went that idea. But since I loved those rolls, I just decided to make my own and see what I got. I used a cinnamon roll base and just messed around with it a bit.
Orange Pecan Rolls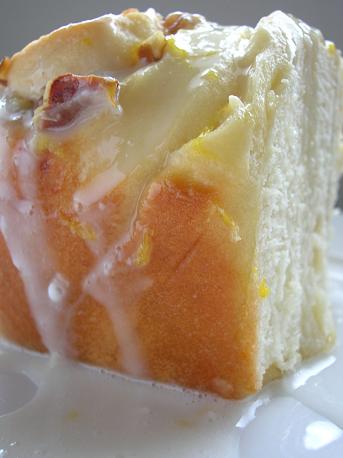 2 cups plus 3 TBSP milk
1 cup plus 6 TBSP granulated sugar
2 tsp salt
1/4 cup unsalted butter
1 egg, slightly beaten
2 1/2 tsp active dry yeast
6 cups flour
1/4 cup unsalted butter, melted
1/2 cup chopped pecans
juice of one orange
Place 2 cups of milk in a saucepan over medium heat and birng just to a boil. Combine 6 TBSP of the sugar, the salt, and the butter in a large bowl, pour the hot milk over it, and let cool to 110-115F. In a small bowl, mix together the egg and yeast. Add to the cooled milk mixture, and mix well. Add the flour and mix until the dough is soft. Transfer the dough to a well-floured board and knead until very smooth and elastic, about 5 minutes. Place the dough in a large, well-greased bowl, cover with plastic wrap, and let rise until doubled in bolume, about 1 hour..
Grease a 9X13 inch pan; set aside.
Punch the dough down, place on a well-floured board, and roll it out into a 10 X 14 inch rectangle and brush it iwth the melted butter. Combine the sugar and pecans and sprinkle the mixture over the butter. Drizzle orange juice over the pecans and sugar. Starting at one of the long sides, roll the dough up, and pinch the seam well to seal. Using a serrated knife, cut the dough into 2 inch thick slices, and place them in the prepared pan. Cover with plastic wrap and let rise one more time, until doubled in volume, about 1 hour.
Preheat the oven to 350F.
When the rolls have risen, bake until golden browm, about 25 minutes. Let cool for about 5 minutes. While rolls are cooling, prepare the icing(recipe follows). Drizzle the icing over the orange rolls and serve warm.
Orange Glaze
2 medium oranges
2 cups powdered sugar
zest of one orange
Combine the powdered sugar, orange juice and zest. Whisk to make sure all is incorrporated.
Source: Adapted from Caprial's Desserts by Caprial Pence and Melissa Carey
Though not quite how I remembered, these were quite tasty and comforting. I unfortunately caught my hubby's bronchitis and am sick. I've done nothing but eat these rolls and cuddle up under a blanket….so they are still definitely comforting.