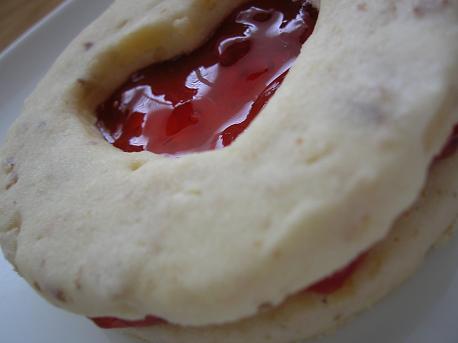 So I know I said that I would be making Walnut and Huckleberry jam cookies…well I lied. I had every intention of doing so until I opened the jar of jam that I had recieved. It looked a little more chunky than what I wanted to deal with for a sandwich cookie and when I put it in my mouth to taste test it was pretty gritty. I did however(so as not to be a complete liar) make one for a photo.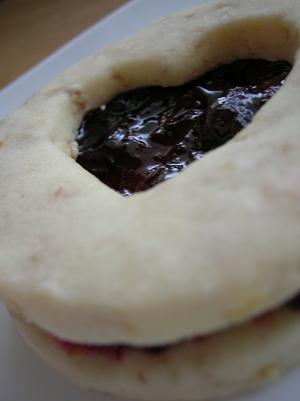 On a positive note, I was not killed in the middle of the night by angry and rejected sugar cookie dough, nor did I dream of it either.
I was at my friend's housewarming the other day and her dad came with a big box of hazelnuts. I tried to convince her to give me some of them, but she did not like that idea 🙁  (I really must work on my begging). Which made me sad since the second I saw the box I thought, oh, I want Linzer cookies. Since I did not go home with hazelnuts that night I needed to pick something else. Traditionally linzers are made with either almonds or hazelnuts…two nuts I don't happen to have. So it was walnuts or cashews….walnuts won. These cookies also make for a great tart crust if you want to get creative. I ended up using my mom's strawberry jam and they turned out quite yummy.
Linzer Cookies(the non-traditonal way)
12 oz unsalted butter, softened
1 3/4 cups powdered sugar
1 egg
2 cups flour
1 cup cornstarch
2 cups ground walnuts
1/2 cup strawberry jam
1. Cream the butter with the sugar until light. Add in the egg and mix well.
2. Mix together the flour and cornstarch. Add this to the creamed mixture and blend. Mix in the nuts thoroughly.
3. Form the dough into a bowl and wrap in plastic. Chill for about 4 hours.
4. Roll out the dough to 1/4 inch thickeness. Cut with a cookie cutter(I chose round but hearts are nice too). Keep half the batch whole and the other half take a smaller cutter and cut out the middle of the cookie. You want to create a window effect(see photos)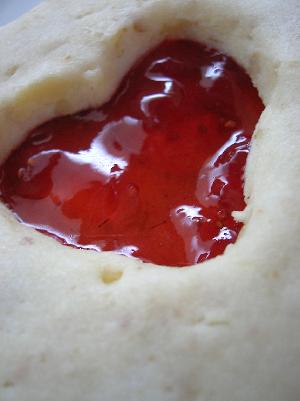 5. Chill the cookies for 10 minutes and preheat oven to 325F. Bake cookies for about 10 minutes or until lightly browned. Cool on a rack.
6. Spread jam on half of the cookies(the ones that aren't cut out). Place the other half on top of the ones spread with jam. Sprinkle with powdered sugar or drizzle with melted chocolate if you would like.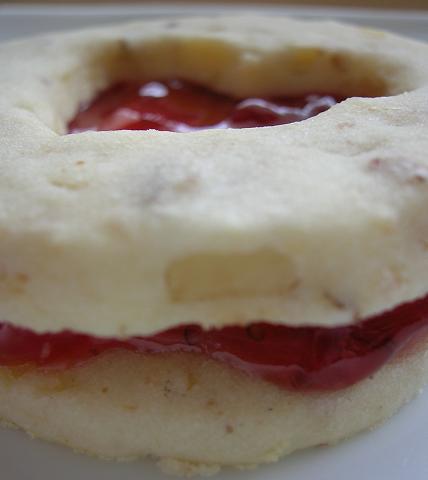 All text and images on this site have ALL RIGHTS RESERVED Copyright (c) 2006 by Peabody Rudd.