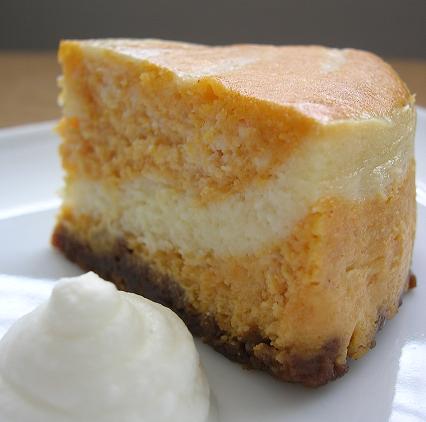 I thought long and hard about when my love affair with cheesecake started and more like a typical male(sorry guys 🙂 ) I could not remember our "anniversary" of the first time we met. My mother didn't make cheesecakes at home(not sure why… she still doesn't) and so I only ever got it going out.  I'm sure my first experience involved the no-bake Jello cheesecake version that was so popular when I was a kid. But I suspect that I fell in love at a restaurant taking a bite off my mother's plate. No doubt it was New York cheesecake with the then obligatory blob of cherries on top…for years this is the only way I thought it could be offered.
Fresh from all my pastry learning, I worked part time(I was a full time teacher) at a little bakery that sadly no longer exist(Phoenix is over run by commercialism now). I decided that I wanted to make the cheesecakes(among other things). Now you are probably thinking that I chose that so I could eat all the cheesecake I wanted….WRONG. I took it in hopes of breaking off the affair. When my brother was in high school he worked for a large Chicken chain. The first two weeks he worked, he threw up every night. After two years of working there he couldn't eat fried chicken for many, many years after that. This is what I was thinking of when I agreed to do cheesecakes. I would get sick of them and never want to put another piece in my mouth…again with the WRONG. All that did was make me much more efficient at making them. It introduced me to many new flavors of cheesecake that I didn't know existed and encouraged me to bake at home to come up with new cheesecake ideas for the bakery. So needless to say the love affair did not end but my job did(4 months=15 pounds so I quit).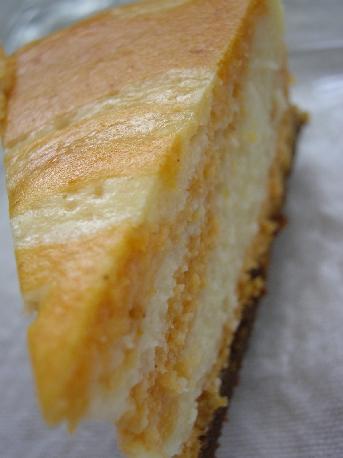 So today I offer you a pumpkin swirl cheesecake from my days at the bakery. I once again, chose to make mini ones( I swear I do own full size pans).  This is such a great recipe. It's so creamy and light but still a little rich at the same time. The pumpkin flavor is not overpowering but is noticeable there. The gingersnap crust give a nice bite to the creaminess of the cake. If I were to have made a real sized cheesecake I could have gotten the good swirl going, but since I did mini's you can't add enough batter to get the full effect. This one is a crowd pleaser for sure.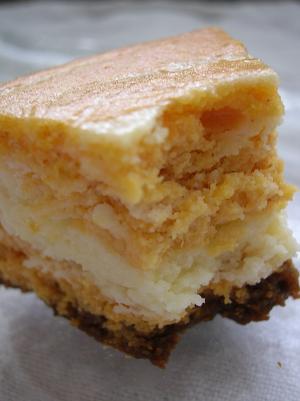 Pumpkin Swirl Cheesecake
1 1/2 cups Gingersnaps
1/4 cup melted butter
2 1/2/lbs cream cheese
2 1/2 cups sugar
2 TBSP flour
5 large eggs
2 egg yolks
2 tsp vanilla
1 cup pumpkin
1 1/2 tsp cinnamon
1 tsp nutmeg
1. For crust, combine the gingersnaps, and butter. Press onto the bottom of a 10 inch spring form pan. Bake for 10 minutes in 350F oven. Set aside.
2. For the filling, cream the cheese until soft. Add in the sugar and mix well. Add i the flour and mix to blend.
3. Add in the eggs, one at a time, scraping th bowl down after each addition. Add in the yolks and vanilla. Mix well.
4. Remove 3 cups of the batter and place in a bowl. In a seperate bowl, combine the pumpkin, cinnamon, and nutmeg. Stir in the 3 cups of plain cheesecake batter.
5. Layer the two batters in the springform pan starting with the plain batter. Do three layers plain batter and two of the pumpkin batter. Swirl the batters to create a marbelized look.
6. Place the cake on a sheet pan. Place in the oven and pour in hot water to create a water bath. Bake the cheesecake at 350 F for approx. 2 hours. A thin knife inserted in the center should come out almost clean.
7. Cool the cake and then chill. Let sit overnight before unmolding.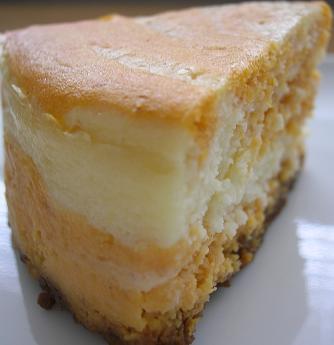 All text and images on this site have ALL RIGHTS RESERVED Copyright (c) 2006 by Peabody Rudd.