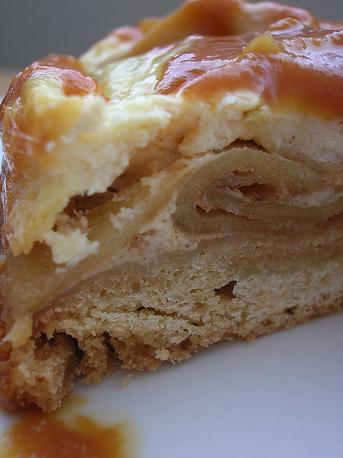 If you read my blog and don't just look at the pictures(all though feel free just to do that….but then of course you wouldn't be reading this) you know that I made a batch of ever multiplying sugar cookie dough. I made this sour cream-apple tart a couple of days ago in hopes of putting a dent into my cookie dough. Dent it I did not, and it just came back stronger and more determined to form a coup and take over the fridge. So today I had to make the decision. Throw the dough away or freeze the remaining. There just isn't enough rental property in my freezer for the cookie dough to occupy and then later on overthrow. So out it went. I imagine I will have nightmares of the cookie dough getting larger and larger until it becomes a 3 foot blob rising like a phoenix out of the dumpster and coming to suffocate me with all it's buttery goodness in the middle of the night. But it had to be done.
Now the recipe I give is the original one that I made oh so long ago. So if you are going to use the cookie dough like I did, just disregard the crust part…minus the fact that you do need to bake you cookie dough. I did for about 7 minutes. I also made a brown sugar sauce(I bet you thought I was doing caramel…again, but no). To make the sauce it is just simply 1/2 cup brown sugar, one stick of butter and 1/4 cup of heavy whipping cream. Melt the butter and sugar together and once the butter has melted whisk in the cream. Remove from heat and serve warm.
So wish me luck all, that the mighty cookie dough does not come back and seek revenge tonight. If it does, enjoy this, my last entry on my blog 🙂 If not, walnut and huckleberry jam cookies should be next.
Sour Cream-Apple Tart  
 
*Needs to be made in a 10 inch springform pan
Crust:
1 cup sll-purpose flour
1/2 cup butter, well chilled
1/2 cup chopped walnuts
1/4 cup sugar
1 large egg
1/2 cup apricot jam, heated and strained
Preheat oven to 375F. Place flour and sugar in a processor bowl. Add butter, in small chunks and blend until mixture resembles coarse meal. Add egg and walnuts. Pat dough into bottom and 1/2 inch up the sides of the pan. Bake until golden brown, 20-25 minutes. Cool, then spread with warm jam.
Filling:
2 1/2lbs tart apples, peedled, cored and thinly sliced
2 tsp fresh lemon juice
1/4 cup sugar
1/2 cup raisins(optional)
1 tsp freshly grated lemon zest
3 TBSP unsalted butter
1/4 cup brown sugar
1 tsp cinnamon
Toss apples with lemon juice. Melt butter in large, heavy skillet over low heat. Add apples and both sugars, stir to mix. Cover and cook until apples are just tender, 10-12 minutes.
Uncover, icrease heat to medium-high and cook until liquid has evaporated, 7-8 minutes. Stir in raisins, cinnamon and zest. Cool mixture.
Topping:
2 cups sour cream
2 large eggs
1/2 tsp vanilla
1/4 cup whipping cream
1/4 cup sugar
Preheat oven to 350F.
Beat sour cream, whipping cream, eggs, sugar and vanilla in medium bowl.
Spoon chilled filling into crust. Very slowly pour topping over, lifting apples so topping seeps through. Bake until topping is consistancy of cooked custard, about 35-40 minutes.
Cool to room temperature and refrigerate for at least 8 hours. Serve Chilled.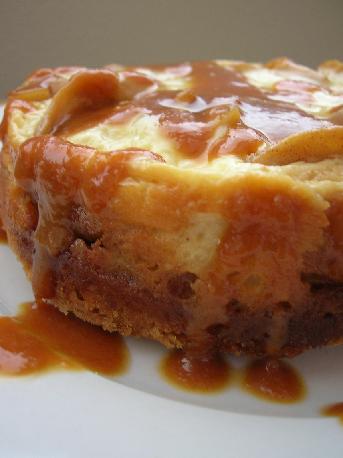 All text and images on this site have ALL RIGHTS RESERVED Copyright (c) 2006 by Peabody Rudd.