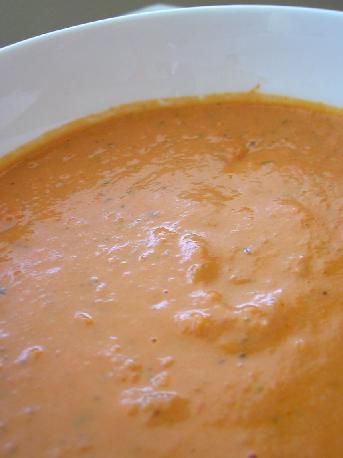 Getting back into the swing of things after vacation(no matter how small) always takes me a little bit of time to adjust. Luckily for me I made soup and froze it before I left so I don't need to worry about really making anything extra today. Which is great because I still have much to unpack and dreaded laundry to do. This soup is partially a copy cat recipe from a chain restaurant that I used to go to when living in Phoenix. I change it up a bit by not just adding basil to the soup but actually pesto.
 La Madeleine Tomato Basil Soup
4 cups tomatoes (8 to 10), peeled, cored and chopped,
    or 4 cups whole tomatoes, crushed
4 cups unsalted tomato juice
12 to 14 fresh basil leaves(I chose to use a 1/2 cup of pesto, recipe follows)*
1 cup whipping cream
1/2 cup sweet unsalted butter, softened
1/4 teaspoon cracked black pepper
Salt, to taste
Combine tomatoes and juice in saucepan. Simmer for 30 minutes over medium low heat. Cool slightly, then place in blender. Add basil and process to purĩe. This will have to be done in batches. Return mixture to saucepan. Add butter and cream. Stir over low heat until butter and cream are incorporated. Stir in salt and pepper before serving.
Pesto for soup:
Basil pesto:
½ cup fresh basil, coarsely chopped
1 ½ teaspoons garlic, minced
2 Tablespoons pine nuts, toasted
¼ teaspoon kosher salt
1 Tablespoon plus 1 ½ teaspoons Parmigiano
2 TBSP butter
2 TBSP olive oil
Combine all pesto ingredients except butter and oil in a food processor. Pulse until ingredients are finely chopped but not pureed. Add butter and oil and process to a thick paste. Reserve.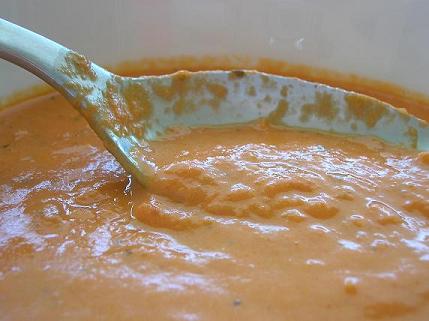 All text and images on this site have ALL RIGHTS RESERVED Copyright (c) 2006 by Peabody Rudd.