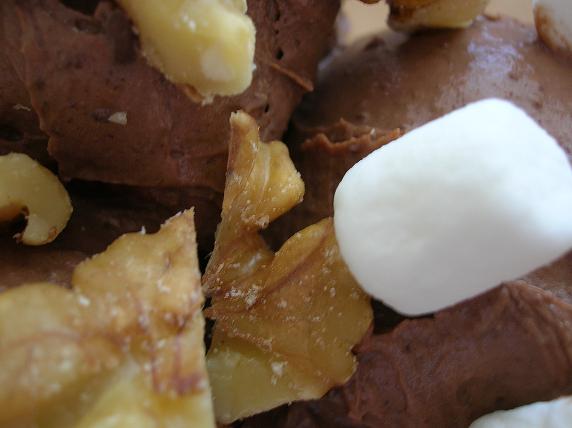 My friend Kristen is the type of person who's most used tool in the kitchen is the phone to call for take out. But she loves to live vicariously through me and is always sending me recipes that she finds from time to time. She went to a craft fair where one of the booths along with selling quits was selling what she thought was ice cream but they just called it chocolate frozen treat. My friend was so enamored by it that she asked for the recipe which they kindly sold to her for $1. So I receive this recipe in the mail half crumpled up and stained and what not and put it aside…six years later I find it and decide we will give it a try.
It was very much like a pudding recipe and set up like pudding would also. I was hoping that it was going to taste like frozen custard(which I LOVE) but knew with only 2 eggs that wasn't going to be the case. I had quite a few left over items: crushed chocolate cookies, ¼ of a bag of milk chocolate chips and what I had originally planned…marshmallows and walnuts .I decided to throw in the extra things to my rocky road as my week has been a bit bumpy and I wanted to make something to represent that. It's hot again and so baking is not high on my agenda right now so this was a good alternative. If I wear to describe it's taste and texture I would say it is somewhere between a pudding pop and chocolate ice cream.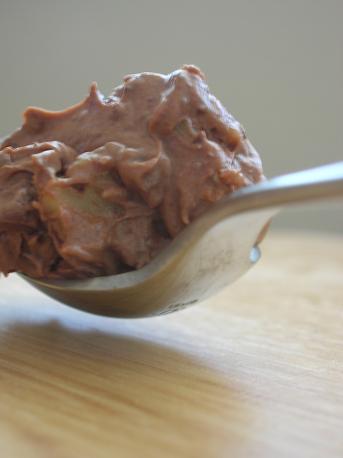 Chocolate Extra Rocky Road Frozen Treat
2 ounces unsweetened chocolate, chopped finely
2 ounces bittersweet chocolate, chopped finely
1 cup sugar
½ cup whole milk
1 cup half and half
½ heavy or whipping cream
2 large eggs
1 tsp vanilla extract
pinch of salt
1 cup mini marshmallows
1 cup chopped walnuts
¼ bag of milk chocolate chips
½ cup crushed chocolate cookies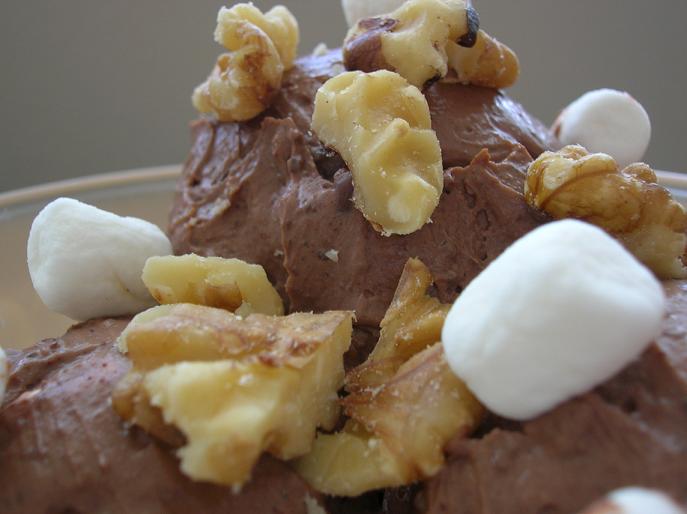 Place the milk, half and half, cream and vanilla extract in a heavy sauce pan over medium heat and bring just to a boil.
Whisk together the eggs and sugar in a bowl. Pour milk mixture over chopped chocolate pieces. Slowly whisk 1 cup of the hot milk mixture into the egg mixture to temper it. Pour the mixture back into the sauce pan and again cook over medium heat, stirring constantly, until it has thickened slightly and just barely coats the back of a spoon, about 7 minutes. Remove the pan from heat. Refrigerate for at least 2 hours.
Place the mixture into an ice cream maker and follow the directions for your machine. When the frozen treat is very thick(about after 20 minutes) add your "extras" and continue freezing to a soft consistency. Transfer the treat to a covered container and place in freezer to freeze.