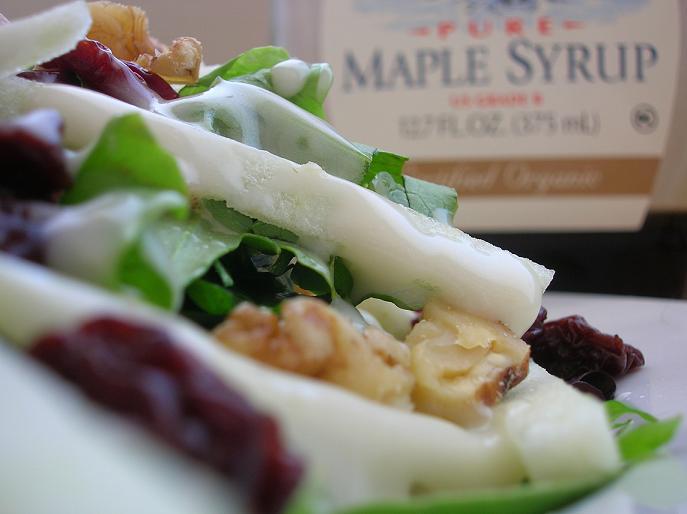 Ah, Summer.
Heat. Bugs. Sweat rolling down my knees.
Beautiful bright red tomotoes…I'm allergic to raw ones. Beautiful bright blue blueberries…I'm allergic to raw ones. Endless peppers and onions….I'm allergic to raw ones. It does produce many other nice foods that I can indeed eat but….
Needless to say I am not a huge fan of Summer. I play an indoor sport(ice hockey), I watch an indoor sport(ice hockey), we don't own a BBQ(because we live in an apartment) and there is no real pourch for us to linger on. The last time I went barefoot in the grass I was bitten by some giant ant. So Summer is a un-needed season for me. It used to be extrememly important when I was a teacher, but since that is not the case anymore, I would like to fast forward to the Fall please.
So when I saw the Summer Salad Recipe Event over at My Life as a Reluctant Housewife I started going through my cookbooks. All the truly pretty salads had vivid red tomatoes in them and this just made me sad. I kept being drawn to all the more "fall" salads. I love Fall. Everything about Fall is the best. Hockey season starts again and I can grasp on to the hope that the Flames will win the Stanley Cup. The weather is ideal for baking. I get to wear coats(I love coats). And I love all the Fall fruits and vegetables.
So this is my Summer salad. It is a Summer salad in the fact that it is a salad and I made it today and it is technically Summer. Therefore by definition it is a Summer salad.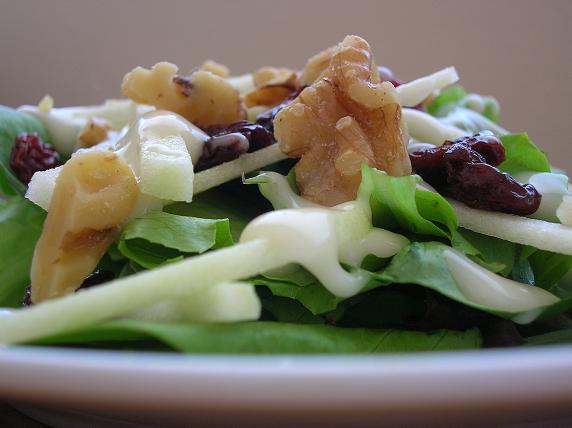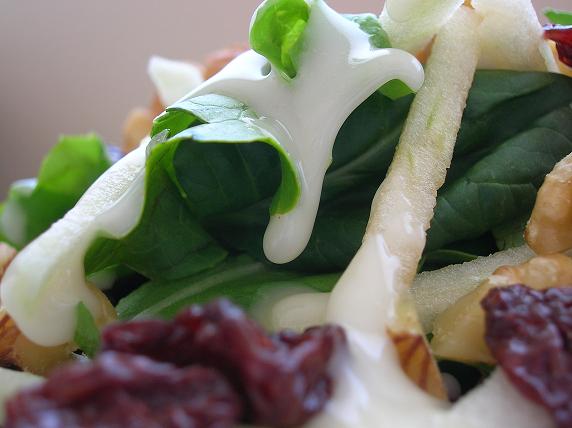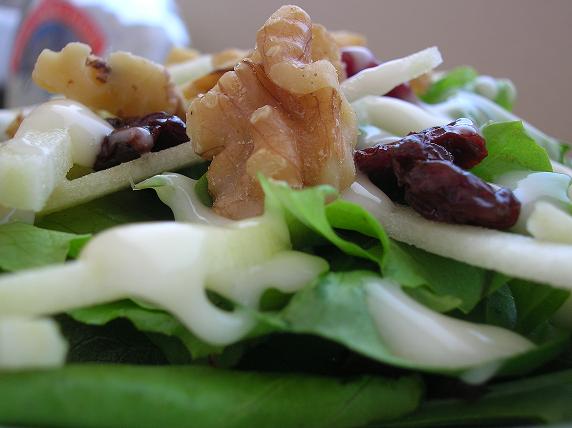 Apple, Dried Cherry, and Walnut Salad with Maple Dressing
Maple Dressing
1/4 cup mayonnaise
1/4 cup pure maple syrup
3 TBSP Champagne vinegar or other white wine vinegar
2 tsp sugar
1/2 cup vegetable oil
Salad
1 5-ounce bag of mixed baby greens
2 granny smith apples, peeled, cored, cut into matchstick-sized strips
1/2 cup dried tart cherries
1/2 cup chopped walnuts, toasted
For Dressing:
Whisk mayonnaise, maple syrup, vinegar and sugar in a medium bowl to blend. Gradually whisk in oil until mixture thickens slightly. Season to taste with salt and pepper.
For Salad:
Toss greens, apples, cherries, and 1/4 cup walnuts in a large bowl to combine. Toss with enough dressing to coat. Divide salad equally among plates. Sprinkle with remaining 1/4 cup walnuts and serve.
Makes 6 servings
Source: Bon Appetit, R.S.V.P., Septemer 2002, Mountain Town Station Brewing Company and Steakhouse