It is so hard for me to realize now that I don't dread the month of August anymore. In Phoenix, school starts in August and not towards the end of the month either. So when the calender would creep close to August a sense of doom would invade me. Oh sure the start of the year was fun(setting up your classroom and getting to know your new students), but there was the sad goodbye of leisurely getting up whenever I wanted and going and having coffee(the leaded kind) at midnight because I didn't need to worry about how late I stayed up. But come August each year I would have to shift modes and inevitably I would learn why the last years teacher had cringed when I said I had Billy in my class.
But now that has all changed. No longer teaching gives me no excuse to dislike August anymore. I must learn to embrace it. Oh sure it still gets warm and I don't like that. But today is only 71 and we have a nice breeze out. I thought I might as well bake while the weather is on my side. So to welcome my new friend, the month of August, I made a modified strawberry shortcake using pound cake.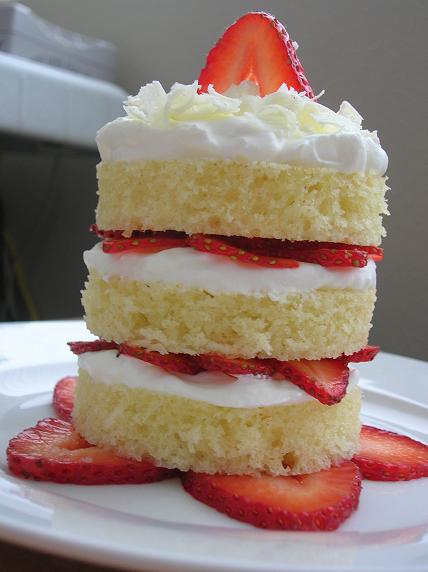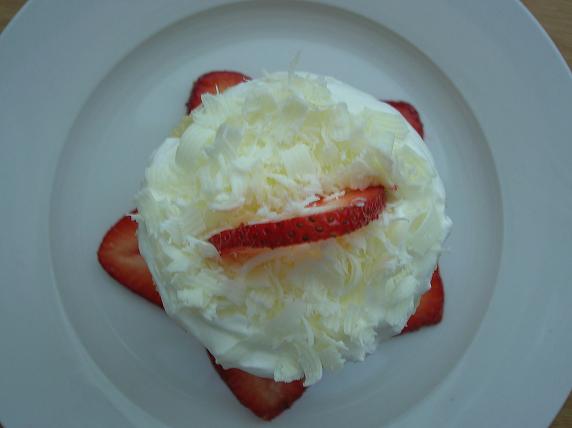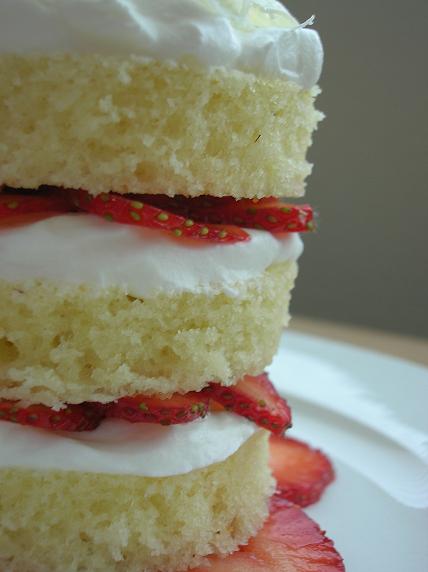 Pound Cake Strawberry Shortcake Tower
pound cake(*see recipe)
1 pound of strawberries, thinly sliced
2 cups heavy whipping cream
powder sugar(to taste…I used about 2 TBSP)
2 TBSP Amaretto(optional)
shaved chocolate for garnish(I used Lindt Coconut Chocolate)
1. Whip the cream, sugar and Amaretto with a mixer(or by hand if you are crazy strong) on high speed until you have made your whipping cream become whipped cream.
2. Take your cooled pound cake. Slice into even slices(however thick you personally would like). Take a biscut cutter(again the size you like) and cut out three circles.
3. Take a pound cake circle, place a layer of whipped cream mixture, then a layer of strawberries. Take another pound cake circle and place it on top of the first layer. Then top again with whipped cream mixture and then strawberries. Add the last pound cake circle and top with more whipped cream. Garnish with shaved chocolate and put a strawberry on top.
4. Repeat this process until you run out of pound cake circles.
*Perfect Pound Cake
Ingredients:
3 Tablespoons milk
3 large eggs
1 ½ teaspoons vanilla
1 ½ cups sifted cake flour
¾ cup sugar
¾ teaspoon baking powder
¼ teaspoon salt
13 Tablespoons unsalted butter, softened
Method:
Preheat oven to 350°F. In a medium bowl lightly combine the milk, eggs and vanilla.
In a large mixing bowl combine the dry ingredients and mix on low speed for 30 seconds to blend. Add the butter and half the egg mixture. Mix on low speed until the dry ingredients are moistened. Increase to medium speed (high speed if using a hand mixer) and beat for 1 minute to aerate and develop the cake¢â¬â"¢s structure.
Scrape down the sides. Gradually add the remaining egg mixture in 2 batches, beating for 20 seconds after each addition to incorporate the ingredients and strengthen the structure. Scrape down the sides.
Scrape the batter into the prepared pan and smooth the surface with a spatula. The batter will be almost a ½-inch from the top of a 4-cup loaf pan. (If pan is smaller, use excess batter for cupcakes.)
Bake 55 to 65 minutes or until a wooden toothpick inserted in the center comes out clean. Cover loosely with buttered foil after 30 minutes to prevent overbrowning. The cake should start to shrink from the sides of the pan only after removal from the oven.
Let the cake cool in the pan on a rack for 10 minutes and invert it onto a greased wire rack. If baked in a loaf pan, to keep the bottom from splitting, reinvert so that the top is up and cool completely before wrapping airtight.
Source: The Cake Bible by Rose Levy Beranbaum