Well I had a lot of thoughts with this one. First I tried to figure out if I lived 7 hours from any city that I owned a cookbook from. Negative. Then I thought the 7 wonders of the world. Having lived in Arizona a large portion of my life and having several cookbooks that were Arizona based surely I could find a recipe from the Grand Canyon. Negative. My next thought was Vegas and the slots. We eloped in Vegas and the night before we got married we at at the Delmonico and hey I owned the cookbook. Alas, way too many ingredients needed for what I wanted to at this juncture. So the only other thing that popped into my head was the 7 deadly sins. I just happend to own several cookbooks that start off with the title Death by….all by the same author, Marcel Desaulniers(a man who inspires me on so many cooking levels). So I pulled out Death by Chocolate Cookies because I have yet to make anything from this book and I have had it a looooong time.
I chose to make Chocolate Peanut Butter Love Bars and if you don't like peanuts then just stop reading at this point. These have peanuts, peanuts, and more peanuts. My biggest problem whenever I make somehting with both peanuts and peanut butter in them is that they get so greasy…which these indeed did do. The rocky consistancy also made for a somewhat rough looking photo(it was hard to get the cookies "good" side). The recipe calls for unsalted peanuts but I used salted because I love the contrast of the salty and sweet(and they were in the cupboard).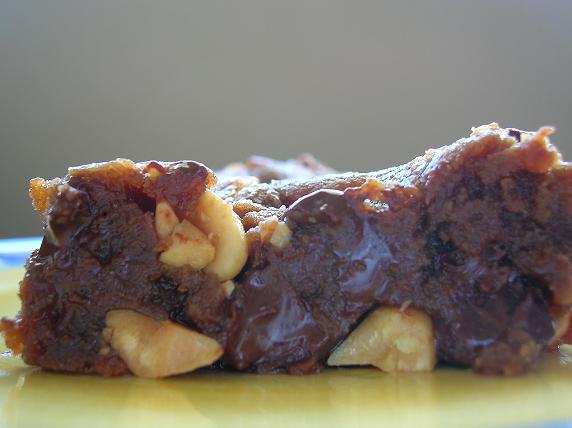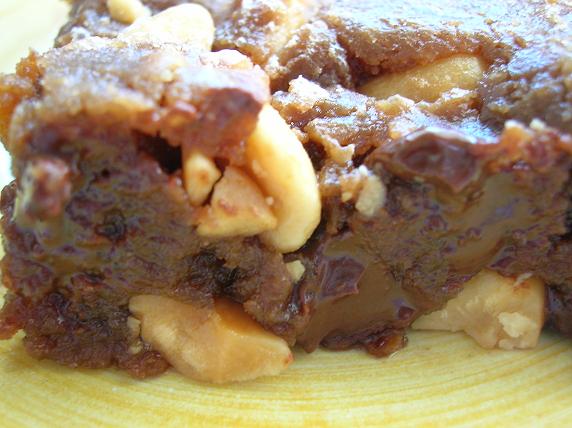 Chocolate Peanut Butter Love Bars
Slightly Adapted Recipe
2 cups unsalted peanuts
2 cups creamy peanut butter
2 cups tightly packed brown sugar(light)
2 large eggs
1 teaspoon pure vanilla extract
1 pound semisweet chocolate, chopped into 1/4 inch pieces
Preheat oven to 350 degrees.
Toast the peanuts on a baking sheet in the preheated oven until golden brown, about 8 to 10 minutes. Cool the nuts to room temperature before chopping by hand.
Use a stiff whisk to blend together the peanut butter and brown sugar(I used my mixer) in a bowl. Add the eggs and vanilla extract and whisk until thoroughly blended. Add the peanuts and the chopped semisweet chocolate, mix well. Transfer mixture to a 9X13X2 inch pan. Use your fingertips to press the mixture onto the bottom of the pan and into the corner and sides, creating an even layer. Place the pan on the center tack of the preheated oven and bake for 22 minutes until set in the center. Remove from oven and cool at room temperature for 1 hour before cutting.
Source: Death by Chocolate Cookies by Marcel Desaulniers