I fear today is that last baking day for about a week so I must take full advantage. My husband was giving the sad we don't have any cookies in the house face so I knew that cookies is what I would have to make. He is pretty boring all around in the food catagory(doesn't like most veggies, no soups, no beans and many other quirks). Cookies are no exception to his food weirdness. He likes chocolate chip, peanut butter and sugar cookies. That is it. Not a fan of oatmeal, not a fan of dried fruit, not of fan of really trying anything new. So most of the time I make chocolate chip cookies, which for me starts to get a little boring so I start messing with the recipe. One time I used the *caramelized sugar that is used in my white chocolate cherry cookies for my plain old chocolate chippers. And ever since that is usually the way they get made.
These are a much thinner and flatter chocolate chip cookie than what I usually prefer but you need them that way to highlight the caramelized sugar…they just don't taste as good all big and chunky.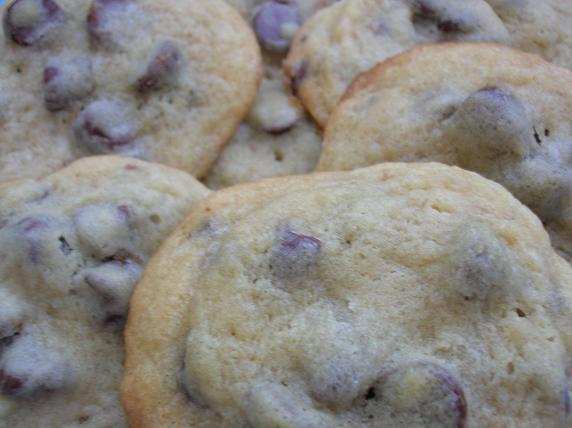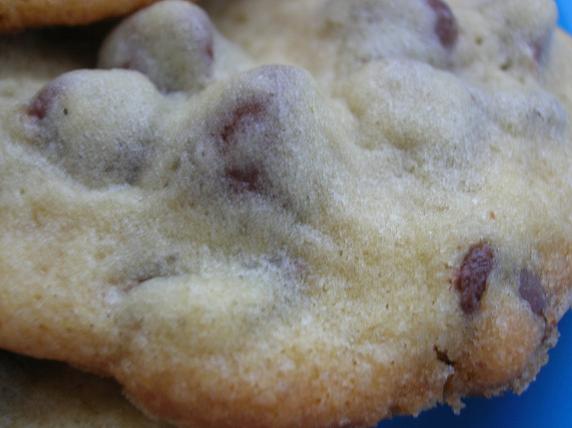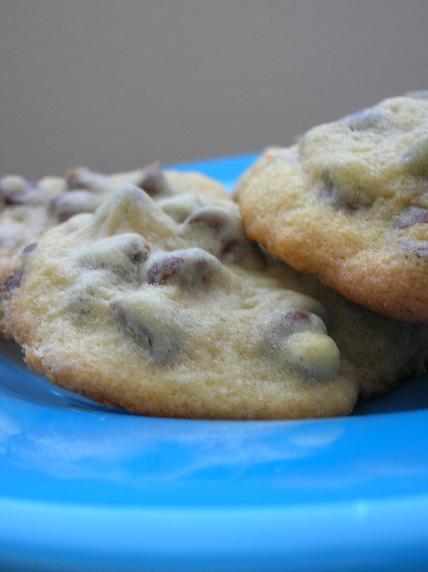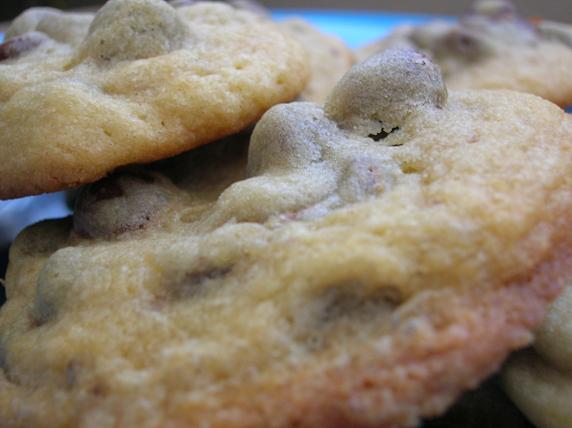 Chocolate Chip Cookies with Caramelized Sugar
2 1/4 cups all purpose flour
1 tsp baking soda
1 tsp salt
1/2 cup *caramelized sugar
1/2 cup powdered sugar
1/2 cup brown sugar
2 large eggs
1 tsp vanilla extract
1 cup(2 sticks) unsalted butter
2 cups chocolate chips(or more if you are like me)
1. Preheat the oven temperature to 375°F.
2. While the oven is heating, combine the flour, baking soda and salt in a small bowl. In a large mixing bowl, cream the butter and sugar together( I like to blend all three of the sugars together in a blender for a smoother consistancy) for 3 minutes. Add vanilla extract and continue to mix. Add one egg at a time and mix thoroughly. Make sure to scrape down the bowl between each egg.
3. Take your small bowl of dry ingredients and gradually mix it into the large mixing bowl. Fold in the chocolate chips to the batter and mix.
4. Using a small ice cream scoop(or spoon) drop the dough onto your greased baking sheet.
5. Bake for 9 to 11 minutes or until the cookies are golden brown. I do 9 minutes.
6. Allow to cool.
*To make caramelized sugar for this recipe. Take a cookie sheet and line it with parchment paper. With the oven preheated to 375 F sprinkle 1 cup granulated sugar onto the middle of the pan. Bake for only about 1-2 minutes( you need to watch it the whole time because once it starts to caramelized it can quickly burn). Take out of oven and it cool completely. Once cooled, lift the blob of caramelized sugar and put into blender. Blend until the sugar is back to being super fine. Measure out 1/2 cup for the recipe. I usually make big batches of this and keep it around to use in other recipes.