So from time to time when I score keep hockey I bring treats for the refs. I know quite a few of them and they usually let me know ahead of time that they will be working with me in hopes of receiving treats. So tonight I work with one of my more favorite refs and decided that since he liked caramel, I would make caramel brownies. What an ordeal that turned out to be. Now I had made several versions of caramel brownies through out my life but came across these ones on the Canadian Baker and choose to modify them a bit. Neither my husband or the ref really like nuts so I took those out of the original recipe.
Anyway, back to why they were a cleaning disaster. The store did not have regular Kraft square caramels and I had to buy a different kind. I think there in lied the problem. For when I microwaved them with the evaporated milk it immediately boiled up and exploded everywhere. Luckily there was enough caramel salvaged for the brownies but it was a huge pain in the butt to clean up. I'm sure I will still find some caramel hiding out later on. So my point being is to watch your caramel in the microwave carefully if you are not using the Kraft caramels.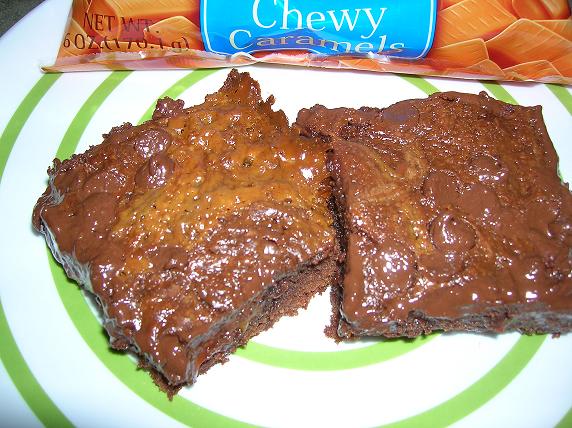 This is the original recipe that was on the Canadian Baker:
Caramel-Layered Brownies
4 squares unsweetened chocolate
3/4 cup butter or margerine
2 cups sugar
3 eggs
1 tsp vanilla
1 cup all-purpose flour
1 cup semi-sweet chocolate chips
1 1/2 cups chopped nuts, divided
1 pkg caramels (14 oz)
1/3 cup evaporated milk
Preheat oven to 350 F.
Melt chocolate and butter in the microwave for 2 minutes or melt over a double boiler on the stove.
Stir sugar into chocolate mixture. Mix in eggs and vanilla until well blended. Stir in flour. Remove one cup of batter; set aside. Spread remaining batter in greased 13 x 9-inch pan. Sprinkle with chips and 1 cup nuts.
Microwave caramels and evaporated milk in medium bowl on high for 4 minutes, stirring after 2 minutes. (Length will depend on the power of your microwave) Stir until caramels are completely melted ans smooth. Spoon over chips and nuts, spreading to edges of pan. Gently spread reserved batter over caramel layer. Sprinkle with remaining 1/2 cup nuts. *
Bake for 40 minutes or until wooden toothpick inserted into centre comes out with fudgy crumbs. Cool in pan on rack. Cut into squares. Makes about 2 dozen brownies.
Source: Treasury of Desserts, 1993
* Since I did not use nuts I sprinkled chocolate chips on top of the batter.