So my friend Elizabeth and I both realized that we were doing nothing for the weekend. They are recent home owners and were excited to show off thier new home. So we decided to get together, a little last minute. So since I was taught never to go empty handed I had to take a look and see what I had in the cupboard. I remember reading on one of my favorite blogs, the Canadian Baker, about some oatmeal chocolate peanut butter bars. It came from a cookbook I already own so out I went searching for it. They are called Barbs Peanut Butter Squares, but I called them oatmeal peanut butter chocolate things.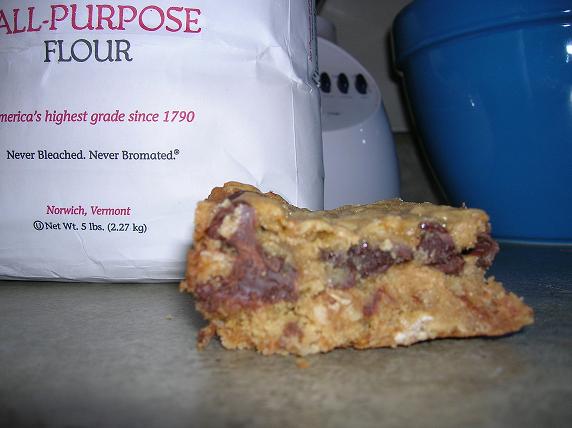 Barb's Peanut Butter Squares
Oatmeal cookie mixture:
1 cup margerine or butter, softened
1 1/4 cups brown sugar, firmly packed
1/2 cup granulated sugar
2 eggs
2 tbsp milk
2 tsp vanilla
1 3/4 cups all-purpose flour
2 1/2 cups rolled oats
1 tsp baking soda
1/2 tsp salt (optional)
Peanut butter layer:
1/4 cup brown sugar
1/2 cup icing sugar
1/2 tsp vanilla
2 tbsp butter, softened
3/4 cup smooth peanut butter
Chocolate layer:
2 cups semi-sweet chocolate chips (can substitute carob chips)
Preheat oven to 350 F.
Oatmeal cookie mixture: Beat the margerine or butter with sugars until creamy. Add the eggs, milk and vanilla and beat well. In a separate bowl, stir together the flour, oats, baking soda and salt. Add the flour mixture to the butter mixture until blended (no need to overmix).Crumble half of the cookie mixture into a greased glass 9 x 13-inch baking dish. Lightly press the mixture to spread it evenly, then pat down.
Peanut butter layer: Mix together all of the ingredients for the peanut butter layer until well blended. Drop all of this mixture by spoonfuls on top of the cookie layer, spreading it evenly. This is a very sticky process! Lightly press the peanut butter mixture into place by hand – you will need to wet your hands to keep the mixture from sticking to you, but a little water won't hurt the bar!
Chocolate layer: Spread the chocolate chips evenly over the peanut butter layer.
Finish by crumbling the remaining half of the cookie mixture over the chocolate layer, gently pressing it into place. You will probably need to wet your hands for this layer too!
Bake at 350 F for approximately 20 to 25 minutes, depending on your oven and the level of chewiness you prefer. Cool, then cut into squares. Lift them out of the pan with a metal spatula.Makes 18 to 24 squares.
Source: Great Canadian Cookies, Bars & Squares, 2002