Well I have been craving something both salty and sweet as of late. There has been much talk(with good reason) on two of my favorite blogs,the Canadian Baker and Cream Puffs in Venice, about a cookbook that I own called The Good Cookie by Tish Boyle. It is a great cookbook for cookies. Not just your average run of the mill cookies either. So if you don't own it, you should.
I came across a recipe for Crunchy Peanut Bars which were descibed to be like Payday bars….I thought perfect…salty and sweet, the best of both worlds. So even though my husband thought me crazy to be baking again(since I did yesterday) off to the store I went to by peanuts. While I was making this I was a little concerned that the topping was going to be too sweet but luckily for me the flavors married together quite nicely.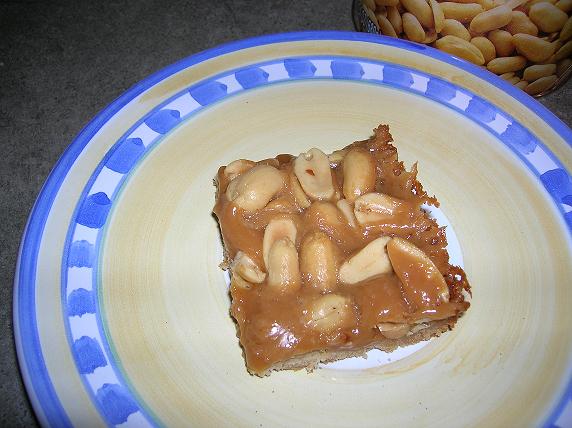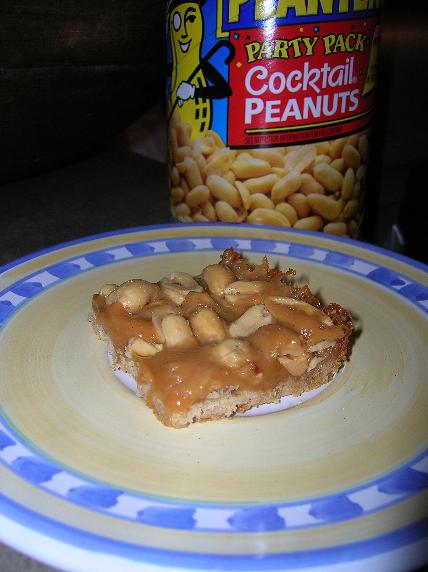 Chunchy Peanut Bars
brown sugar crust:
1 1/4 cup all-purpose flour
1/2 teaspoon salt
1/2 cup(1 stick) unsalted butter, softened
1/2 cup firmly packed light brown sugar
peanut topping
2 tablespoons unsalted butter
2/3 cup light corn syrup
1 2/3 cups peanut butter chips
2 teaspoons vanilla extract
2 1/4 cups(12 ouncces) salted peanuts
make the crust:
1. Position a rack in the center of the oven and preheat the oven to 350F. Grease the bottom and sides of a 9 by 13 inch baking pan.
2. In a medium bowl, stir together the flour and salt, set aside.
3. In the bowl of an electric mixer, using the paddle attachement or beaters, beat the butter with the brown sugar at medium speed until combined, about 1 minute. At low speed, add the flour mixture and mix just until crumbly, 10 to 15 seconds.
4. Pat the dough into the bottom of the prepared pan. Prick the dough well with a fork. Bake the crust for 15 to 18 minutes, untl golden brown around the edges. Transfer the pan to a wire rack to cool whie you prepare the topping. Leave the oven on.
make the topping:
5. In a large saucepan, combine the butter, corn syrup, and peanut butter chips and heat over medium heat, stirring constantly, until the chips are melted and the mixture is smooth, about 5 minutes. Remove the pan from the heat and stir in the vanilla extract.
6. Pour the topping over the crust, using a spatula to spread it to the edges of the pan. Sprinkle the peanuts evenly over the topping, and press them lightly into the topping. Bake the bars for 12-15 minutes, until the topping is bubbly. Cool the bars completely in the pan on a wire rack.
7. Run a small sharp knife around the edges of the pan to release the bars. Carfully invert the bars onto a baking sheet then reinvert it onto a cutting board. Using a sharp kinfe, cut into 36 bars.
Source: The Good Cookie 2002