I had read about it for many years in my culinary magazines and yesterday, Thanksgiving 2005, I ate there. There was much hype surrounding the Herb Farm and many times when there is hype there is let down, luckily that was not the case here. What a wonderful journey of the senses the Herb Farm was.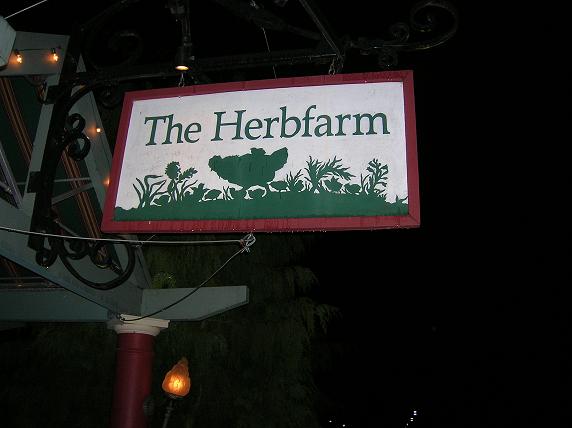 When we entered the building we were greeted with hot apple cider to chase away the chill, which it did quite nicely. That was followed by a quick history of the Herb Farm and how it came to be as well as an introduction to the herbs that we would be eating that night. My husband and I chose to sit European style and were fortunate to sit at a table with interesting souls( I mean that in a good way, they were delightful people). We could not fathum sitting with just the two of us for 5 hours, so the European style seating was a refreshing option.
Our first course started with a sparkling white wine(200 Argyle Oregon Brut) infused with the herb of your choice, I chose pineapple sage. That was followed by what was called Sea Nibbles: Smoked Sturgen and Quail Egg Benedict with Sorrel, Sea Urchin Flan with Crisp Shallots and Rosemary Mussel Skewer with Oregano Aioli. Out of those my favorite was the mussels which is a compliment to the chef because I am not usually a mussel fan. But they were smoked and had a lovely flavor.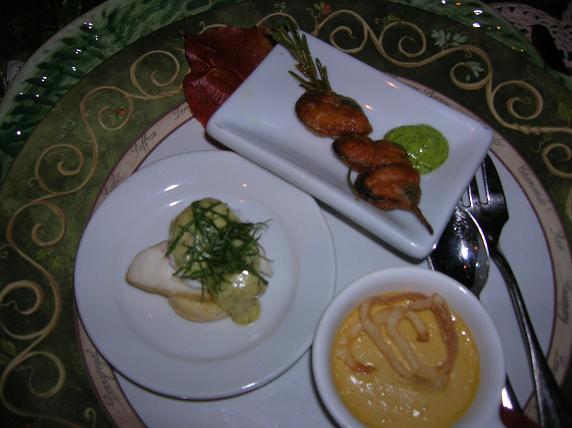 Second course was Dungeness Crab, Poached Oyster and Spot Prawn in a Lemon Geranium, Chive and Chervil Froth. I enjoyed the crab and spot prawn very much, but both my husband and I did not like the oyster. In the oysters defense…I hate oysters, so I wasn't going to like it anyway you looked at it. It was served with a 2004 WillaKenzie Estaste Pinot Gris.
Third course was a Chestnut and Celery Root Ravioli with Chanterelles, Apple and Bacon. Fantastic. Those flavors married together so nicely. It was served with 2004 ChateauSte. Michelle/Dr. Loosen Riesling "Eroica" which I was already familiar with and enjoyed. It complimented the ravioli beautifully. Of all the courses, amazingly this was my husbands favorite. Not that it wasn't wonderful….it just isn't something he would normally eat.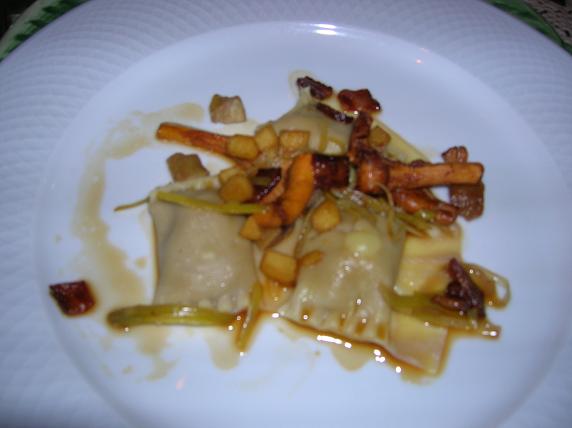 Course four, Herb-Crusted Oregan Fallow Venison with Savoy Cabbage, Root Vegtables and WIld Hucleberry Sauce. Though my husband teased that he missed the buck shot flavor he usually gets with his venison, he liked it a lot. It was extremely mild and tender. Served with 2003 Barrister Cabernet Franc. I was not a fan of this wine. But the red wine drinkers at the table really seemed to enjoy it. So if you are a Cab drinker, this might be one you want to look into.
Course five, the palate cleanser, to be honest frightened me. It was Douglas Fir Ice. When I read that all I could imagine was eating what would most likely taste like a ball of Pinesol cleaner. Luckily, it was like Christmas in you mouth. The happy lillt spices danced in your mouth and there was a hint of the fir but it did not taste how I expected it to.
Course six was our "Thanksgiving Dinner" for the night. It consisted of Herb-Poached Breast with Wild Boletus Bread Pudding, Confit of Leg with Oregon Black Truffle Sauce on Mashed Delicata Squash with Glazed Shallots. It was by far the most moist turkey ever. It was poached in olive oil so the low fat part of eating the turkey breast went away. Served with 2000 Cameron Pinot Noir, Clos Electrique. I prefered this red wine to the Cab that we had. Much more drinkable for the only occasional red wine drinker.
Course seven was Rouge River Blue Cheese with Tart Cherry Turnover and Cress. This was a creamy, pugnent blue cheese with lots of flavor…a really stinky cheese and I love a stinky cheese. Fortunately for me my husband is not and I ate his slice of cheese too. Bonus for me. No wine was served with this course.
Course eight was dessert! Yummy. We had a Pumpkin-Bay Tart, Spice-Bread Ice Cream and Caramelized Pear Sundae, and Cranberry Gelee with Lemon Geranium SHerbert and Amagaki Persimmon. I ate the sundae first since it was melting. It was all sorts of yummy. It was also sprinkled with tiny little homeade marshmallows that were lots of fun. The cranberry gelee they called "adult Jello" but it was hardly that. It was tart but not too tart and the sweetness of the persimmon offset the tartness nicely. Lastly was the tart which had a nice addition of carmel and toasted pumpkin seeds on top. The sundae and the tart were a tie for my favorite. No wine was served with this course.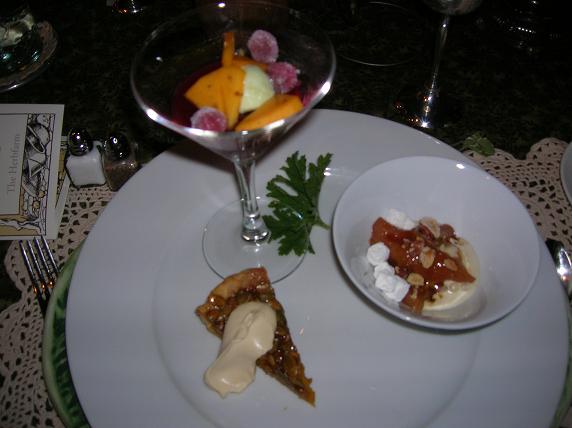 We then were presented with the option of brewed coffees, Teas and Infusions. I chose coffee. My husband doesn't enjoy either tea or coffee so they were super accomidating and made him hot chocolate…. and not the kind from a packet.
Final course was a Selection of Small Treats. They brought out a plate of chocolates and goodies to snack on. There was White Chocolate Truffle with Lemon Geranium, Orange Thyme Mandoline, Nougat, Dark Chocolate Lavender Truffle, and a Cranberry Jelly Fruit. They were served with a 1864 Blandy's Gran Cama De Lobos Madeira. I got to eat my husbands because he was too full……amatuer.
I must also mention that through out the night we had the most amazing potato rolls. They were so moist, almost like a popover or yorkshire pudding in a way, and full of fresh chives. My husband and I ate so many of them I'm sure the wait staff said something about it behind ours backs….I kid.
The service is also to be noted. Very attentive, but not annoying. The Herb Farm has to pigs that you can request to go see and feed. I jumped at the offer and dragged my husband to go and see them. They were quite happy to get thier snack. They also enjoyed snacking on my husbands hand.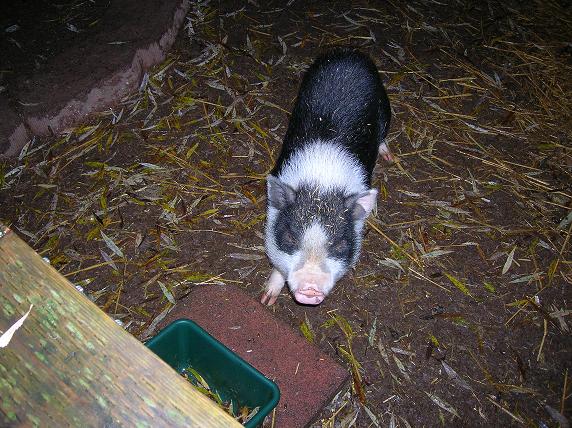 They were accomidating from the start. My husband is not a big wine drinker so instead of the wine pairing they did a beer pairing for him. We had someone at our table that didn't want red meat and they offered them something else.
As we left the Herb Farm we were handed our "to go" back which held leftovers of the Thanksgiving Dinner and the pumpkin tart to enjoy the next day. I love this concept since the thing that people miss when they go out to eat for holiday dinners is the left overs.
All in all, one of the best culinary experiences I have ever had. We are saving up to go back as we speak!