Let us start off with Pomogrante, the recently opened Lisa Dupar restaurant, located in Redmond. Off the beaten path and a little hard to find…it's next to a Xerox shop, this is a fun and interesting place that allows you to see what is happening in the kitchen(always like that). I ate just from the appetizer menu. I started off with a salad of pears, goat cheese and hazelnuts. It was lovely. I then had the fried calamari and fried marinated artichokes served with a citrus aioli. The batter was light and the citrus in the aioli was quite refreshing from the standard. Very good. A few of the girls I went with ordered the Vegetarian Pot Pie and both said that they would not order that again. Everyone else seem to enjoy their meal immensely. All but one of us had dessert and everyone of us loved what we ordered. I had the warmed bread pudding with spiced rum whipped cream, delightful! I love bread pudding and order it often. This is one of the best I have had. Very old school with nuts and raisins sprinkled with hints of cinnamon and nutmeg. Highly recommend this restaurant.
The Diamond Knot Brewery and Pub has quite the atmosphere. Not your suit and tie type of place, in fact, if you walk in with a suit on you might get beat up. There are peanuts on the floor and tv trivia games to play while you drink beer and eat your meal. I started with the artichoke dip, which was ok, but not wonderful. Then I moved on to the main attraction and the reason we went to this establishment.
How you eat your meal is where the fun begins. I had their Garlic BBQ Beef sandwich which sounds simple enough but when they bring it to you it is on a hot rock and you cook it yourself.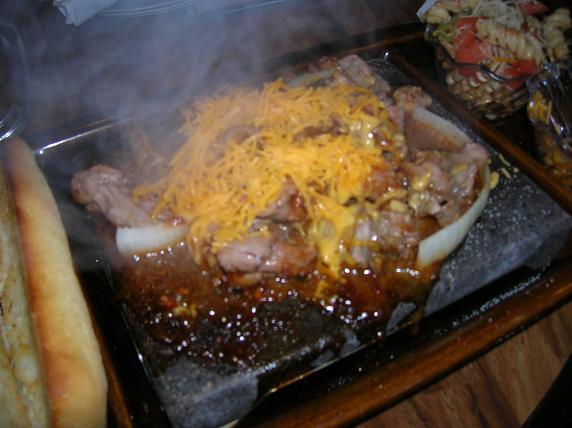 The Stonegrill method is suppose to cook your food faster and therefore lock in the juices. I don't know about that but it was pretty good pub food and we will go back.