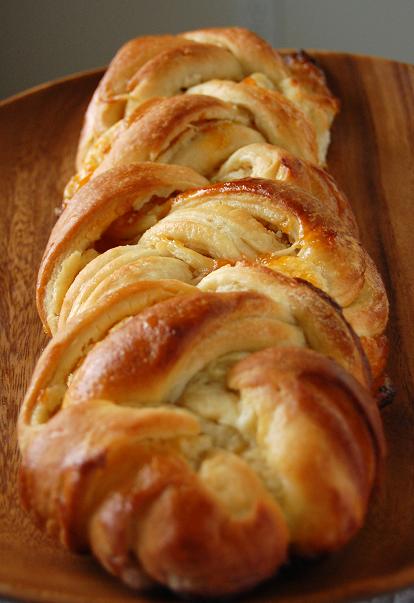 I've been lucky enough in my life that loss has been at a minimal. I have no remaining grandparents(though at my age that is to be expected) and I have lost only 2 friends, and now 3. Last week an email appeared from a friend of mine in Phoenix. I was all happy until I opened it up to see that a very funny and wonderful person had passed. He was a referee and hockey buddy of mine. Part of a group of rouge referees that liked to sit around and drink beer, eat fried food and tell lies after each night of reffing. He was part of the pack that went each year to Vegas to participate in the Zebra Cup, a hockey tournament for just referees(Lord help you the years the NHL refs showed up…you basically were playing for second place). I would trek along on these trips…me and 13 guys. I will avoid reminiscing as it will no doubt get many a person in trouble. 😛
My grieving process is fairly simple.1. I cry, a lot for about 2 days. 2. I eat a lot of bad things for me and usually have a little retail therapy. 3.Then I bake bread. When someone passes I will usually make a braided bread to represent how they intertwined in my life. Silly I know, but it has sentimental value to me. During phase number two, part of my retail therapy was(try not to be surprised) a cookbook. One specifically dedicated to coffee cakes, sticky buns, muffins and more. I saw that their was a braided bread and so I grabbed it up.
The dough is really easy to work with…until of course you have to braid it. That is not the doughs fault but the cheese and jam…they don't like to be braided and try to escape the whole time you are trying to braid the bread. Bastards. The original recipe called for pineapple pieces but that didn't appeal to me at the time.
So here, here is my bread, my offering to my friend R for all the great ways he intertwined in my life. Thanks for the time we did have.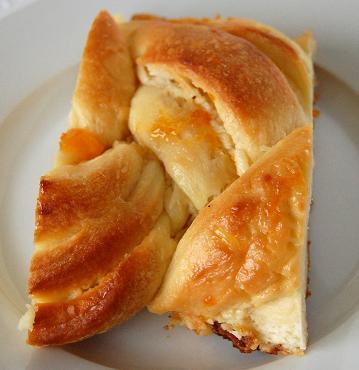 Apricot-Pineapple Cheese Braid
1 package(7.5-ounce) farmers cheese, at room temperature, cut into 1-inch pieces(if you can't find it, use same amount cream cheese)
12 ounces cream cheese, at room temperature, cut into 1-inch pieces
1/3 cup sugar
2 TBSP all-purpose flour
pinch of salt
2 large egg yolks
1 tsp lemon zest
¼ tsp vanilla extract
1 recipe(about 2 pounds) Rich Sour Cream Dough(recipe to follow)
½ cup apricot-pineapple preserves
1 large egg white beaten with 2 tsp water, for egg wash
Clear Shiny Glaze(recipe follows)
1.Generously butter two large cookie sheets.
2.Place food mill or a potato ricer over a medium bowl. Sieve the farmer cheese through the mill, the sieve the cream cheese. Using a wooden spoon, blend in the sugar, mixing until smooth. Stir in the flour and salt, then blend in the yolks, zest and vanilla. Chill for several hours or overnight.
3.Divide the dough into equal pieces. Working with one piece at a time, place the dough on a lightly floured surface and shape into a log. Roll the dough into a 10-x-15-inch rectangle with the 15-inch side parallel to the edge of the counter.
4.Spread half of the cheese filling centered in a 4-inch wide strip, spreading it from right to left across the 15-inch side of the dough. Using the back of a teaspoon, make a well down the center or the cheese strip and fill it with half of the preserves.
5.Brush the far edge of the dough with some of the egg wash. Roll the dough up jelly roll style. Pinch the seam to seal, then roll the log back and forth two or three times. Carefully life the roll into a prepared cookie sheet., placing it seam side down, angling it as necessary. Using a rolling pin or the palm of your hand, slightly flatten the log until it measures about 3 ½ x 15 inches.
6.Using a dough scraper or a thin-bladed sharp knife, score the dough lengthwise into three equal stripes, then cut through the log. Starting at the center, braid the strips as best you can. Don't worry if it is a little messy(BOY will it be). Then braid to the opposite end. Pinch the ends together well and tuck under. Repeat, shaping the second piece of dough.
7.Cover each braid with a tea towel and set in a warmish place to rise for 45 to 60 minutes, or until puffy and almost double.
8.Fifteen minutes before baking, position the racks in the upper and lower thirds of the oven. Heat the oven to 350F. Bake for 30-35 minutes, or until golden brow,. To ensure even browning, toward the end of baking time, rotate the pans top to bottom and front to back.
9.About 15 minutes before braids are done, prepare the glaze.
10.Remove the braids from the oven and immediately brush surfaces with the hot glaze. After 10 minutes, loosen with large metal spatula. When firm enough to handle, transfer to cooling rack.
Rich Sour Cream Dough
4 TBSP sugar
¼ cup warm water(110 to 115F)
1 package active dry yeast
3 cups all-purpose flour
1 tsp salt
¾ cup unsalted butter, cut into 1/2-inch cubes
2 large eggs
½ cup sour cream
1 tsp vanilla
1.Rinse a small bowl in hot water to warm it. Add 1 TBSP of the sugar and the warm water to the bowl. Sprinkle the yeast over the water. Do not stir. Cover the bowl with a saucer and let the mixture stand for 5 minutes. Stir it briefly with a fork, cover again, and let it stand for 2-3 minutes, or until bubbly.
2.In a bowl of an electric mixer fitted with a paddle attachment, mix on low speed the 3 cups of flour, remaining 3 TBSP of sugar, and the salt. Add the slightly firm butter and continue to mix until meal-size crumbs form, 2-4 minutes, depending upon the temperature of the butter. Stop the mixer.
3.Using a fork, in a large bowl, mix the eggs, sour cream, and vanilla. Add the sour cream mixture to the flour, along with the dissolved yeast, and mix on low speed until a rough dough is formed. This is a soft dough.
4.Lightly butter a medium bowl for storing the dough. Turn the dough into the prepared bowl, smoothing the top with lightly floured hands. Brush the top lightly with 1 tsp soft butter. Cover tightly with plastic wrap and refrigerate overnight.
Clear Shiny Glaze
3 TBSP sugar
3 TBSP water
1 ½ tsp corn syrup
Combine the sugar, water, and corn syrup in a small saucepan. Bring to a boil over medium heat. Cook for 2-3 minutes. Keep warm.
Source: Adapted from Great Coffeecakes, Sticky Buns, Muffins and More… by Carole Walter