Bacon Jam Babka: A savory twist on traditional babka. Swirls of yeasty babka dough is filled with savory but sweet bacon jam.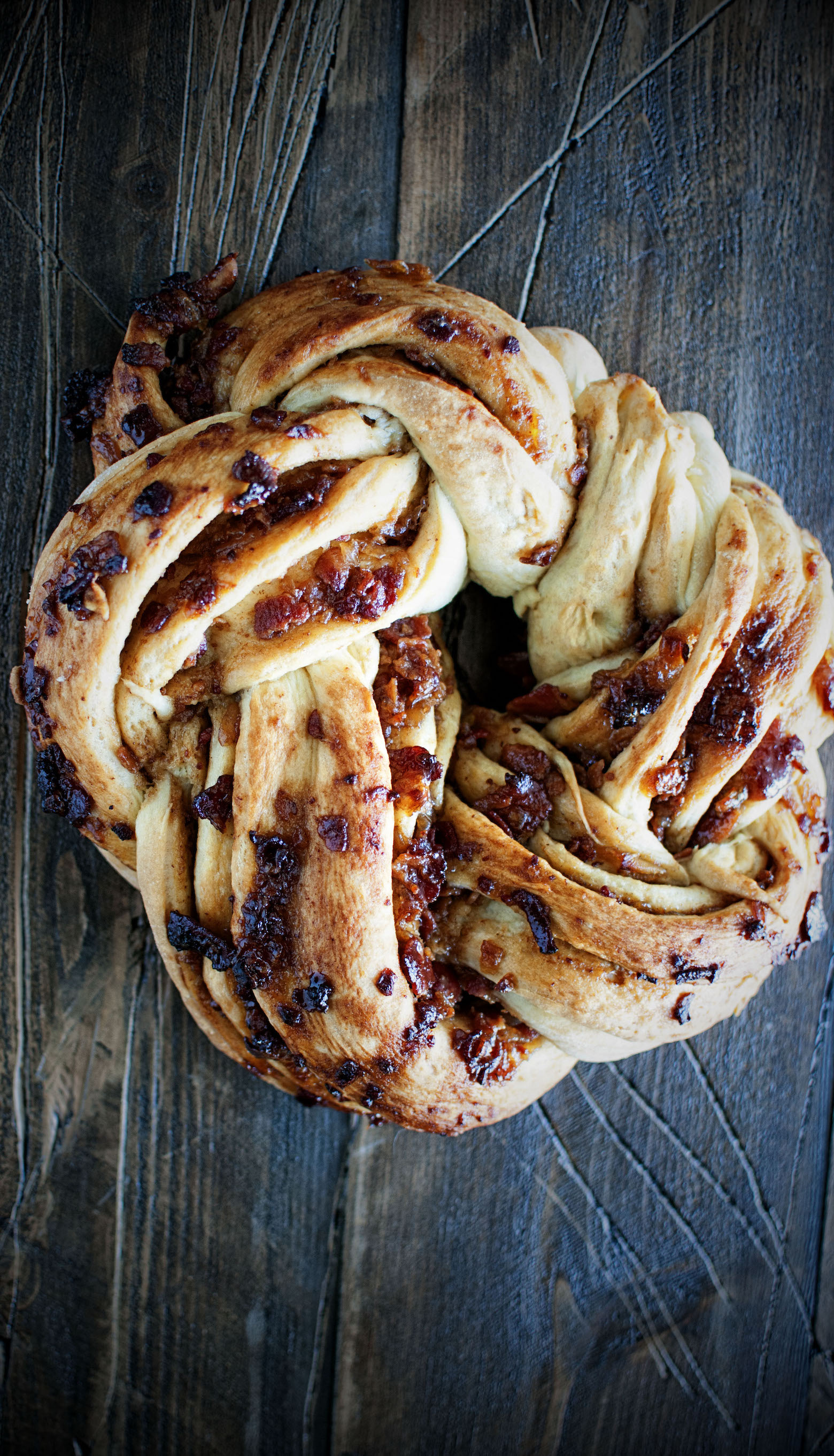 While I love the cooler temps, the apples, leaves changing, pumpkin, etc…one of the best things about fall is that all the new baking cookbooks come out!
I know plenty of people who like E-versions on cookbooks but I love to hold and thumb through cookbooks.
Some cookbooks are so pretty I've been known to caress them. 😀
I am fortunate enough to get a free cookbook now and again. Usually because my blogger friend is the one who put out the cookbook.
But more than often I have to buy them.
Some I love what the author had previously done and so I just bought the book without knowing much about it. Anything by Dorie Greenspan, Sherry Yard, Jill O'Conner, Marcel Desaulniers, and Gesine Bullock-Prado.
Some I buy because I know and love the blogger. Like example I have a huge blog crush on Half Baked Harvest. Don't know the woman who runs the site but everything she makes inspires me. So when she came out with a cookbook that released last week…well I pre-ordered that baby months ago. I also bought Baker's Royale's cookbook.
Others, the one where I don't know the author, then I usually wait and see what others who bought it think.
Case in point is the book this recipe is adapted from. Modern Jewish Baker: Challah, Babka, Bagels and More. I saw someone mention it so I looked it up and the minute I saw Birthday Cake Babka…sprinkles and all on the cover I knew I wanted this book. It has not disappointed.
The original recipe called for using an onion jam. I know I'm breaking like a ton of rules by putting bacon in babka but I don't really care, it's really darn good.
For those cookbook addicts like me out there here is a list of cookbooks I can't wait to be released and some that already have:
The Artisanal Kitchen: Holiday Cookies: The Ultimate Chewy, Gooey, Crispy, Crunchy Treats
Toast and Jam: Modern Recipes for Rustic Baked Goods and Sweet and Savory Spreads
*please note some links contain affiliate links, cost you nothing but helps keep this blog running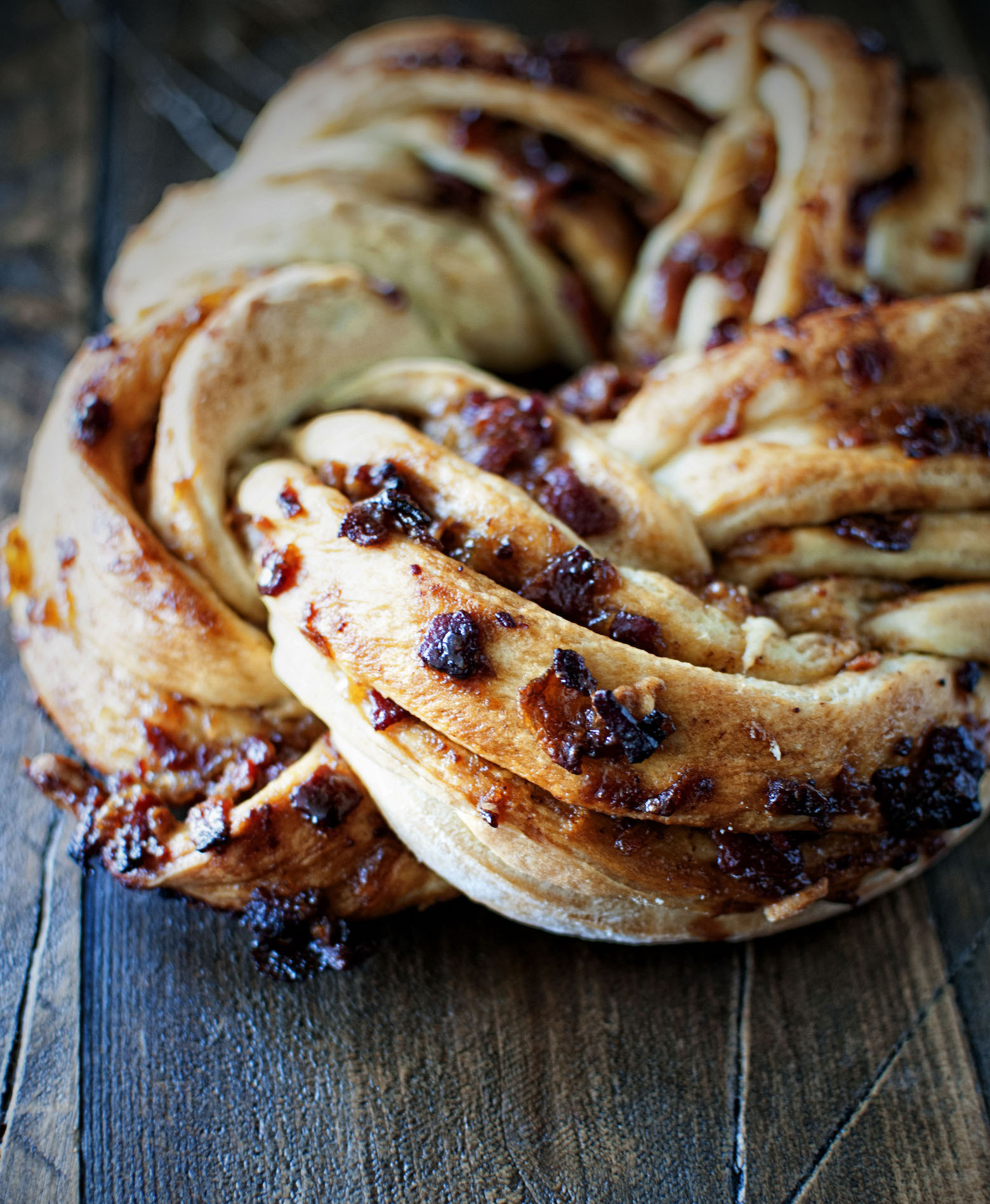 Bacon Jam Babka
For the dough:
1 TBSP dry active yeast
3 TBSP plus 1/2 tsp. granulated sugar, divided
1/2 cup warm water (I like mine about 107F)
4 1/2 cups All-Purpose Flour
1/4 tsp. salt
1/2 cup milk
2 large eggs
3/4 cup (1 1/2 sticks) unsalted butter, melted
For the Bacon Jam:
1 pound smoked bacon
1 large sweet onion (such as Walla Walla or Maui)
2 TBSP minced garlic
¼ cup apple cider vinegar
½ cup brown sugar
¼ cup Bourbon (or apple juice)
Salt and pepper to taste
For the Bacon Jam:
Cut bacon into 1 inch pieces.
Cook the bacon in a large saucepan (I used my Le Creuset) and cook down until the bacon is crisp and fat is rendered.
Remove bacon and set aside on a paper towel to remove some of the oil.
Discard all but 1 TBSP bacon fat (and by discard I mean add to your bacon fat jar that hopefully you keep to cook with).
Add the onions and cook until tender and become translucent in color.
Add the bacon back along with the remaining ingredients and reduce to a low simmer.
Let the ingredients cook down until they for a syrup or jam like consistency, this will take about an hour or so.
For the dough:
In a medium bowl, combine the yeast, warm water, and 1/2 teaspoon of sugar and give it a little stir. Let it sit for about 5 minutes, until it becomes foamy on top.
Using a stand mixer, add the dough hook, and mix together the flour, 3 TBSP sugar, and salt.
In a medium saucepan, scaled the milk. Let sit for one minute.
With mixer on low add the water-yeast mixture, milk, and melted butter.
Add the eggs one at a time.
When the dough starts to come together, after about 2-3 minutes, scrape down the sides.
Increase speed go high and let mix for 5-10 minutes until the dough is shiny and elastic.
Transfer the dough to an oiled bowl, cover it with plastic wrap, and let it sit at room temperature until doubled in size, 1 1/2 to 2 hours.
Grease three 8 1/2-x-4 1/2-inch loaf pans.
Preheat oven to 350 degrees.
Cut dough into three equal parts. Roll out dough.
Divide bacon jam in equal parts and spread it on top of dough.
Working from the longest side, roll up dough using quick fingers, like you would in order to make cinnamon rolls.
Once the dough is a long log, cut it straight down the middle so the filling is exposed.
Secure the ends on one side, and twist both the pieces . Pinch and secure at the other end.
Place in a greased loaf pan. You will do this three times for three loaves total.
Bake for 35 minutes.
*please note I did to make mine in a loaf, I did a round babka on a baking sheet. Instead of tucking into loaf pan, I connect the ends like a wreath. Baking time is the same.
Recipe adapted from: Modern Jewish Baker: Challah, Babka, Bagels and More by Shannon Sarna