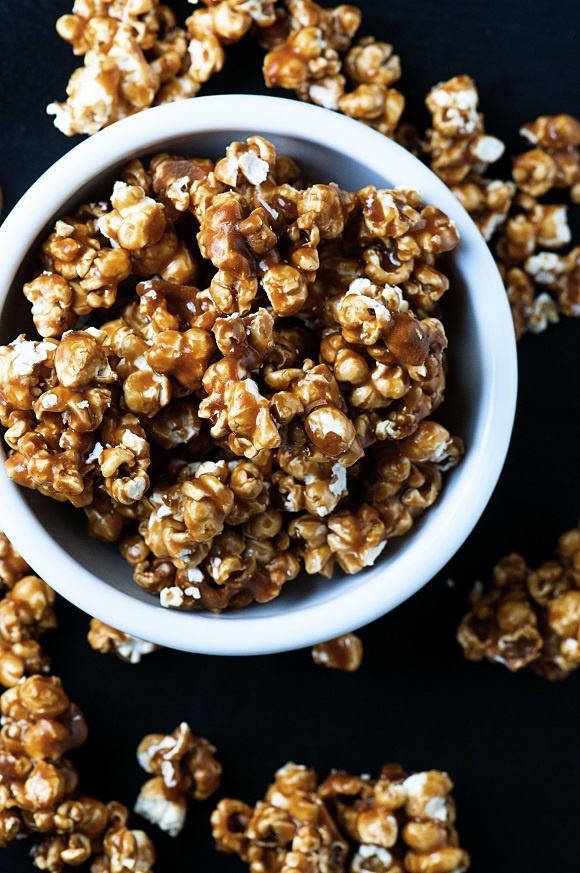 This Homemade Caramel Corn could not be easier…it doesn't even involve a candy thermometer! You will never want to go back to store bought after you make your own!
Not caramel corn related did you know I have an email subscription? Did you know just like most things on my blog it's not like everyone else's? Most blogs I email subscribe to is just a pull of their recipes for the week and that's it, and that's fine but that's not what I wanted mine to be.
So what do you get if you subscribe?
Well you do get the recipes of the week because I feel you need those since not everyone gets to each blog post each week and it's a great way to see what you might have missed. But I write something each week that I don't write about on the blog. Could be things I recommend. Could be a gadget I'm obsessed with. You just never know. 🙂
You get a bonus recipe. At the bottom of each newsletter is a bonus recipe. Sometimes sweet, sometimes savory, but always good.
Giveaways! From here on out any giveaway I have that isn't sponsored by a brand will be to those who are on the email subscription. Why you ask? Because when I do have a giveaway where I am spending my own money I want to make sure it's going to someone who is a blog reader of mine and not just someone who saw I was doing a giveaway and left a comment. Make sense? And yes there is a giveaway coming this week on the blog…so you might want to sign up!
The newsletter comes out every Wednesday (usually late evening but I'm trying to make it change to morning-ish) so if you subscribe and didn't see it the first thing you should check is your spam folder. Then if it's not there you should worry about me being trapped under the fridge or something. 🙂
Now back to this caramel corn. Yes it's basic but good. No nuts. No chopped up candy bars. Just simple caramel corn that I end up using in two other recipes coming up that are spectacular! Since this recipe uses no thermometer anyone can make it. I have total faith that you can! This recipe also uses Plugra Butter which as we all know is my absolute favorite! When you are using a recipe that calls for very few ingredients you want to use the best possible ingredients since their flavor comes shining through. I won't insist but I will say I highly suggest you use Plugra for this recipe!
*Yes Plugra sponsored this post but we all know I love that butter use it constantly! I thank you for supporting the chosen brands that I work with who help keep this blog up and running. As always the bad grammar, opinions, and what not are all my own.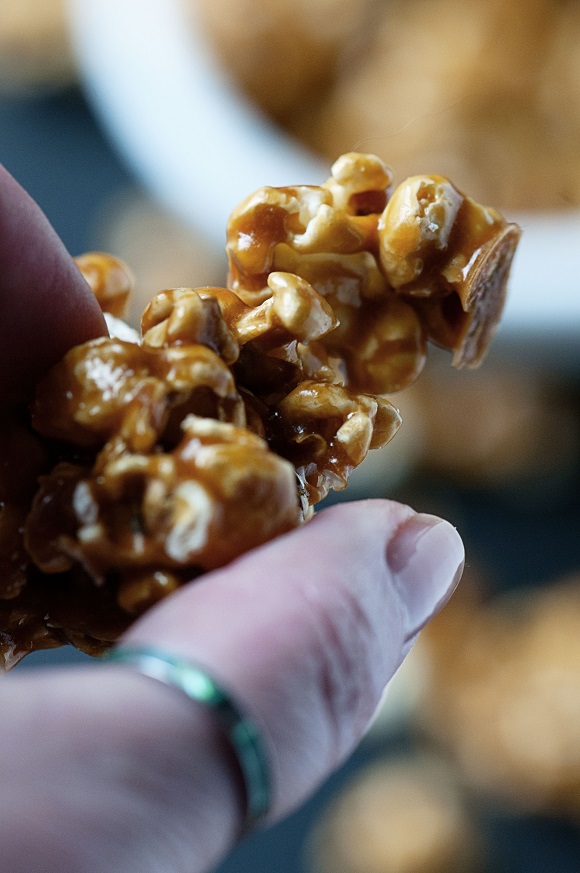 Homemade Caramel Corn 
3 TBSP vegetable oil
1/2 cup un-popped popcorn kernels
1/2 cup unsalted butter, I used Plugra European Style Butter
1 1/4 cup light brown sugar, loosely packed
1/4 cup Lyle's Golden Syrup (or corn syrup but Lyle's is preferred big time)
1/8 tsp. cream of tartar
1/2 tsp. salt
1/2 tsp. baking soda
Preheat oven to 200F.
You need either two smaller baking sheets or one really large baking pan.
In a large heavy bottom pot like Le Creuset add the oil and popcorn to the pan.
Heat over medium.
Cover but leave open a little to allow steam to leave the pot.
Throughout popping, shake the pan so that you get every kernel.
When popping starts to slow (even after shaking), remove from heat.
Remove the lid (away from you) and get ready for a stray piece of popcorn to pop and attack. 🙂 You will get it back later by eating it.
I like to scoop the popcorn out 1 cup at a time so that I can make sure no un-popped kernels are sneaking in or a stray burnt piece gets in. Place popcorn in a separate bowl. Set aside.
Clean and dry the large heavy bottom pan as you need it to make the caramel. You could use a smaller pan but I like to use the large so that I can mix the popcorn right in the pan, and then pour on top the baking sheets.
Place the butter, sugar, Lyle's Golden syrup, cream of tartar, and salt in the heavy bottom pan.
Heat over medium-high heat, stirring constantly while the mixture boils for 5 minutes.
Remove from heat and add the baking soda and mix until fully combined. It will bubble up a little so be careful.
Add the popcorn to the pan and mix and mix and mix until every piece of popcorn is covered in the caramel mixture.
Spread the caramel corn on to the baking pan/s making a single layer.
Bake for 20 minutes then take out the caramel corn and stir and flip it. Then back in the oven for another 20 minutes. Again take it out and stir and flip the caramel corn. Then one last time into the oven for 20 minutes.
Remove from oven and let cool.
Store in an airtight container for about a week…but it really doesn't last that long.