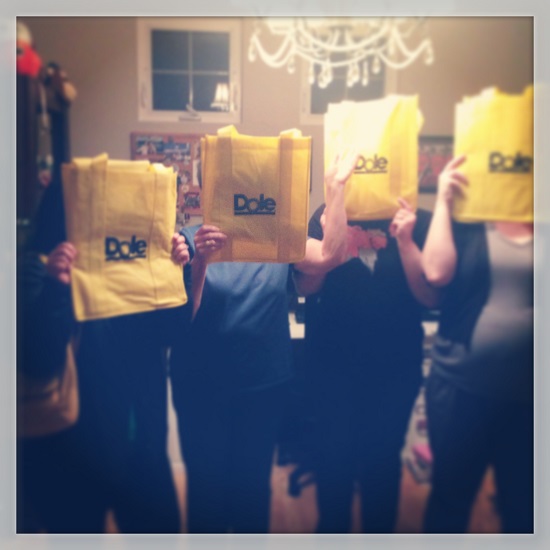 Friday night I had me a little get together all dedicated to Dole Bananas. Dole is rolling across the country in their Peel the Love Food Truck Tour and just happens to be right now in Seattle. Right now they are at the Edmonds Waterfront Festival today and tomorrow for those of you who are local and then rolls on to Sacramento. To see if the truck will be in your area check out the Peel the Love Website. The party was filled with fun and a whole lot of bananas. FYI never Google Banana Party the results are so not good. ; ) <p>
*Yep, Dole Bananas did compensate me to throw a Peel the Love Banana party just so you know but all the writing and opinions as always are my own.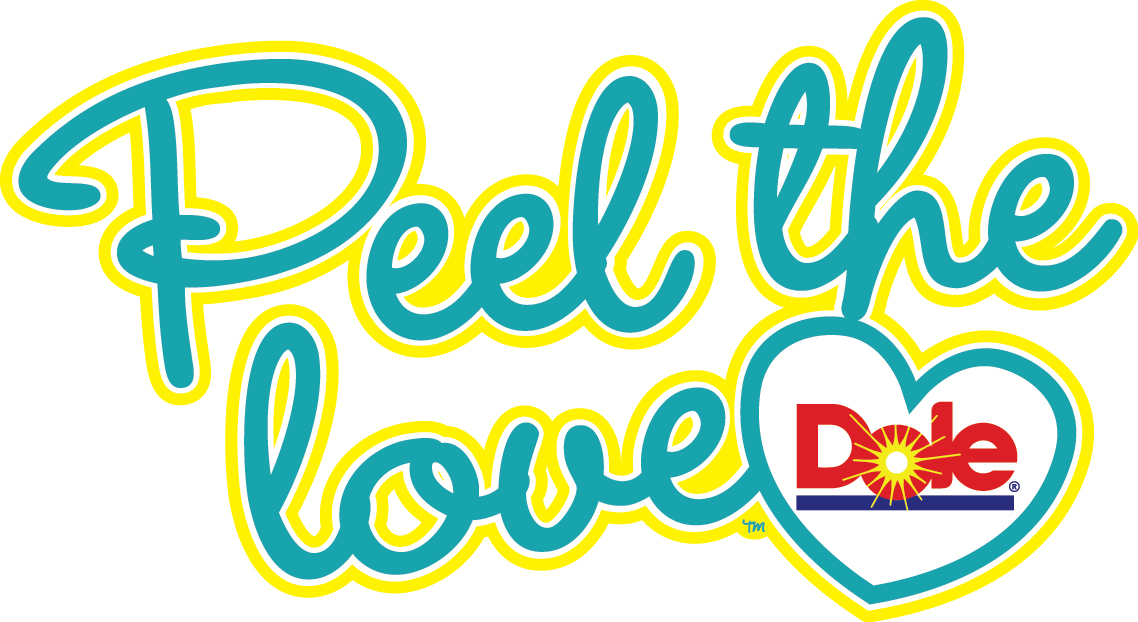 So all this week starting Monday I will be showcasing recipes using Dole Bananas. So if you are a banana lover this coming week is your week!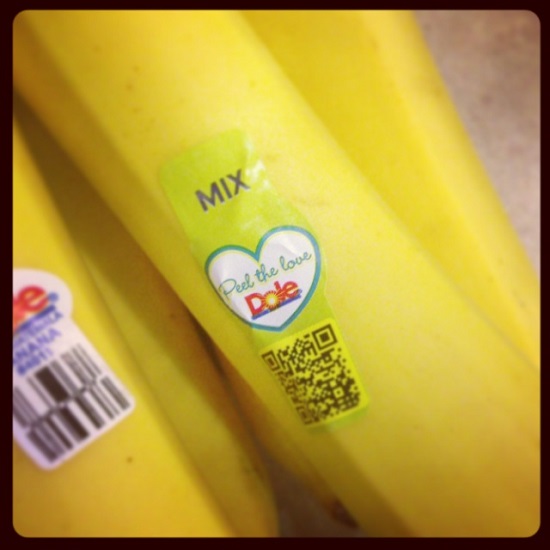 Last weekend MDP's daughter wanted to have her friends over to have a bake a cake off so to speak. Since I always encourage kids to get cooking/baking in the kitchen MDP and I said yes absolutely. They divided up in to teams and were just given cake mix as a base to do with what they wanted. But they did make their own buttercream! Her brother and I were the judges and I'm quite sure it's was just like what being a judge on Chopped would be like. 🙂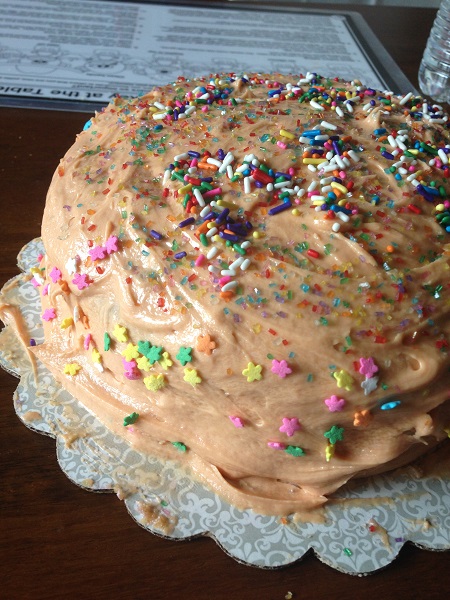 The first cake had structural integrity and the boy who was frosting the cake I think has real future as he looked right at home while frosting this bad boy. The flavor choice however was nothing short of bold. Peanut butter and Mint FYI don't really go all that well together. But I gave them mad props for stepping out of their comfort zone. They won the creative award.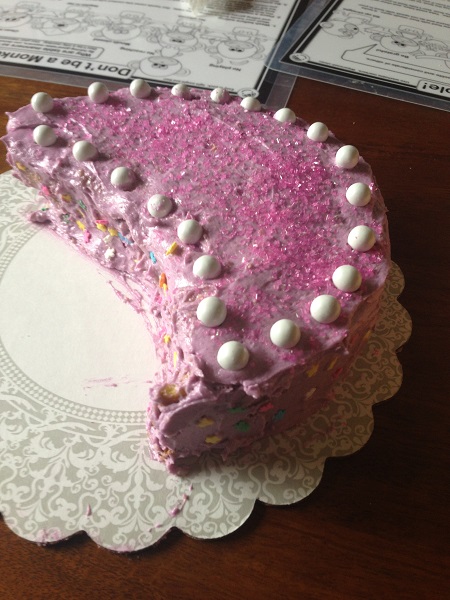 The second cake fell victim to non-structural integrity but not to be set back they just cut it into a different shape. They stayed in the vanilla family with sprinkles and so this cake was a little more pleasing to the taste buds…sometimes playing it safe will win you the taste award. 🙂
This was on Monday…I am still finding random orange and purple buttercream throughout the kitchen. 😛 But they had fun and that was all that mattered. 😛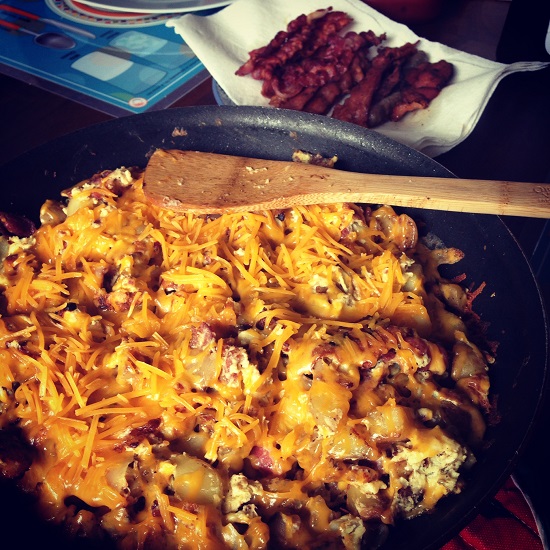 Can I just tell you how awesome it is to have a man that cooks! MDP makes breakfast every weekend whether we have the teens or not. His specialty is home fries…this was his home fry cheesy egg scramble with a side of bacon that he made last weekend! Today's was a cheesy eggs with salsa (not in mine) and avocado…home fries…and yes bacon! Always, always bacon.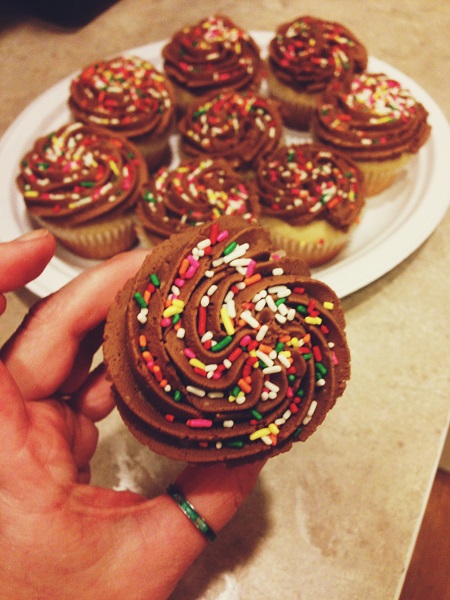 And lastly since MDP and I spent so much time in Physical Therapy we have really gotten to know the people who work there. The woman who works the front desk is such a wonderful lady and we are sad (yet happy) that she is moving on in the company to another position but sadly that takes her away from our PT place. Sigh. So as a goodbye I asked her what she wanted and she said white cupcakes with chocolate frosting and sprinkles….done.
The cake portion of this recipe comes from the cookbook that I am OBSESSED with and I mean OBSESSED with. Did I tell you OBSESSED? Homemade with Love: Simple Scratch Cooking from In Jennie's Kitchen
is one of the best cookbooks I have come across in a long while. It wasn't sent to me I went out and bought it all on my own. It was well worth the price. I love her approach to food and she even has me making my own mustard (not yet but the mustard seeds are on the way) and when I do I'll put it here on the blog. So do yourself a favor and get this book!