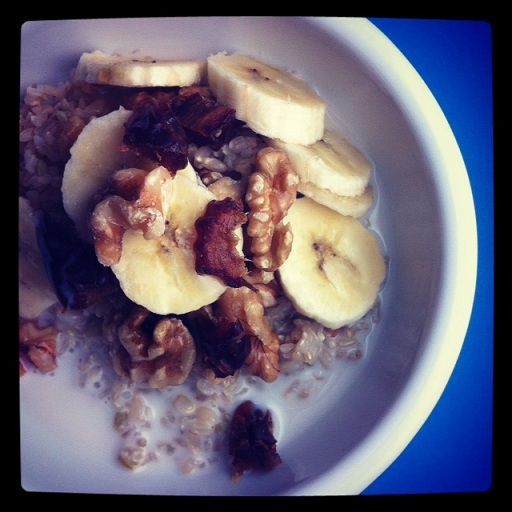 I don't know if I am singled out (I doubt it) but people have the perception often that since I run a dessert based blog that all I do is sit around and eat them all the time….and usually for breakfast. Hence the tote bag that was given to me by a friend (which I love btw)….Eat Cake For Breakfast. For the record I am pro eating cake for breakfast, I feel it is no different than that of a Pop Tart and probably has less fat and calories than the muffin people pick up at the coffee shop on the way to work. But I do seem to disappoint people when they ask what I had for breakfast.
I know in their mind they are thinking some sort of homemade croissant, cream puff, apple strudel…something along those lines. Nope, not so much. On the weekends MDP makes breakfast 99% of the time (yes, I am lucky) and that is normally waffles and bacon or an egg hash brown scramble thing…with bacon. 🙂 But when it's just me here during the week I either eat a bowl of multigrain oatmeal or brown rice. Yep, brown rice. See, you are a little disappointed and you know it. 🙂
But since people ask often what I eat on a daily basis I thought I would feature what I eat almost daily for breakfast (it's this or a green smoothie).
Peabody's Almost Daily Brown Rice Breakfast
1 cup brown rice, cooked (I use the Trader Joes microwavable kind)
3/4 cup unsweetened almond/coconut milk, divided
Pinch of cinnamon
Pinch of fresh ground nutmeg
Handful of nuts (walnuts was today's choice)
½ banana (sometime strawberries, pineapple, just whatever), sliced
Sprinkle of dried fruit (I threw in dates today)
Maple syrup (how much probably depends on how Canadian you are 😛 )
Take one cup cooked rice and add it to a small sauce pan filled with ¼ cup unsweetened almond/coconut milk, cinnamon and nutmeg. Just stir until the rice is heated through.
Pour into a bowl. Add your nuts, banana slices, and dates.
Pour maple syrup over that and then the remaining unsweetened almond/coconut milk.