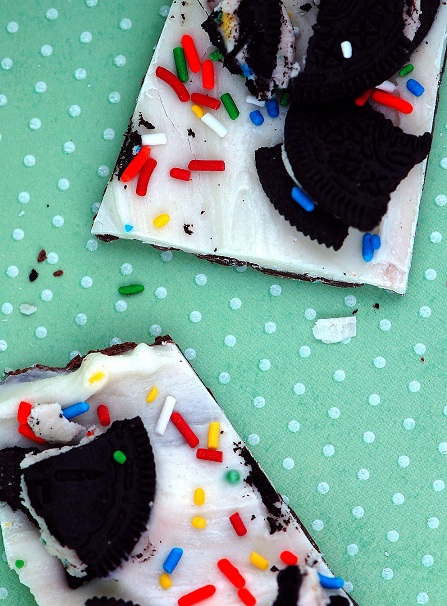 "Are you happy with your life?" "Are you in the best shape you want to be?"
While sitting waiting for allergy shots (you have to sit around for 30 minutes after you get them waiting to see if there is a reaction) these two questions were posed to me by the very "fit" woman next to me (I'm sure she has six pack abs which she can keep by the way). I turned to her and said "excuse me?" and could feel the sales pitch coming on. She went on to tell me how she was a life coach and wondered if I felt I could use her services.
First off don't get me started on life coaches. There is no qualification to be a life coach…though I am sure nowadays there is an online degree for it somewhere. She didn't seem to accept my answer that yes I was happy with my life and that while I was not in the best shape I wanted to be I was in the best shape of where I could be today. She piped in with surely there were things I wanted to change and I said of course. But that for right now those things were not changing due to circumstances beyond my control.
So then she went on and on about how everything is in my control, which for the record it is not. What you control is your attitude towards how things happen, but you cannot control many of the things that happen to you. I finally just snapped and let her know that I had zero interest or money in her being my life coach. That I was content with whom I was and that I had no desire to look like her. While I realize that the trend right now is for women to be "fierce" I usually laugh when people over the age of 14 use that word. First off I don't want to be fierce. Fierce means violently hostile…why do I want to be that? And more importantly is that what I want to be known for?
I quickly became her least favorite person when I said "I don't want my tombstone to read Peabody had one heck of a six pack and she ran four half marathons." I went on to say that I wanted to be known for "making people laugh, making food that made people happy and full, and for making people feel loved and valued". I told her that her tombstone would read "woman who made people feel bad about themselves in order to try and drum up business in a B.S. field of work". She got up and moved far, far away from me.
This might not make you happy with your life but possibly temporarily 🙂 . I made it to use up the Birthday Oreo's that I had on the counter. The milk chocolate layer is just chocolate but the white chocolate layer has Funfetti cake batter in it. Sprinkle on some Birthday Oreo pieces and some sprinkles and you can't help but smile….well you might not but then you would just be a grumpy person. 😛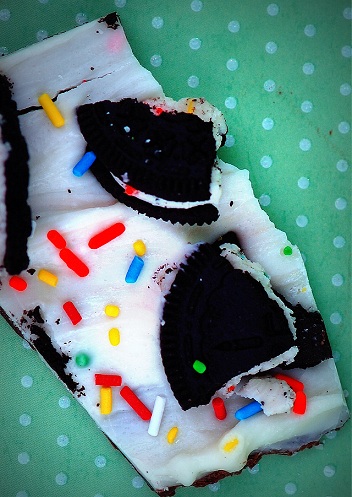 Oreo Cake Batter Bark
12 ounces high quality milk chocolate
12 ounces high quality white chocolate
4 TBSP Funfetti Cake Mix (I would start with one TBSP and taste as you go along, every person has their preference as to how cake batter flavor you want it to be)
Sprinkles
About 20 Birthday Oreo's, broken into pieces
Line a baking sheet with parchment paper and spray lightly with baking spray.
Melt milk chocolate. Spread evenly as you can across the baking sheet…try to make a rectangle. Put in fridge to set up for 10 minutes.
Melt white chocolate. Whisk in cake mix slowly, stirring well until no lumps remain. Spread evenly as much as you can across baking sheet. This will not be perfect as the warm white chocolate will start to make the milk chocolate melt a little…. the chocolate police will not come after you.
Sprinkle Oreo pieces and press them into the warm white chocolate to help them stay better. Have fun and add as many sprinkles as you want to the top of the bark while it is still soft.
Move to fridge and let it set up for about 20 minutes. Remove from fridge and cut into pieces.
Inspired by How Sweet It Is