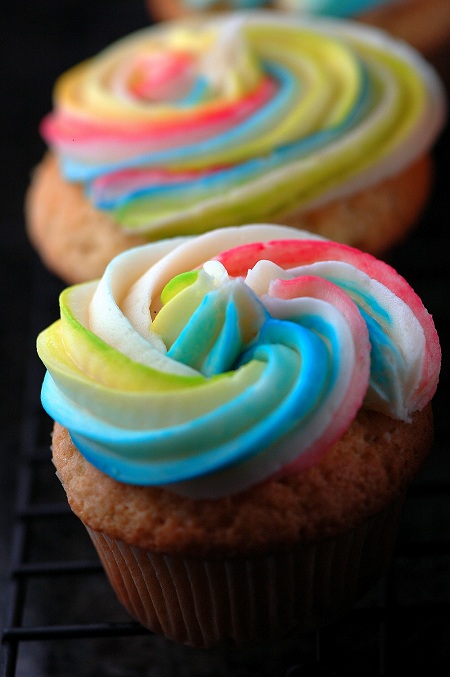 The Muppet Movie comes out on DVD today. I am a nerd and preordered it. I can't help it. I loved the Muppets as a kid and seeing the movie last Thanksgiving just warmed my little heart. There truly is a character for everyone.
The science nerd in me loves Beaker. The sarcastic person in me loves Statler and Waldorf. For no apparent reason I love Gonzo's girlfriend Camilla the Chicken. And of course my favorite of all time is the Swedish Chef. What about you, who is your favorite Muppet?
Pigs in Space could always cheer me up and when Elton John sang Crocodile Rock in the swamp with the crocs singing along it was the first song ever to get stuck in my head. 🙂
I have nothing but fond memories of that show so to show my support for the release I decided to make cupcakes with rainbow swirl frosting. It would have been much easier if I owned gel food coloring but I do not. But as you can see they still turned out just fine.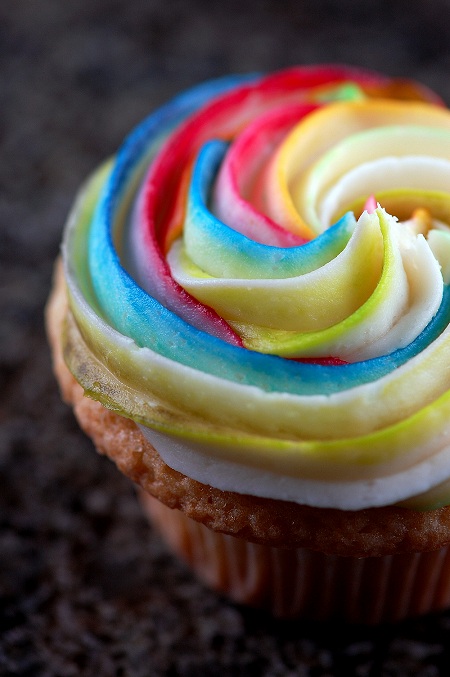 Rainbow Connection Cupcakes
Buttermilk Cupcakes
2 ¼ cups all-purpose flour
½ tsp. baking soda
1 tsp. baking powder
¾ tsp. salt
½ cup unsalted butter, room temperature
1 cup granulated sugar
3 large whole eggs plus 1 egg yolks, room temperature
1 cup buttermilk, room temperature
1 tsp. vanilla extract
Preheat oven to 350 degrees. Line standard muffin tins with paper liners. Sift together flour, baking soda, baking powder, and salt. Set aside.
Using a stand mixer with the paddle attachment, cream butter and sugar on medium-high until pale and fluffy, about 3 minutes.
Reduce speed to medium. Add whole eggs, one at a time, beating until each is incorporated, scraping down sides of bowl as needed. Add yolks, and beat until thoroughly combined.
Reduce speed to low. Add flour mixture in three batches, alternating with two additions of buttermilk, and beating until combined after each. Beat in vanilla.
Divide batter evenly among lined cups, filling each three-quarter full. Bake, rotating tins halfway through, until cupcakes spring back when lightly touched and a cake tester inserted in centers comes out clean, about 20 minutes. Transfer tins to wire racks to cool 10 minutes; turn out cupcakes onto racks and let cool completely.
Adapted from Martha Stewart Cupcakes
For frosting use this. Depending on how much you love frosting you might want to double it.  Follow this tutorial on how to make it rainbow.