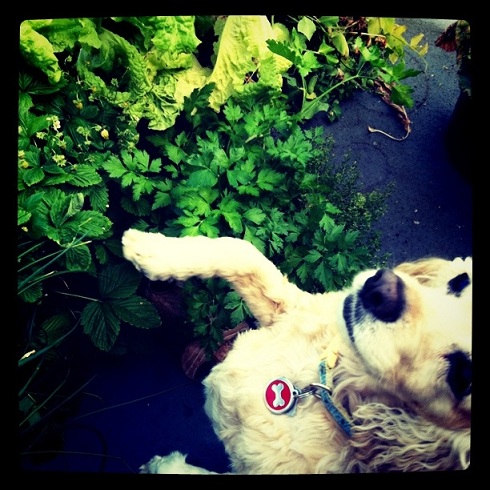 Hard to believe that my Home Farm project is coming to an end (well, not really, I still plan to keep my farm up but the posts are coming to an end) and on August 15th I will be telling youhow you can go and vote for my farm as your favorite (which I hope it is!). As you can see Crazy Cocker Spaniel is all too happy to celebrate the crops that my little patio home farm produced. She loves to go out with me every day when I water and try and steal snap peas when I am not looking. 🙂 She is begging for one in the picture (and yes, she in on her hind legs).
Obviously my dog is not the only one celebrating my harvest. My friends have more than benefitted from home farm project. I have kept my friends (as well as myself) fully supplied in pretty much all the romaine lettuce, parsley, chives, and arugula one could possibly want. Seriously, I swear it grows as I am cutting it down.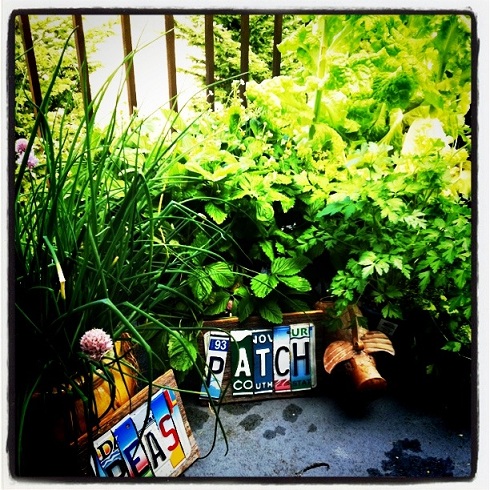 One thing that I don't have yet are strawberries, you can see from the picture though that they want to come out for me, just not quite yet. But my friend C already got hers and so we traded some of her produce from her farm to mine. So she gave me a few of her strawberries (she didn't have a ton) and I gave her some red leaf lettuce. Which we then turned into a salad with the lettuce, her strawberries, some pecans, and a Lemon Thyme (also from my farm) and Blue Cheese Dressing. Quite tasty.
My broccoli seems to have slowed down production, as has my Swiss chard and peas. Right now I am just holding out for the strawberries and plan on planting sage this coming week because I love it in fall foods. I will never buy romaine lettuce in the summer again as I have learned that my little plant that cost me a whopping $1.50 has kept me in lettuce since April. And I eat a salad almost every day. Same for my spinach which I use in my smoothies every morning. Four months' worth of food for $3.00 is pretty amazing!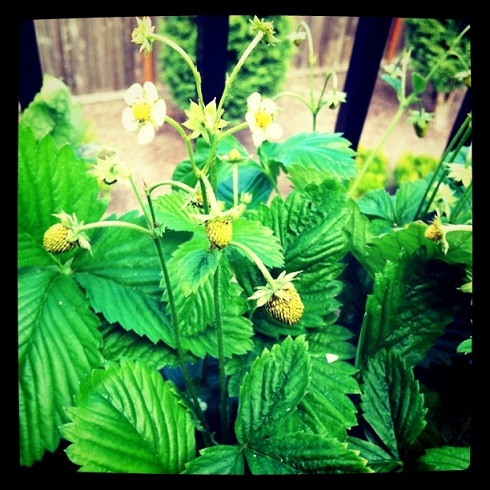 Like I mentioned in the first paragraph, starting this coming week (8-15 through 8-30) you will be able to vote for my farm. I will be competing with two other bloggers for your favorite farm. For those of you who always say you wish you could help me out financially but don't have the money yourself, this will be a great way for you to help me! And when you vote you will be entered into a sweepstakes. It's win-win.
Hopefully those of you with a home farm of your own are having as much success as I am. And if you are celebrate that! If you don't have a home farm, hopefully my little adventure can be inspiring to you! I know it's been an inspiring journey for me.
If you are interested in seeing other ideas, please visit the other bloggers who are participating in the Home Farming Movement which you can find at the Better Homes and Gardens Home Farming Challenge Page.
As always, Triscuit compensated me for this post, but the ideas, words, bad grammar, and opinions are all mine.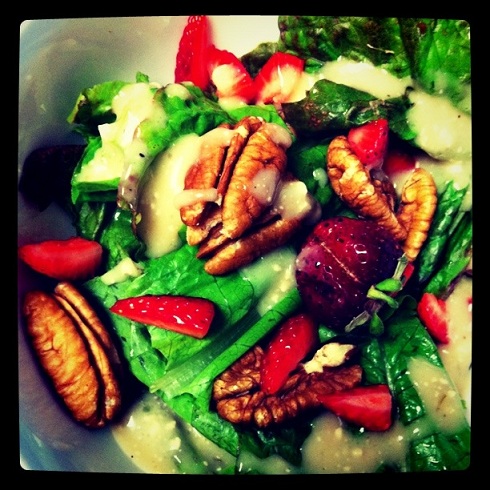 Lemon Thyme-Blue Cheese Dressing
¾ cups olive oil
1/3 cup canola oil
1 ¼ TBSP loosely packed whole lemon thyme leaves, chopped finely
1 ¼ TBSP Dijon mustard
Pinch of salt to taste
Pinch freshly ground black pepper to taste
2 TBSP fresh lemon juice
¼ cup red-wine vinegar, or as needed
¼ cup blue cheese crumbles
In a medium pot over low heat, combine the olive oil, canola oil and thyme. Heat the oil to just short of bubbling. Remove from heat and set aside for at least an hour.
Meanwhile, in the work bowl of a kitchen mixer or a hand-held mixer, combine the mustard, salt, black pepper, and 1 TBSP lemon juice.
Begin whisking on slow setting. Slowly drizzle in about the oil. Whisk in the remaining 1 tablespoon lemon juice. Cut with a little red-wine vinegar if more acid is needed. Taste for seasonings. Fold in blue cheese crumbles.
Use a funnel to transfer contents to a standard 750-milliliter bottle (or a mason jar). Be sure to scrape in everything from the bottom of the bowl. Seal securely. (New screw-cap bottles are best for this.) Refrigerate. Remove 15 minutes before using. Shake well. Store in an airtight jar for a month or more.