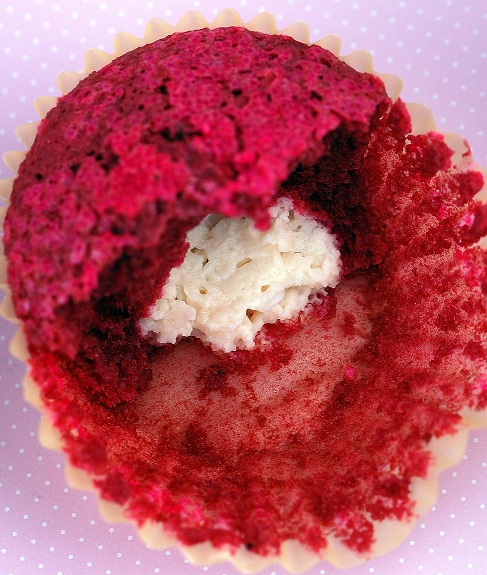 Just when I thought there couldn't possibly be another time suck, enter Pinterest. You probably thought I was going to say Google Plus but I just don't see the point of that yet. Anyway, if you don't know this site, don't go. It will suck you in like quicksand. Lucky for me they have an app and I can waste my time at the doctor's office. It's filled with photos of things you will never own, places you will never go to, phrases far wittier than you could ever come up with, clothing you could never afford, half naked photos of Ryan Reynolds (which is nice) and Adam Levine (also nice), cakes I will never get around to making, and all around interesting finds.
While having my time sucked away, I ran across an inside out carrot cake muffin where the cream cheese frosting was on the inside! Brilliant and way more portable for lunches and what not. Not wanting to copy it completely I decided that I needed to embrace the concept but change it. What cake do I love most with cream cheese frosting? Red Velvet. And thus came these beauties. So good. I can't believe I never thought to do this before.
If you love you some red velvet, you will love these. The cream cheese center is not as sweet as actual frosting, as these are intended to be more like a muffin and muffins run just a little less sweet than cupcakes. If you want them sweeter, then by all means go for it, I won't stop you. 🙂 Well, maybe if you are diabetic I would stop you.
And on an unrelated note, we bring you the word of the day and its definition: Stalking is a term commonly used to refer to unwanted, obsessive attention by individuals (and sometimes groups of people) to others.

Inside-Out Red Velvet Muffins
2 1/2 cups cake flour (not self- rising), sifted
2 TBSP unsweetened Dutch-process cocoa powder
1 tsp. salt
1 1/2 cups sugar
1 1/2 cups vegetable oil
2 large eggs, at room temperature
Drops of red food coloring, the more you put the more red they are
1 tsp. vanilla extract
1 cup whole milk
1 tsp. baking powder
1/2 tsp. baking soda
2 tsp. distilled white vinegar
Cream Cheese Frosting Middle:
8 ounces cream cheese, at room temperature
¾ cup powdered sugar
½ tsp. vanilla extract
Preheat oven to 350 degrees. Line standard muffin tins with paper liners. Whisk together cake flour, cocoa, and salt.
With an electric mixer on medium-high speed, whisk together sugar and oil until combined. Add eggs, one at a time, beating until each is incorporated, scraping down sides of bowl as needed. Mix in food color and vanilla.
Reduce speed to low. Add flour mixture in three batches, alternating with two additions of milk, and whisking well after each. Stir together the baking soda, baking powder, and vinegar in a small bowl (it will foam); add mixture to the batter, and mix on medium speed 10 seconds.
Pour batter one third of the way up in 16 muffin tins. Then place a HEAPING tsp. of cream cheese mixture on top of that, yes, it will sink. Place the remaining batter on top going ¾ of the way up the sides. Sprinkle with sugar if desired.
Bake, rotating tins halfway through, until a cake tester inserted in centers comes out clean, about 20 minutes. Transfer tins to wire racks to cool completely before removing cupcakes. Cupcakes can be stored overnight at room temperature, or frozen up to 2 months, in airtight containers.
Adapted from Martha Stewart Cupcakes