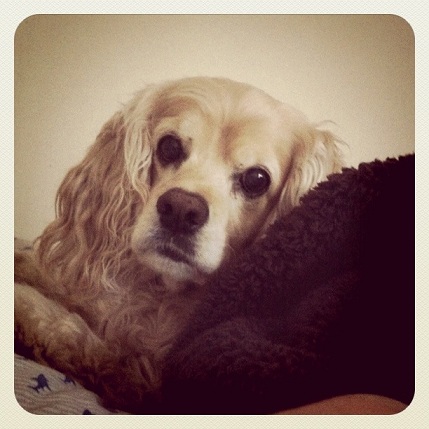 My dog is the best dog when it comes to being sick. Me or her. Number one she has tummy issues always has, and has learned throw up on linoleum or tile instead of carpet. Which let me tell you is immensely helpful. But what she is also great with is just lying there being a good snuggle pup.
When I am truly down and out like I have been all week she truly shines. When I am on the couch she lays there with her head on my leg. If I am in bed she sleeps on the pillow next to me. If I get a fever, she will move so she doesn't get too hot, but will slide over but not very far out of her watchful eye. She doesn't get up to drink water, because she doesn't want to disturb me, and she doesn't ask to go the bathroom (no she just doesn't go find a place). Take yesterday for example, she went to the restroom when my roommate woke up and he took her out at 5:30am. My friend T didn't come over and let her out until 3:30pm. Which was no problem whatsoever. The key is just not to ask her if she wants to go. It's like if no one asks her she forgets.
The only way she is not awesome is if you have to have a conversation with the toilet Gods. For whatever reason, in her mind, this means it's time to lick me. Which is less than cool. But overall, you got to admit she is one awesome Fur Baby. When I get better I will be sure and make her favorite peanut butter and oatmeal treats.
Peanut Butter and Oatmeal Dog Treats
2 TBSP flaxseed meal
1 TBSP olive oil
1 cup water
1/2 cup natural peanut butter
1 cup oatmeal
2 cups whole wheat flour
Mix all the ingredients together. Roll on a floured surface to 1/4 inch thick, adding flour or water as needed. Cut with a cookie cutter (we just make squares). Bake at 300F for 20 minutes. Turn off the oven and leave the treats for several hours or overnight in the oven.