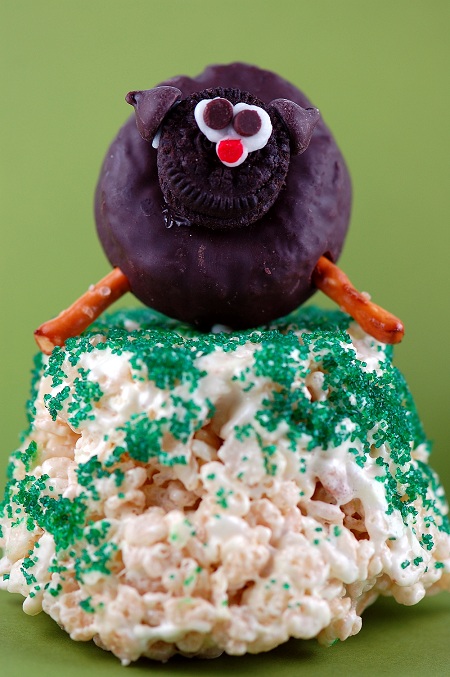 Wish I could say I am the picture of health, but I cannot. Tomorrow night starts the first night of the summer hockey season and I don't get to play unless I wake up and feel fantastic. But considering the fact that the smell of food still makes me queasy, I am guessing no. I can't actually drive myself anywhere which is not awesome. In fact I am going to score keep tonight (chill…you just sit there) and my goalie has to drive me there and my defensive partner is going to drive me home. So I made treats to represent my hockey family.
I must admit these little treats came with the help of my friend T. He and I work out together when I am not exploding parts of my body. When he asked if there was anything he could come over and do, I asked him to come make rice Krispie treats and frosting. He of course thought I was insane, which I probably am. He came over and did it anyway. Following my recipes and I barked orders from the couch, well not barked. He's a smart guy he can figure out rice Krispie treats and buttercream.
The idea for these came from Cookies and Cups, the originals were done as white sheep on top of cupcakes, but to me Rice Krispie treats seemed heartier for these to stand on. When I asked T where he got so good at decorating he told me "I do a lot of arts and crafts with my nieces". Aww, how sweet. Though he did follow up with "I've had a lot of girls ask me to do strange things before, but this is the strangest". 🙂
Here's to the Black Sheep having a great summer season!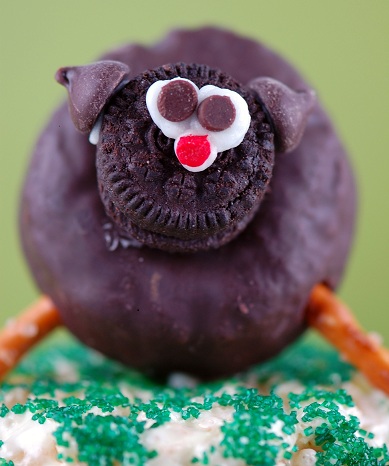 Black Sheep Rice Krispie Treats
Mini Chocolate donuts
Mini Oreo cookies
Candy for noses
Mini chocolate chips (for eyes…I had to cut the tips off the chips)
Regular sized chocolate chips (for ears)
Pretzel sticks for feet
One batch rice Krispie treats (mold into large muffin tins…if you want the green sprinkles, you need to spray the cups first, do sprinkles, and then add the rice Krispie treats)
Craft sticks (for lollipops)
To see step by step instructions, go here.