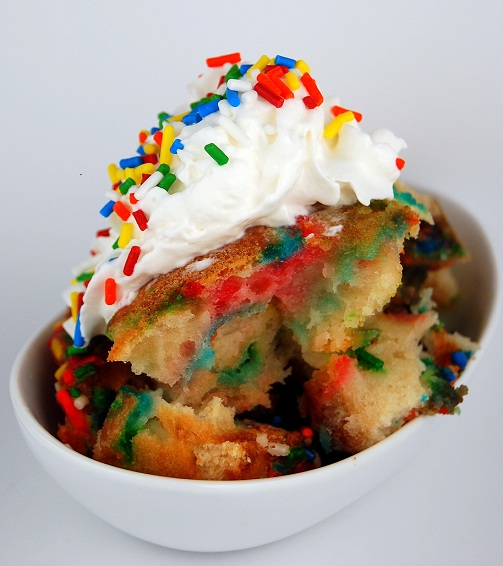 Recently my friends and I got into a discussion about the song, F*cking Perfect by P!nk. My friend started the conversation with admitting that she chose the radio edit version to download, and because of that she felt like an Old Fogey. It's not that she was against swear words in songs, just this one, as P!nk is talking to her unborn daughter in the song and she felt it was " gratuitous and unnecessary in the overall context of the song". I of course disagreed.
Now I am not for swearing just to swear. And some may be appalled at the idea of a mother dropping the F-bomb to their child. But here's the thing, that's her. That is who she is. If you have ever seen an interview with her, she cannot make it through without swearing, specifically the F-bomb. Her daughter will most likely be as foul mouthed as her. And oddly enough I respect her for it. She makes zero apologies for who she is. Some may find it odd that I respect Ann Coulter as well. Don't get me wrong, I hate her and everything she stands for and find her to be one of the most vile people and a complete waste of air space (no, Peabody, tell us how you really feel)…but having said all that, you always know where she stands. There is no pretending to be fair or impartial, she tells it how she feels it. There is not passive-aggressive subtleness on her end.
I on the other hand, am apparently subtle and passive-aggressive. Or at least that is what was implied a little while back ago. In the words of my mother, "have you met my daughter?" Most people who actually know me in real life laughed hysterical at this, I mean on the ground laughed at this. Because I'm that girl who always lets you know where you stand. I'm the brave one of the group that when you ask, do I look fat in this (which for the record, don't do that), I pipe up. First I usually yell at the person for calling themselves fat. Then I move on and tell them it's not flattering. Because really, that's what you should be asking in the first place. Is this flattering on me? Not do I look fat in something. I'm the girl that tells you that your fly is down. That you have spinach between your teeth. That you were a bitch to your husband and he has a right to be mad. That's me. The good side of that of course is that when I pay you a compliment, my friends know I really, truly mean it. None of this smoke up your ass stuff for me. 😛
One thing I don't apologize for is the use of cake mix. Now, I really only use two. One for Dump Cake because it can't be made without boxed cake, and second is Funfetti. I love Funfetti cake. Yes, you can try to make it from scratch, but I find you cannot get that artificial cake flavor that I like. And yes, I like that flavor. It's the same flavor of cake batter ice cream as well. I don't really care who knows. So if you are one of those local source only folks, this recipe is so not for you.
The box of Funfetti cost me $.49 on sale. I bought 4 boxes. My bread was from Panera (which was also free), a couple eggs, half and half, cream, and sprinkles and I had me a great low budget bread pudding. The awesome things about the pudding are this:
1. Sprinkles!
2. It tastes like Funfetti but without the sweetness overkill.
3. You can't help but smile while eating it.
4. Adults and kids alike will like it.
The only drawback is that somewhere in the middle of the bread pudding, when all of the sprinkles kind of meld together, it kind of turns well, blue-grey. It's not pretty. But to that I say, top with whipped cream and more sprinkles and you should be good to go.
Just promise me that after eating the bread pudding you won't go put on jeans and then ask someone if you look fat in them!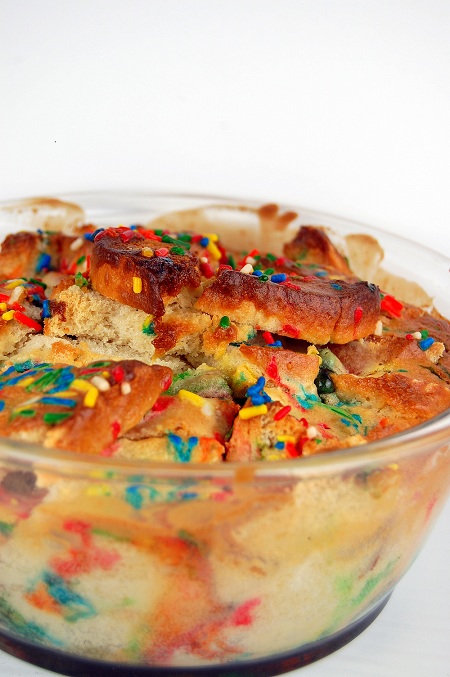 Funfetti Bread Pudding
10 ounces Funfetti Cake Mix
3 large eggs
1 egg yolk
1 ½ cup half and half
1 cup whipping cream (no heavy whipping cream)
1 loaf French Bread (or Challah)
Sprinkles
Preheat oven to 350F.
Butter a 8-x-8-inch baking pan.
Break the bread into pieces. Set aside.
In a large bowl, whisk together the half and half, cream, and eggs. Add cake mix. You do not need sugar, as the cake mix already has that in there.
Whisk until fully incorporated.
Place a layer of bread pieces on the bottom of prepared pan. Add some sprinkles. Pour over a cup of the batter and squash the bread down. If you need more batter add some. You want all the bread soaked. The custard is way more thick than traditional bread pudding, since there is cake in there, you need to press kind of hard. Do another layer, add sprinkles. Add custard. Squash bread. Do this until your bread layer is level or just under the top of the pan. Make sure all the bread is soaked with the custard. Add some more sprinkles on top to be festive.
Place in a water bath (with the water coming ½ way up the 8-8-inch pan). Bake for 50 minutes. Remove from water bath and bake another 10-15 minutes. Keep checking.
This bread pudding is a little more dense and less custardy than my usually bread puddings. That is once again because there is cake in there. Mmm. I didn't make a sauce. But a raspberry or a vanilla sauce might go nicely with it. I just topped mine with whipped cream and more sprinkles and it worked for me.