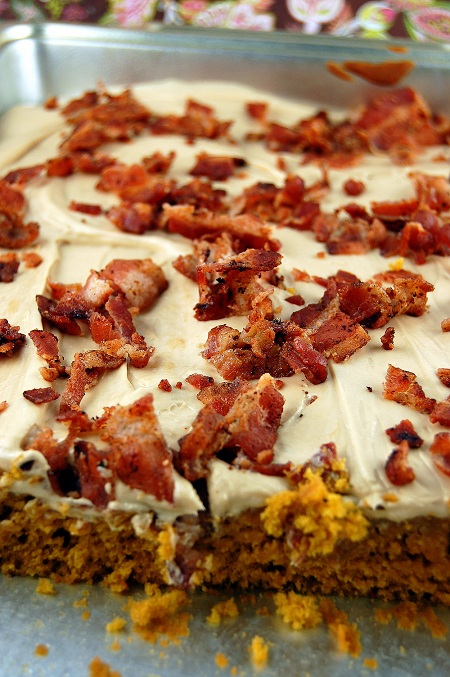 I will admit that I have not been one to jump on the bacon in dessert bandwagon. Though must admit that when Liz sent me bacon toffee as a pick me up that started to sway me. I love me some bacon. I mean love. It is truly the only thing that holds me from being vegetarian is bacon. In fact my friends bought me a t-shirt that says Vegetarian*…and then at the bottom is *except for bacon. Which is about right sadly. I tried giving it up. But that stomach of that pig is like an evil siren I tell you.
From time to time the fine people of Andrew McMeel and Simon and Schuster like to send me a free cookbook in the mail to preview. Some I love. Some not so much. But the other day in the mail I got one called I Love Bacon. Um. Hello world's most perfect book for me. Now this recipe doesn't come from there. It has just mostly made me want bacon with every meal for the last few days. Not that there's anything wrong with that. 🙂
Mostly I see maple and bacon together in sweet things. So when I ran across a recipe with pumpkin and no maple, but rather a boiled caramel cream cheese frosting, I was oh my yes! I will tell a secret. I fried up extra bacon. Then I took out a knife and would spread frosting on that bacon and eat it. Oh my. Oh my. Oh my. If you watch According to Jim, he hangs with Jim's wife's brother Andy a lot. Andy has a secret shame of rolling sticks of butter in sugar and eating them. Yeah, I'm pretty sure this is my stick of sugar coated butter. Oh my. I know I keep saying that but really, oh my. 😛
If you don't like bacon, then guess what? You aren't going to like these. I will still like you but will feel slightly sorry that you miss out on the food that I feel needs it's own spot on the food pyramid…down at the bottom. 😀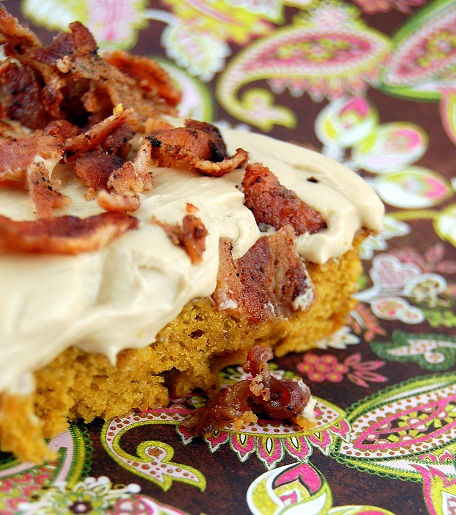 Pumpkin Caramel Bars with Bacon
For the bars:
2 cups all-purpose flour
1 tsp. baking soda
1 tsp. ground cinnamon
½ tsp. table salt
1 ½ cups pumpkin puree
½ cup granulated sugar
½ cup brown sugar, packed
4 TBSP unsalted butter, melted
1 egg
1 tsp. vanilla
Preheat oven to 350F. Coat a 9-13-inch baking pan with non-stick baking spray.
Whisk together pumpkins puree sugars, egg, melted butter, and vanilla in a large bowl and blend well.
Sift together the flour, baking soda, salt and cinnamon in a medium bowl.
Stir flour mixture into pumpkin mixture until well incorporated.
Spread pumpkin batter evenly into prepared ban. Bake for about 20 minutes. Let cool completely before frosting.
For the frosting:
2 cups brown sugar, packed
1/3 cup water
Pinch of salt
½ cup heavy cream
4 ounces unsalted butter, cubed
4ounces cream cheese, cut into 1-inch cubes
8 ounces of bacon, diced and then pan fried, oil drained
Boil sugar, water, and pinch of salt in a large saucepan over high heat, for 5 minutes. Gently swirling occasionally to prevent scorching.
Whisk in cream and butter and boil another 2 minutes.
Transfer caramel to the bowl of a stand mixer, whip on high speed until sides of bowl are cool to the touch and caramel is thick, 8-120 minutes. Scrape down the sides of the bowl as needed.
Add cream cheese, 1 cube at a time, until frosting is smooth.
Frost cool bars. Top with bacon pieces.
Adapted from Cuisine at Home magazine October 2010 issue