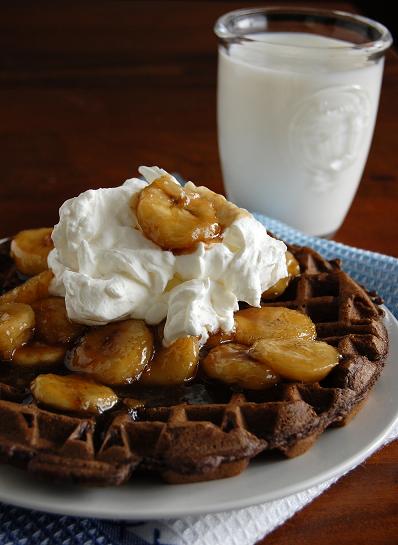 When people find out that you run a food blog, they often ask me who my favorite chef on Food Network is. I really dislike this question as half of them are not actually chefs, and second because no one seems to know my favorite sadly. Gale Gand had a show called Sweet Dreams, it was my favorite show. It's not on anymore (or so I think) to make room for people to show me how to mix Cool Whip with Jello and set it in to an all orange kitchen. Bitter? Perhaps I am a tad. 😉 All I have left on the Foodnetwork now is my eye candy, Tyler Florence.
If you never got to see the show, too bad. Great desserts were shown how to be made by a woman who has worked at two of my all time favorites, Gotham Bar & Grill and Charlie Trotters. She has several cookbooks with Butter Sugar Flour Eggs being my favorite, but they all are good. So when I was asked if I would want to receive her Brunch book I was intrigued. Brunch? Up until now, I had only known her as the dessert woman, or guru. But heck yeah, I wanted to see what she did with brunch.
Gale did Brunch proud. And let me just say, this book made me want to eat brunch more than just on Mother's Day and Easter. It covers everything from beverages, eggs, pancakes, coffeecakes, toppings and much, much more.
This being a baking and sweets blog, I thought I would stick with that. I made three things from the book; the Chocolate Chip Crumb Cake Muffins, the Chocolate Waffles, and the Banana Fosters topping to go on top of my Chocolate Waffles. Let me just say that Chocolate Waffles with Banana Fosters topping is definitely the way to start your day! And for you on the go people, the muffins were yummy. I liked them because they were more sweet than a regular muffin, and you know I am all about the sugar. Next I am needing to make the Almond Ciabatta French Toast and my husband some Peanut Butter and Jelly Turnovers.
The sad thing is, no recipes. But I can highly suggest that you buy the cookbook. I mean, come on, Arbor Day will soon be here, and surely you deserve to buy yourself an Arbor Day gift. Right?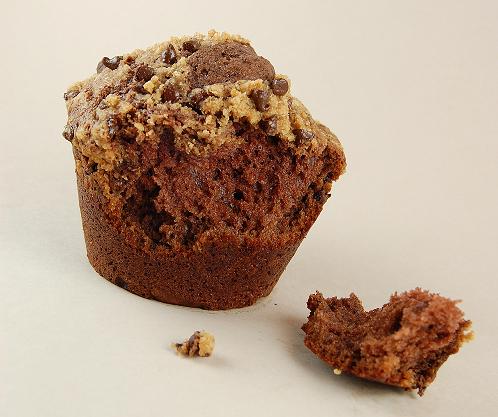 Chocolate Chip Crumb Cake Muffins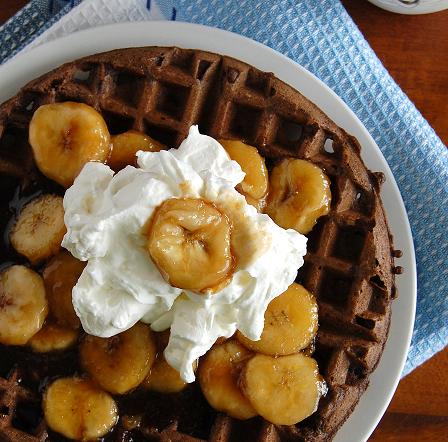 Chocolate Waffles with Banana Fosters Topping