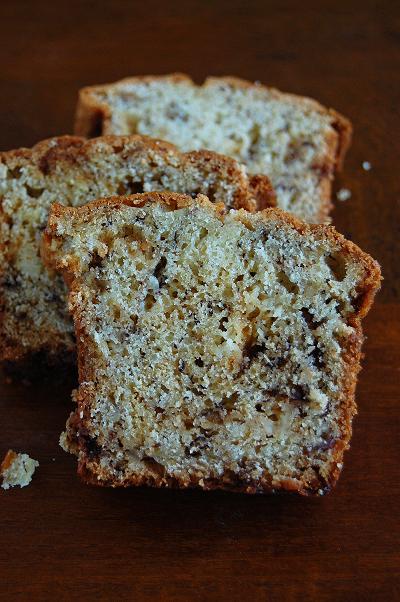 My husband and I don't really watch the same TV shows. I watch mine downstairs and he watches most of his upstairs. Oh we have a few we watch together, like Lost and Top Chef, but for the most part we are on our own. One he likes to watch is Chuck. I probably would like this show if I had started to watch if from the beginning but at the time I was already watching too many things on Monday night.
Anyway, when he goes up to watch it, is one of my favorite parts of the week. Sounds odd I know that one of my favorite times of the week is when I am not with my husband but it is. He goes up there and puts on the headphones and watches the show. And so all I hear from time to time is his laughter. And loud laughter too. It's darn close to my favorite sound in the world. It always makes me smile.
I celebrated my 5th wedding anniversary on Saturday. Some days I still can't believe I am married. I am past the stage in our relationship where I feel butterflies all the time. Where I can't sleep. Where he can't see me in my mud mask (poor boy, such a scary site). It's still young enough that I try not to fart in front of him, but when I am asleep all bets are off as I can't control that. 😉 But I figure if the sound of my husband laughing from upstairs every Monday night fills me with happiness that we are still doing good. 🙂
I am still in play it safe mode. Even when I thought I was playing it safe with the cookies I left out the cocoa powder and a poor reader made them without the mocha part. At least this time I could blame it on the meds and not just my absent minded mind. 🙂 So I went with banana bread/cake. It's stuck in the middle if you ask me. Not quite bread anymore but doesn't quite make the full crossover to cake. I used a recipe that I do all the time, this time adding white chocolate chunks and chocolate covered toffee pieces. I have now found the new way I will be making it. The referees I brought it to on Friday night agreed that it was good stuff.
Hopefully I will write the recipe down correctly this time.
Thanks for all the anniversary well wishes (if you want to see how I spent my anniversary go here) and Crazy Cocker Spaniel says thanks for the birthday wishes too.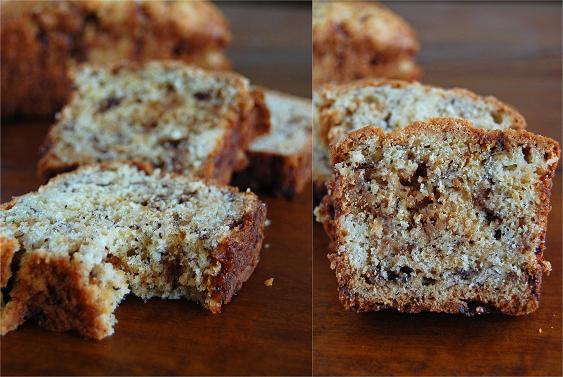 White Chocolate Chunk Banana Toffee Chip Pound Cake
2 ¼ cups all-purpose flour
1 TBSP baking powder
1 tsp baking soda
¼ tsp salt
½ cup sour cream
½ cup mascarpone cheese
6 ounce unsalted butter, at room temperature
1 cup  granulated sugar
2 large eggs
2 fully ripe bananas, pureed
½ cup white chocolate, chopped into chunks
½ cup chocolate covered toffee pieces (if you can't find, chop up a Heath or Skor bar)
Preheat oven to 350F. Grease and flour a 9-x-5-3-inch loaf pan. I used 4 mini loaves.
Sift flour, baking powder, baking soda and salt into a medium bowl and set aside. Combine the sour cream and mascarpone cheese in a small bowl and set aside.
Using a standing mixer fitted with a paddle attachment beat the butter with the cinnamon on high speed until soft and creamy, about 1 minute. Slowly add the sugar, 1 TBSP at a time, beating continuously on high speed. It should take 5 to 10 minutes to add the sugar. The mixture should be light, fluffy and creamy white in color. Stop the mixer and scrape down the sides of the bowl with a rubber spatula.
Add the eggs, one at a time. Be sure each egg is completely incorporated and scrape down the sides of the bowl before adding the next.
Add one third of the flour mixture to the batter and beat until it is just incorporated. Add one third of the mascarpone cheese mixture and mix until just incorporated. Add the flour and mascarpone mixture in two more additions, mixing until addition is incorporated before adding the next. Fold in the bananas, white chocolate chunks, and toffee pieces.
Pour the batter into prepared pan. Bake for 1 hour and 15 minutes. If using mini loaves, fill 2/3 of the way full and bake for 45-50 minutes. Cool in the pan on a rack for 5-10 minutes, then remove from pan and set on rack to cool. Serve warm or at room temperature. Will keep for one week in fridge or 3 weeks in freezer.
Source: Adapted from The Secrets of Baking by Sherry Yard