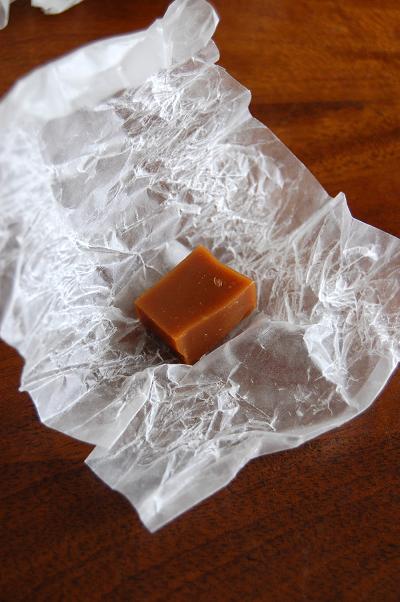 I wont be home for Christmas (well my parents home) so like the song says…I'll be home for Christmas if only in my dreams. My parents are off to visit my brothers for the holiday this year and we are here alone in the Snowcopalypse. Not that I mind spending Christmas alone its just it's a little bit better with my family around. My mom is very into Christmas and I have that genetic Christmas gene as well. We have lots of traditions. I lucked out in a way that my husband has no Christmas traditions. None. At first I thought this was weird but soon learned that it worked to my advantage. He now has had to adopt all of my family traditions.
One year when I was little we drove across country to visit my maternal grandmother and grandfather. Two and half days in a car with the family is less than fun. You can only play the licenses plate game so much (the next times we flew). My grandmother is not what one would call a good cook. So often when we were there for the holidays all the goodies were provided by other people. There was woman, whom I have no idea how she knew my grandmother, made lots of candy. Divinity was her specialty and caramels. Though these were unlike any caramels I had every had. They were hard. I told her she made them wrong (good to know I didn't have manners as a kid either, eh?). She just smiled at me and said that there were many ways to make caramels. She called them caramel candies though instead of caramels. They were similar to Werther's chewy toffees if you have every had those. They were curious candies. They started hard but then melted in your mouth. I was hooked, I snook as many of those that I could fit in my pockets. I looked like one of those hamsters stuffing his pouches.
I found them again years later at a holiday craft fair. Some church ladies had a booth and were selling what they called caramel melts. They looked the same…because they were. I asked them for the recipe. They declined. 🙁
Last months Daring Bakers challenge was a caramel cake. I didn't make it because I no longer participate. They also had a caramels as bonus. I read that you could make them firmer and wondered if I cooked them longer if I could get the consistency I wanted. In the recipe there was a variation for vanilla-nutmeg caramels. They made me think of my mom and how much she would love those. I  made these in all stages. I made caramel sauce. I made soft caramels which I placed on top of homemade marshmallows. I would love to show you those but I had a small issue with my memory card being damaged and those photos are gone. I will probably make those again and will post then. And then I tried for the harder ones. The first batch was brittle. It never melted in your mouth. And I wanted the melty kind. Luckily the second batch did what I wanted. The only problem is that I never thought about was that woman and those church ladies put them in candy molds. That would have been much easier than trying to cut them. Shards of caramel candies went everywhere. The dog was very pro this.
They definitely take me back. Take me back the Christmas that I got my Cabbage Patch Doll. The Christmas I was sick and slept through most of Christmas day. The Christmas that I first had caramel candies.
I hope that all of you who are not with family this season, whatever the reason being, have some wonderful memories to pull from.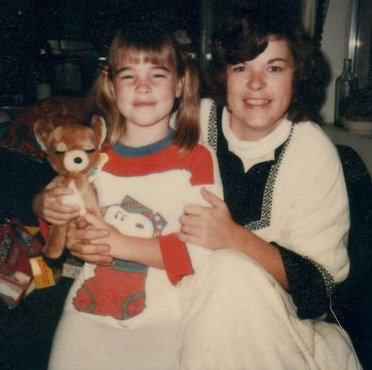 Vanilla-Nutmeg Caramels (or chewy toffee)
1 cup golden syrup
2 cups sugar
3/8 tsp fine sea salt
2 cups heavy cream
1 TBSP plus 1 teaspoon pure vanilla extract
½ tsp freshly grated nutmeg
3 TBSP unsalted butter, cut into chunks, softened
Equipment
A 9-inch square baking pan
Candy thermometer (I used my digital thermometer)
Line the bottom and sides of the baking pan with aluminum foil and grease the foil. Combine the golden syrup, sugar, and salt in a heavy 3-quart saucepan and cook over medium heat, stirring with a silicone spatula or wooden spoon, until the mixture begins to simmer around the edges. Wash the sugar and syrup from the sides of the pan with a pastry brush dipped in water. Cover and cook for about 3 minutes. Uncover the pan and wash down the sides once more. Attach the candy thermometer to the pan, without letting it touch the bottom of the pan, and cook, uncovered (without stirring) until the mixture reaches 305°F. Meanwhile, combine the cream and nutmeg in a small saucepan and heat until tiny bubbles form around the edges of the pan. Turn off the heat and cover the pan to keep the cream hot.
When the sugar mixture reaches 305°F, turn off the heat and stir in the butter chunks. Gradually stir in the hot cream; it will bubble up and steam dramatically, so be careful. Turn the burner back on and adjust it so that the mixture boils energetically but not violently. Stir until any thickened syrup at the bottom of the pan is dissolved and the mixture is smooth. Continue to cook, stirring occasionally, to about 245°F. Then cook, stirring constantly, to 260°F for soft, chewy caramels or 265°F; for firmer chewy caramels. I cooked mine to 272F to get a chewy toffee.
Remove the pan from the heat and stir in the vanilla extract. Pour the caramel into the lined pan. Let set for 4 or 5 hours to firm up. If you are making the harder caramels it will take about 30 minutes in a cool room.
Lift the pan liner from the pan and invert the sheet of caramel onto a sheet of parchment paper. Peel off the liner. Cut the caramels with an oiled knife. Wrap each caramel individually in wax paper or cellophane. This is the hardest part. Cutting hard candy. A good sharp knife is a must.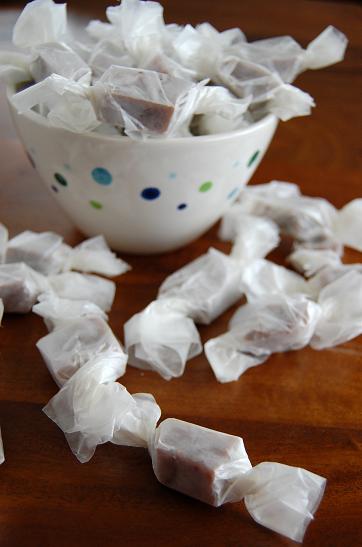 Other variations:
Fleur de Sel Caramels:
Extra salt, in the form of fleur de sel or another coarse flaked salt, brings out the flavor of the caramel and offers a little ying to the yang. Add an extra scant 1/4 teaspoon of coarse sea salt to the recipe. Or, to keep the salt crunchy, let the caramel cool and firm. Then sprinkle with two pinches of flaky salt and press it in. Invert, remove the pan liner, sprinkle with more salt. Then cut and wrap the caramels in wax paper or cellophane.
Cardamom Caramels:
Omit the vanilla. Add 1/2 teaspoon slightly crushed cardamom seeds (from about 15 cardamom pods) to the cream before heating it. Strain the cream when you add it to the caramel; discard the seeds.
Caramel Sauce:
Stop cooking any caramel recipe or variation when it reaches 225°F or, for a sauce that thickens like hot fudge over ice cream, 228°F. Pour it into a sauceboat to serve or into a heatproof jar for storage. The sauce can be stored in the refrigerator for ages and reheated gently in the microwave or a saucepan just until hot and flowing before use. You can stir in rum or brandy to taste. If the sauce is too thick or stiff to serve over ice cream, it can always be thinned with a little water or cream. Or, if you like a sauce that thickens more over ice cream, simmer it for a few minutes longer.
Adapted from Pure Dessert by Alice Medrich
To see a version of the soft caramel visit Good Eats 'n Sweet Treats, she has some nice chocolate covered ones.