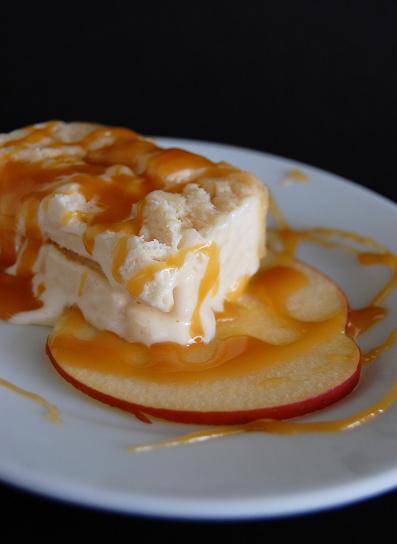 When I started this blog three and a half years ago there weren't a lot of food blogs around, unlike now! I had two options for a template…one with coffee (which I felt was too clichƒ© for a Seattle area blogger) and a watermelon. As you all know, I went with the watermelon.
Now, I like watermelon, especially on a hot Summer day with a little salt sprinkled on it, but really, the watermelon was starting to get to me.
Right around the time of my 3 year blog anniversary I started thinking I needed a change. Since I am computer illiterate and my husband, though a computer software guy is not a web designer, I decided that maybe I should hire someone. One of my regular reads in the food blogging world, Cannelle et Vanille had recently gotten a "face lift" on her blog and I was admiring it greatly. It wasn't what I wanted for me, but I felt it really captured the feel of her blog. Aran makes such beautiful and sophisticated baked goods and pastry and her new blog design reflected that. I emailed her and asked her about price (gulp) and about her experience with her designer, Kaytlyn of Beneficial Design. She had nothing but great things to say about Kaytlyn, and of course now I know why. As luck would have it, Beneficial Design is right here in the Seattle area (well, Bellevue to be exact). I took that as a sign and contacted her. I was raring to go but got slightly deflated as Katlyn was already working on projects (how dare she 😛 ) and though it was July I would be waiting until September to actually get started. Turned out, that was good. For I had several months to really focus on what did I want my blog to look like. Which blogs do I already read that I like their design and so on.
So when push come to shove I really knew what I wanted, I had some idea in July, but by September I pretty much had my concept. What was my concept you ask..quirky and simple. Let's face it, I don't make sophisticated foods (I leave that for Helen and Aran). I make stuff that hopefully anyone can make. My first cooking show I ever watched was Martin Yan on PBS. He ended each show with, "Yan can cook, so can you" and I often feel like saying, "Peabody can bake, so can you!" to all of my readers.
At first I think Kaytlyn thought I was going for more of a upscale style, but one in person meeting took care of that. 😉 And with that, things took off. Yes, the color is the same, I like the green. Yes, I kept a nod to the old blog design by having a little watermelon in the banner ( I just had to) as well as in the links button. Hopefully you like the new stuff that was added (p.s. the comments are on the top of the post now) and more importantly I hope you feel that it represents me.
So thanks to Kaytlyn for getting the essence of who I am and translating that into my blog. It was a pleasure to work with you and I would say thanks for putting up with me, but really, I'm not that much of a pain. Lol 😉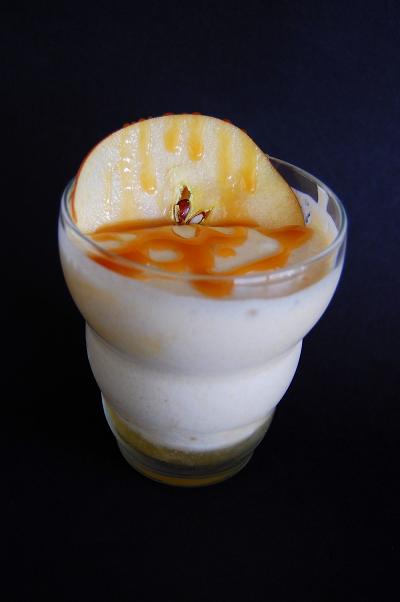 So of course the next thing I had to figure out was what to make. I originally had this grandiose idea, but I am still recovering from pneumonia and that didn't sound all that fun anymore (I will make later I am sure).
Should I make a Dorie? Nah, I do that almost weekly. What about Yard? Ah yes, Sherry is my other go to gal in the baking world. Though ironically, no baking here. I was drawn to this recipe because I still can't have dairy (fills up in my lungs) and so I am craving it. Also, I have been drinking this local Honeycrisp Apple Cider like a mad woman and saw an opportunity to use it. You can use just about any type of apple (though I would stay away from Granny Smith). There are several steps but none of them are hard, just a little time consuming. If you are not familiar with semifreddo, its similar (at least to me) to a frozen mousse. Though it doesn't stay frozen long, as you can see from my photos…and it was 62F in the house. Imagine that on a hot day.
I was a bad girl and had a little piece, and yes, I paid the price. Oh well, it was worth it. Make it even better by throwing some caramel sauce on it.
I also included the Caramel Bavarian version which is basically the same recipe with gelatin added. So two recipes for the price of one…sounds good to me.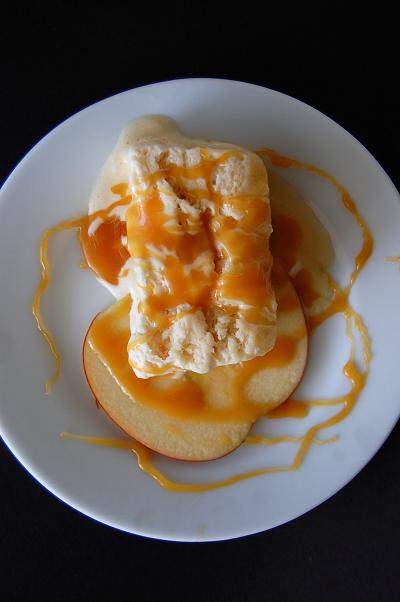 Caramel Apple Semifreddo
1 cup heavy cream
1 ½ tsp vanilla extract
2 eggs
2 TBSP granulated sugar
2 TBSP water
½ cup Apple Caramel Glaze
1 large Honeycrisp apple, peeled and diced
1 tsp butter
3 TBSP granulated sugar
Using a standing mixer fitted with a whisk attachment or a hand mixer, whip the cream and vanilla extract on medium speed for about 3 minutes, or until it reaches the medium-peak stage. Set aside in the refrigerator., Clean and dry the beaters.
In a small saute pan, melt the butter and add the apple pieces. Let cook for about 3 minutes, until they start to get soft. Add the sugar and let them caramelize. Set aside to cool.
In a separate bowl , whip the eggs on medium speed for 5 minutes, until thick and pale yellow in color.
Meanwhile, bring the sugar and water to a boil in a small saucepan over medium heat. Remove from the  heat . This is the simple syrup.
As soon as the eggs reach the ribbon stage, drizzle in the simple syrup very slowly, still whipping at medium speed. This will prevent the eggs from scrambling. Take about 2 minutes to add all the syrup. Continue whipping for 5 minutes, or until the eggs have triple in volume and are cool to the touch.
Transfer the whipped eggs to a large bowl. Add the glaze and using a rubber spatula, fold the egg foam and the glaze together. Next, fold in the reserved whipped cream. Lastly fold in the apples and any caramel that formed. This is the semifreddo base. Pour the base into a freezer container (I just used mini loaf pans), cups, or glasses and freeze until firm, about 3 hours before serving.
Master Caramel
¼ cup water
1 cup granulated sugar
2 TBSP light corn syrup
Combine the water, sugar and corn syrup in a medium saucepan. Whisk them together, making sure no lumps of dry sugar remain.
Cover the sauce pan and place it over medium heat for 4 minutes. After 4 minutes, remove the lid, increase the heat to high, and bring to boil Do not stir from this point on. Keep an eye on the pan. It will be very bubbly. When stray sugar crystals appear on the side of the pan, crush them down with a clean, wet pastry brush.
As the sugar cooks, the bubbles will get larger. Insert a candy thermometer, and when the temperature reaches 300F, lower the heat to medium, which will slow the cooking. Continue to cook the sugar until it reaches 325F; this will happen quickly. It will be golden brown. At 325F, remove the pot from the heat and let it sit for 1 minutes, or until the bubbles subside.
Apple Caramel Glaze
1 recipe Master Caramel, prepared through heated to 350F
½ cup apple cider
¼ cup water
2 TBSP sugar
1 TBSP sliced fresh ginger
1 3-inch cinnamon stick
1 star anise pod
Bring the cider, water, sugar and spices to a boil in a medium saucepan over high heat. Immediately remove the syrup form the heat and carefully add it to the caramel. Stir with a whisk to incorporate completely.
Cover the pan and let it cool at room temperature for 20 minutes, then remove the spice with a slotted spoon or strainer. The glaze can be used immediately or refrigerated for later use.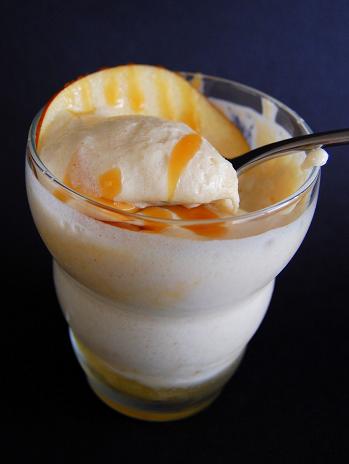 Caramel Bavarian Cream:
The semifreddo recipe can also be used to cream a caramel Bavarian cream by adding 1 envelope powdered gelatin. Dissolve the gelatin by sprinkling it over ¼ cup cold water and letting it sir t for 5 minutes. Stir in the gelatin into the syrup, add the mixture to the eggs in step 4, and continue with the recipe. Refrigerate until set, about 1 hour, before serving.
Adpated from The Secrets of Baking by Sherry Yard